So I bought this bike sometime around 2008. Rode it for maybe a year and its been sitting in the garage since. Wife was threatening send it to Goodwill and I just couldnt let that happen so I stripped it.
I wanted to create this thread for two reasons. One, to document the changes. Two, Im a novice when it comes to rebuilding bikes so input is welcomed.
So here it is in all of its filthy glory.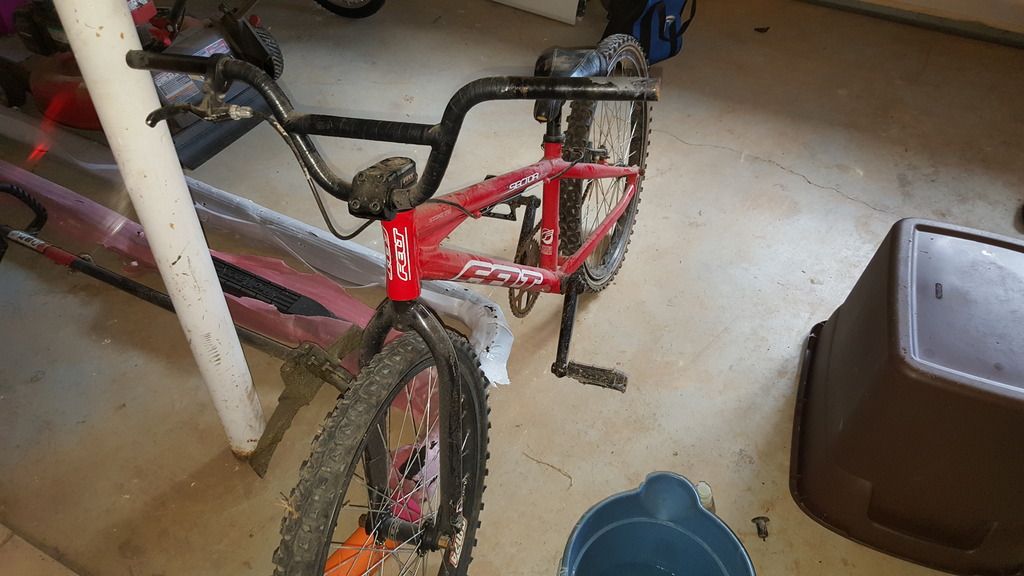 I got online and ordered some new parts and stripped the bike to give it a good clean. Plan on repainting the handle bars and forks.
Parts I ordered:
AME 702 Unitron retro BMX grips all red w/ Grip Savers
24x1.75 Sun Rhyno Lite XL BMX Wheels Flip/Flop w/ DT Spokes Pair Black
24 x 1.50-1.95 Schrader Standard Valve Inner Tube
24 x 1.75 IRC Siren SX All Black BMX tire
Still considering new cranks. Thinking I may need a new headset and bottom bracket.
For cranks it came with a 3pc set. Not sure if it makes a difference between 2 and 3pc.
Confused as crap as to what I need to rebuild the complete bottom bracket and what to use to press with.
As you can tell I am not going all out on the build using high dollar parts and its ok. The bike isnt being built for tricks or racing its literally just used as a cruiser and random jumping to try an hurt myself.