Senior Member
Join Date: Nov 2011
Location: Pacific Northwest
Bikes: A green one, "Ragleigh," or something.
Posts: 4,506
Mentioned: 23 Post(s)
Tagged: 0 Thread(s)
Quoted: 130 Post(s)
1990ish Redline Thirty rigid. Same frame as GT?
---
A recent dumpster find of mine. I'm in the process of converting it into a $0 drop bar tourer. Seems nice enough of a frame, with all the braze-ons you could hope for, forged dropouts w/integrated RD hanger. Tange MTB Cr-Mo frame/fork/headset weighs 8.5 lbs. The triple-triangle or 'Hellenic' seat stay configuration I've only seen on GTs, but I've never looked at a GT close enough to see whether or not these were one and the same. Or at least made in the same factory by the same folks. "Redline" is embossed but not pantoed on the seat stay tops.
Question: anyone know if these were made by whoever was making GTs? I can't really find anything online about this model.
I can take detail pix if anyone is interested in seeing them.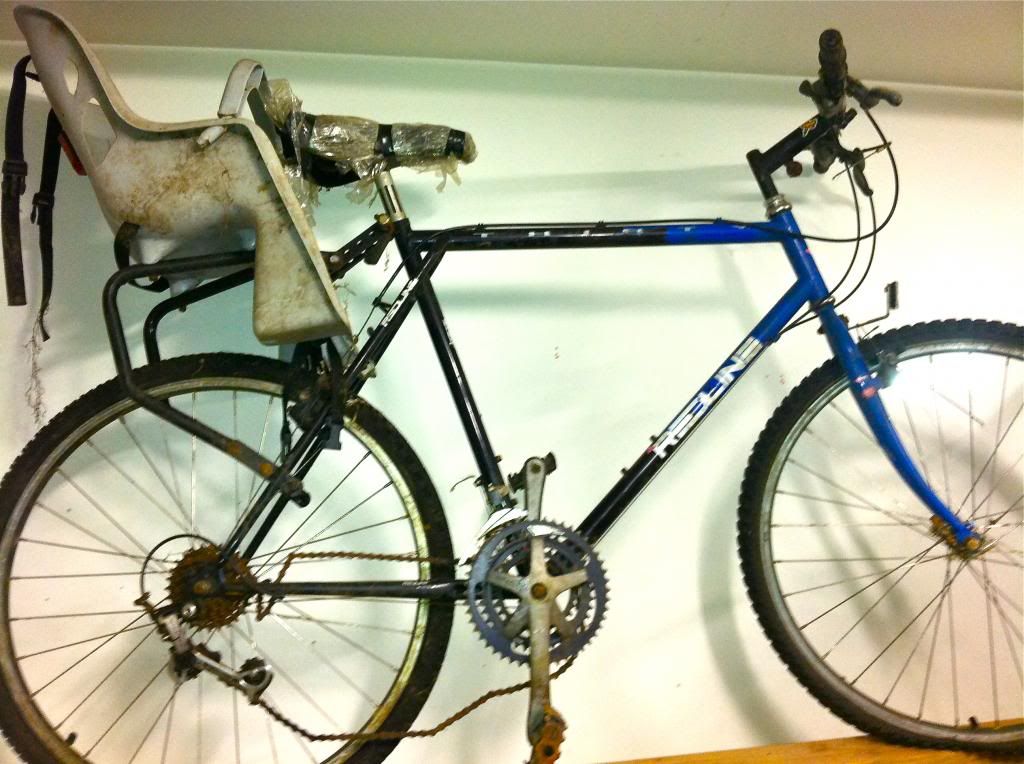 Labeling:
Redline Thirty
Made in Taiwan
Tange MTB Cr-Mo (frame and fork)
Redline 1972-1990 Engineering (Woot! Special 18th Aniversary Edition!
)
Parts:
Suntour hubs
Suntour XCE drivetrain (3x7)
Suntour X-press thumbies (completely rust-locked)
Greenish ano Araya 26x1.5HE RX-7 rims
__________________
● 1971 Grandis SL ● 1972 Lambert Grand Prix frankenbike ● 1972 Raleigh Super Course fixie ● 1972 Peugeot UE-18 Mixte ● 1980 Apollo "Legnano" ● 1982 Bianchi Limited ● 1984 Nishiki Landau ● 1984 Peugeot Vagabond ● 1985 Trek 600 ● 1985 Shogun Prairie Breaker ● 1986 Univega Nuovo Sport ● 1986 Merckx Super Corsa ● 1987 Schwinn Tempo ● 1990 Cannondale ST600 ● 1993 Raleigh Technium ● 1996 Kona Lava Dome ● And a Bike to Be Named Later ●
---
Last edited by Lascauxcaveman; 02-20-14 at

01:54 PM

.