Fort Lewis Gnar-Core Fest 2009

04-11-09, 10:09 PM
Writin' stuff
Join Date: Feb 2007
Location: Boulder, CO
Posts: 3,782
Mentioned: 0 Post(s)
Tagged: 0 Thread(s)
Quoted: 1 Post(s)
Likes: 0
Liked 0 Times in 0 Posts
Fort Lewis Gnar-Core Fest 2009
---
effing abismal weather in Durango this weekend. TTT was schedule for this morning, but we woke up to torrential rain, which turned to snow, so they had to cancel. Snow stopped around 10, had melted by 11 (thanks to some more rain) when the first crits started. Some random sunny moments warmed us up a bit during the day, but they were always interspersed with more snow, sleet, and rain. I think the women's B race was almost all dry, but every other race had at least one squall come through.
Men's A's were at 2:20. At 2:00, it was sunny and beautiful. By 2:10, it was raining, and by 2:15 is was snowing again. Back to rain for the start. Stopped after 10 minutes or so, but we couldn't even tell because of all the road spray. About 35 minutes in, we got some sleet which stung like a mothah fockah on the downhill. That lasted about 5 minutes, and we had drizzle the rest of the race.
Course was great. Same as last year, with one steep but short climb up an alley a 6 other corners in a L shape. Didn't ride with the power meter but last year it caused a 800-900w spike every lap. Fun!
Spent most of the race trying to get a break to stick. Ended up on a few good ones, including one with one guy from every major team represented, but for some reason nobody wanted to work. Our field of 40something was slowly wittled down. I think 22 finished.
Two laps to go, a Fort Lewis rider gets a small gap. CU chases, I follow. CU pulls half way across the gap, and I finish it off. Sit up a bit, go back to 3rd wheel at the start of the last lap. Very fast. Walker Savidge was on the front, Ben Sontag (big names) second wheel, me third. Couldn't be more perfect. The two guys wind it up, with Savidge pulling off at the base of the climb (not sure who he thought he was leading out, Sontagg and I are not his teammates). Sontag took off on the climb, and I followed. I look back at the top and we have a gap of 20m or so. Sontag guns it down the backstretch, and I come around him in the last corner with 200m to go. Perfect leadout! I ended up taking the win by about two bike lengths, for my first collegiate win of the season.
Some photos -
Top of the climb: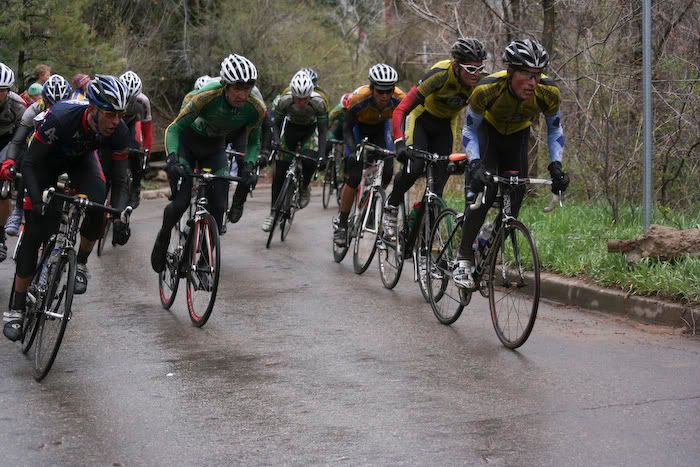 One lap to go, start/finish:
Sprint start (i'm on the right):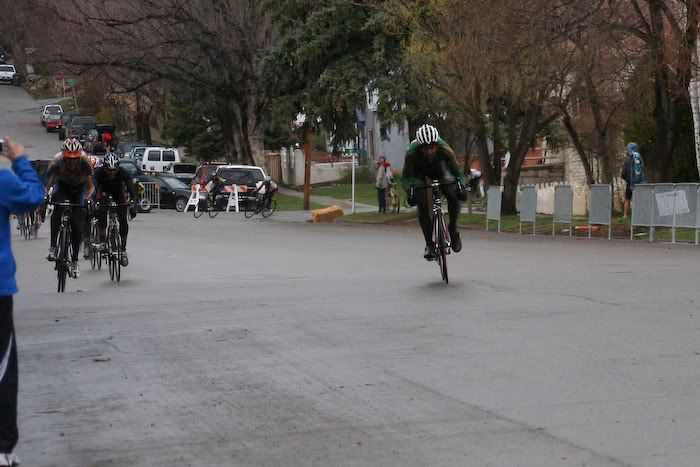 finish: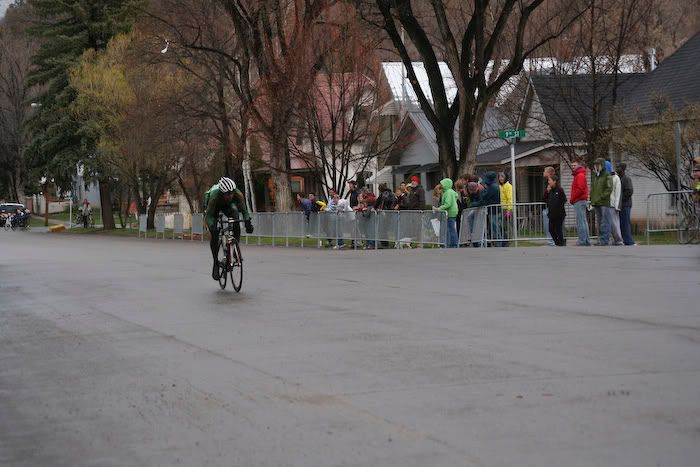 04-13-09, 12:02 PM
Outgunned and outclassed
Join Date: Oct 2003
Location: The Springs, CO
Posts: 998
Mentioned: 0 Post(s)
Tagged: 0 Thread(s)
Quoted: 0 Post(s)
Likes: 0
Liked 0 Times in 0 Posts
Man that crit was hard. Luckily I had a teammate win the B's race by half a lap so I got to just sit in for the most part. Still, every time up the hill was killer.

ZeCannon, grats. The A race had some serious weather...both our A racers were mostly blind by the end...add in 800 watts up the hill each lap and it sounds real painful.

Road race was much more pleasant. I got dropped like a rock on the hill in the B race. A certain 28-year-old multiple time winter tri world champ won the A race handily. How'd you do ZeCanon?

04-13-09, 03:05 PM
Writin' stuff
Join Date: Feb 2007
Location: Boulder, CO
Posts: 3,782
Mentioned: 0 Post(s)
Tagged: 0 Thread(s)
Quoted: 1 Post(s)
Likes: 0
Liked 0 Times in 0 Posts
The weather was the hardest part about the crit. In the top 5-6 guys, the pace wasn't really hard at all. It was so freaking cold though. I remember asking my coach how much time we had left after what felt like an hour and a half, and he replied we had 20 minutes to go. I almost dropped out right there. When I finished I was too cold to even put my hands up. I stopped, gave my bike to my girlfriend and ran back to her house (which is about 2 block away). Couldn't even get my shoes off. Took a 10 minute hot shower but was still shivering for the next half hour. Even the bigger guys who do better in cold than I do were suffering.

I ended up 8th in the RR. Made the final selection (15 guys I think?) the 2nd to last time up the climb but had no teammates. FLC and CU both had 5-6 each, and kept sending off attacks. Me and one other airforce guy just got worked over. I tried attacking once on my own, got a little gap but got pulled back by the CU train a minute or two later. Cracked hard on the last climb and finished maybe 300m behind Sonntag. Wish I didn't have to do so much work on the last lap, things might have ended differently. He can't sprint at all (I put two bike lengths on him in the crit sprint at maybe 3/4 power) so If could have held on, maybe I could have done the double. Coulda woulda shoulda I guess.
That hill was rough. We did 9 laps in a little over 2 hrs but it felt much, much longer.

Airforce should be fun next weekend, another good RR with some climbing. I heard the crit is in a parking lot though, which would suck.

04-13-09, 03:34 PM
Knowing's half the battle
Join Date: Jul 2005
Location: Omaha, NE
Posts: 6,119
Bikes: 2009 Cannondale CAAD9 BB30, SRAM Red, Fulcrum Racing 3s
Mentioned: 0 Post(s)
Tagged: 0 Thread(s)
Quoted: 0 Post(s)
Likes: 0
Posted in another thread as well, but congrats!!

With showings like this, you shall reach spontaneous combustion in no time!


04-14-09, 04:13 PM
Outgunned and outclassed
Join Date: Oct 2003
Location: The Springs, CO
Posts: 998
Mentioned: 0 Post(s)
Tagged: 0 Thread(s)
Quoted: 0 Post(s)
Likes: 0
Liked 0 Times in 0 Posts
Yeah, I can't do the RR at USAFA only the boring ass crit. I'll have no teammates either...woot.

At least the weather is supposed to be good.