The 2005 Season

11-03-04, 08:07 PM
Since Ever Since
Join Date: Apr 2004
Posts: 1,575
Mentioned: 0 Post(s)
Tagged: 0 Thread(s)
Quoted: 0 Post(s)
Likes: 0
Liked 0 Times in 0 Posts
The 2005 Season
---
So, ladies and gentlemen, what are your thoughts on the impending season? I can't wait for the classics to begin, I'm already counting the days, and the wait for the Giro couldn't be longer.
Any ideas on some breakthrough riders? The 2004 season had Cunego, Boonen, Perez, Klöden (although he isn't exactly a young gun), and others.
Anything about the upcoming season, just post it. I want to foster some good discussion.
My hopes for the 2005 season can be summed up quite shortly: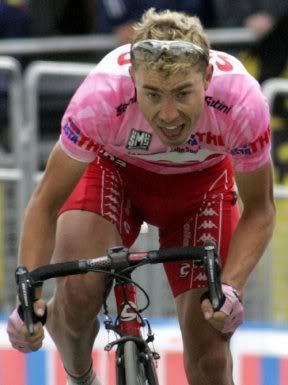 11-03-04, 09:19 PM
Ink-Stained Wretch
Join Date: Jun 2003
Location: Holyoke, MA
Posts: 1,731
Mentioned: 1 Post(s)
Tagged: 0 Thread(s)
Quoted: 0 Post(s)
Likes: 0
Liked 0 Times in 0 Posts
I think the greatest thing Cipo could do for himself IS retire.
For the actual 2005 season things I'm interested in seeing are...
Horner back in Europe, especially in a spring classic (is that reasonable?)
What Discovery does with Danielson?
What the hell will happen to Phonak and how will Landis fair?
Will Pettachi step back up or will we be seeing a new sprinter king?

11-03-04, 10:09 PM
Elitist Jackass
Join Date: Oct 2003
Location: Georgia
Posts: 3,263
Bikes: Cannondale 2.8, Specialized S-works E5 road, GT Talera
Mentioned: 0 Post(s)
Tagged: 0 Thread(s)
Quoted: 0 Post(s)
Likes: 0
Liked 0 Times in 0 Posts
Im looking forward to the 2005 season, Im going to continue to sand bag, and try and win the Georgia State Championships in Cat IV.

11-03-04, 10:37 PM
Senior Member
Join Date: Jun 2004
Location: Melbourne Oz
Posts: 2,397
Bikes: how long have you got?
Mentioned: 0 Post(s)
Tagged: 0 Thread(s)
Quoted: 0 Post(s)
Likes: 0
Liked 0 Times in 0 Posts
G'day,

cos we are a bit more fortunate with our weather than you are (mild winters), our 'season' is pretty much all year round. We tend to do more crits in summer than actual road racing (heat issues), but you can always find a club around that has something on the calendar. Our 'major' road racing is toward the end of winter/start of spring (July to end October), so we're basically just finished the 'majors'. Most racers are probably having a couple of weeks off before getting back 'into' it. Personally, I'm hoping to break 9hrs for the 'Alpine Classic' (a 200km audax ride with 4000m of climbing) in January & then set myself for the national masters championships, which are in my city, in March. Would be hoping to score an age group medal...but plenty of work to go in between now & then!

on the pro scene......I'm hoping for continued good form from O'grady & white.....anyone to beat lance in TDF before it becomes the 'Tour de Snooze' & a third Worlds for Mick Rogers (& a top 10 TDF finish to finally realise his potential)

Hitchy

11-04-04, 07:31 AM
Senior Member
Join Date: Dec 2001
Location: n.w. superdrome
Posts: 17,690
Bikes: 1 trek, serotta, rih, de Reus, Pogliaghi and finally a Zieleman! and got a DeRosa
Mentioned: 6 Post(s)
Tagged: 0 Thread(s)
Quoted: 9 Post(s)
Likes: 0
Liked 0 Times in 0 Posts
I'm looking for a long sprinters duel between Petachi and Boonen
(if he is recovered fully and racing). I think he is gonna be the dominant
rider this year, and think he is gonna be hell to beat in the classics.
Cipo should retire, last year was a joke crashes not withstanding.
I don't think Phonak is gonna fare too well, and Landis brought on
as super domestique won't be able to step up. I'd be surprised if
they are selected to the tour. The Day tour of France will be yet another
snooze fest, with the lone bit of excitement being which aussie getting the
green jersey.

Marty
__________________
Sono piů lento di quel che sembra.
Odio la gente, tutti.
Want to upgrade your membership?
Click Here
.

11-13-04, 03:20 AM
Senior Member
Join Date: Apr 2003
Location: Canada
Posts: 175
Mentioned: 0 Post(s)
Tagged: 0 Thread(s)
Quoted: 0 Post(s)
Likes: 0
Liked 0 Times in 0 Posts
2005 pro season:

I want Moreau to punch more guys.
I want Wladimir Belli to hit Simoni's nephew in the nose again.
I want Vandenbroucke to return to his 1998/99 form.
I want his dog to go easy on the drugs.
I want Mrs. Rumsas back in custody where she belongs.
I want Museeuw's hair-system to win the Dwars door Belgie.
I want Andrei Tchmil to come out of retirement, mark the hairpiece all the way to the line, then punch it out like he did Jo Planckaert in Waregem.
I want a stein full of German fans to apologize to Jens Voigt.
I want more nicknamed French riders, like Du-Du, Pi-Pi and Le Gros Cornichon.

I want riders like Basso and Cunego to continue to flourish and, along with the Zabels and Bettinis out there, show us all that the age of specialization does not need to exist for long.

11-13-04, 04:19 AM
Maglia Ciclamino
Join Date: Jul 2004
Location: Fairfield, OH
Posts: 3,072
Bikes: 2011 Bianchi Infinito, 2010 Surly Long Haul Trucker
Mentioned: 0 Post(s)
Tagged: 0 Thread(s)
Quoted: 0 Post(s)
Likes: 0
Liked 0 Times in 0 Posts
Maybe I should try to "walk on" to the Phonak team. I think Landis could be a great domestique for me.

Then again, I'm not sure I want to drink the water that team's been drinking lately...

11-13-04, 05:53 PM
Sprockette
Join Date: Oct 2001
Location: Canada
Posts: 5,503
Mentioned: 0 Post(s)
Tagged: 0 Thread(s)
Quoted: 0 Post(s)
Likes: 0
Liked 0 Times in 0 Posts
Apparently the Giro will include Sestriere and the Marmolada this year. I was hoping they'd do the Zoncolan again, though.

I hope Lance skips the tour and it's not another snooze. I still hope for Jan to win, but also some more great mountain stages where there is some actual suspense.

I'd like to see Cipo get some wins in his last year, and I look forward to seeing him wear some nutty skinsuit in the Giro.

I hope it rains this year at Paris Roubaix! I want to see a real mudfest.
__________________
You can catch more flies with honey than with vinegar. That's great...if you want to attract vermin.
Thread
Thread Starter
Forum
Replies
Last Post
Clydesdales/Athenas (200+ lb / 91+ kg)

Posting Rules
You may not post new threads
You may not post replies
You may not post attachments
You may not edit your posts
---
HTML code is Off
---