Kc Bikestravaganza 07

05-01-07, 11:33 AM
Junior Member
Join Date: Mar 2007
Location: Kansas City, MO
Posts: 12
Bikes: Bianchi Bravia, GT Aggressor
Mentioned: 0 Post(s)
Tagged: 0 Thread(s)
Quoted: 0 Post(s)
Likes: 0
Liked 0 Times in 0 Posts
Kc Bikestravaganza 07
---
here's the link to my flickr page with all of the BIKESTRAVAGANZA activities.
https://www.flickr.com/photos/profess...7600162862488/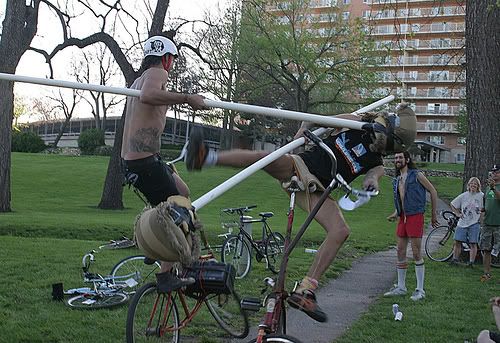 it has a little bit of everything: B.I.K.E. movie screening, Critical Mass Ride, Hellcat Hustle Alleycat, Flat Track Races, Sweet Jumps, Tallbike Jousting, Bikecentric Art Show at Mo-Mo Gallery...
April 26 - 28, 2007
please enjoy, and make comments.
©hrisGo!

05-01-07, 01:21 PM
Mr. Maximan1
Join Date: Sep 2006
Location: Anaheim and Fullerton (SoCal)
Posts: 1,300
Bikes: Puch Superleicht, Nishiki moutain project, Trek 2300 carbon composite
Mentioned: 0 Post(s)
Tagged: 0 Thread(s)
Quoted: 1 Post(s)
Likes: 0
Liked 0 Times in 0 Posts