Down Low Glow

01-09-09, 10:06 AM
Wheelman
Join Date: Jun 2008
Location: Valley Forge
Posts: 15
Bikes: Homebuilt gems
Mentioned: 0 Post(s)
Tagged: 0 Thread(s)
Quoted: 0 Post(s)
Likes: 0
Liked 0 Times in 0 Posts
Down Low Glow
---
So I finally bought a Down-Low Glow light from Rock the bike. Here it is on the
Brass Lion: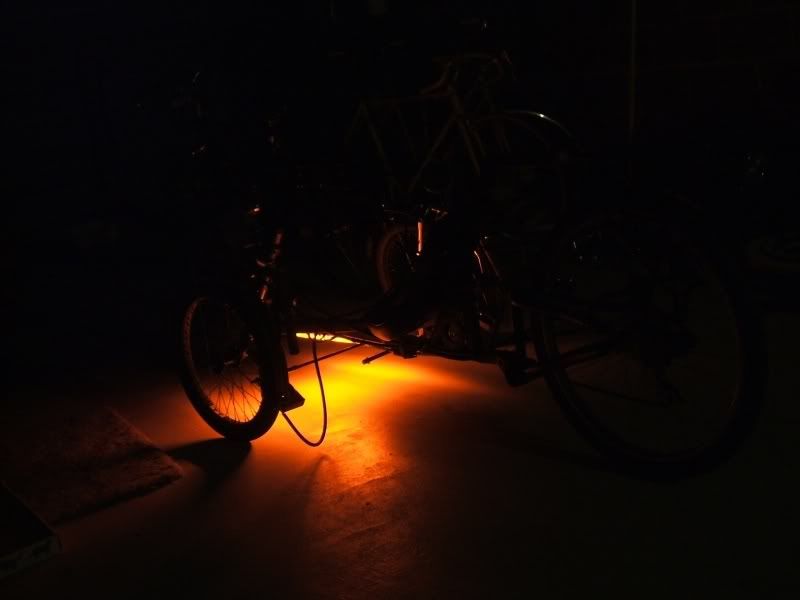 The amber/yellow one is street legal for side lighting so long as it's not flashing as far as I know (in Pennsylvania). And yes, I realize the bullet headlight is a little dim- I'll be replacing the guts and keeping the nice shell.

02-02-09, 03:40 PM
Viking Warrior
Join Date: Aug 2007
Location: Bristol, CT
Posts: 224
Bikes: 60's SpaceLiner, 60's Ross Futura, 60's Sears spyder, 70's Zebrakenko, 98 Ross Chimera Hybrid, 90's Schwinn Frontier, and ThunderHorse, my trusty mountain steed, also my gf's 64 Schwinn ladies cruiser and her purple lowrider are at my disposal.
Mentioned: 0 Post(s)
Tagged: 0 Thread(s)
Quoted: 0 Post(s)
Likes: 0
Liked 0 Times in 0 Posts
My DLG kits
---

03-02-09, 12:09 AM
Member
Green and red Down Low glows
---
They are awesome lights. They really look cool in the snow. I have had a pair for two years and when my Tour Easy recumbent was recently stolen I thought the motive may have been the Down Low Glows. I was right. The bike turned up in an alley a couple of weeks later after a major campaign to get my bike back. I got it back but not the Green Down Low glow. They left the Red one but took the battery.