Reviving the late great chopper

05-25-09, 03:26 PM
Senior Member
Join Date: Jul 2008
Location: Oregon
Posts: 83
Mentioned: 0 Post(s)
Tagged: 0 Thread(s)
Quoted: 0 Post(s)
Likes: 0
Liked 0 Times in 0 Posts
Reviving the late great chopper
---
This thing has been out of service ever since the frame cracked, about 2-3 years ago. I've since sold the forks and wheels, most of the chrome goods have rusted up really bad. But I kept the frame I made simply because I thought I might fix it someday. That time has finally come. When I went to the Bonneville Salt Flats last year for speed week, I felt left out seeing all the odd bicycles and rat rods rolling around out there. I'm going back this year, and with my chopper in tow. Problem with the original design was the back of the frame. I just built it wrong, and it took forever to get the back wheel on and off. Plus it didn't have sufficient ground clearance to make any sort of turn. I've already cut the back off, and am getting ready to buy some tubing to make it better. Also, the wheel I'll be using has a bendix 2 speed hub, so it'll be easier to get this heavy beast rolling. Paint scheme is in the works, but I've got a strong feeling for satin black tank, wheels, and forks, handle bars, sprocket, crank, satin green frame. Tires will be blackwall balloons all around, no fenders this time. Then I have to figure out a kick-stand that will work in salt, don't want this thing falling over out there. I also have to build new forks. Looking for any creative input that y'all have, my restraint is my budget, this economy is a heavy hitter.
Here she is before I broke the frame when I hit a pothole in the road after coasting down a 1-mile long hill, can't wait to get it on it's feet again.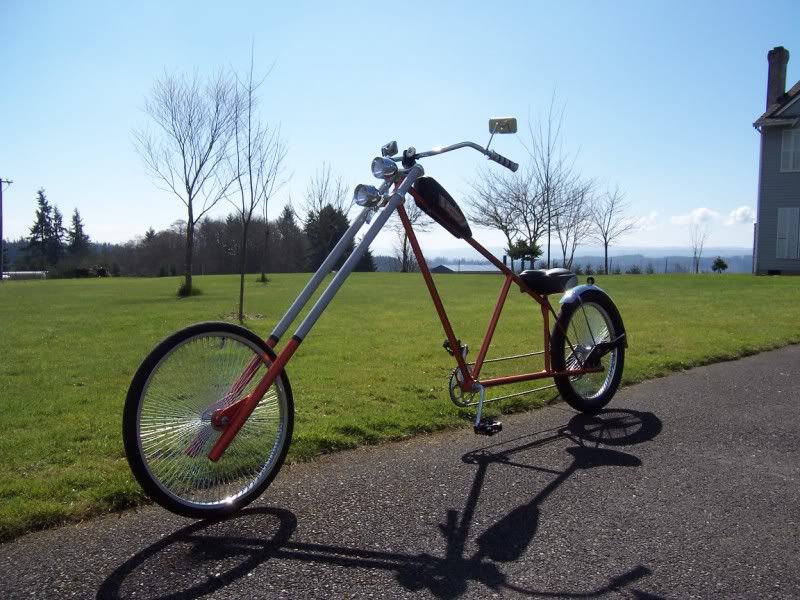 05-31-09, 07:36 PM
el padre
Join Date: Mar 2005
Location: South East Kansas
Posts: 1,490
Bikes: Rans Stratus, ICE TRike, other assorted
Mentioned: 0 Post(s)
Tagged: 0 Thread(s)
Quoted: 5 Post(s)
Likes: 0
Liked 0 Times in 0 Posts
I like your chopper, maybe one day will try to build one.......+1 on the 2-speed bendix "automatic" ... that is what I call mine...i don't have it on a bike right now but hope to get it back on one.