Bicycle Wall Art

11-06-09, 12:35 PM
Senior Member
Join Date: Dec 2006
Location: Long Island, New York
Posts: 3,287
Bikes: a lowrider BMX, a mountain bike, a faired recumbent, and a loaded touring bike
Mentioned: 8 Post(s)
Tagged: 0 Thread(s)
Quoted: 146 Post(s)
Likes: 0
Bicycle Wall Art
---
This bit of graffiti has a Bicycle stenciled at the middle of it, with a heart around it, and a couple of music notes.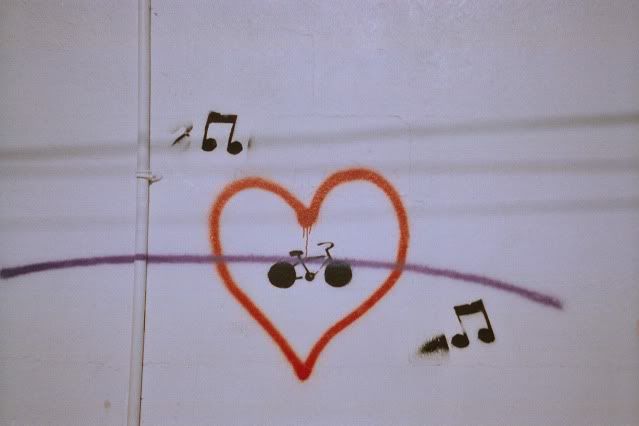 Someone accused ME of painting it! I said NO, and they said that the kids did it as a tribute to me then.[/QUOTE]

11-24-09, 01:01 PM
Senior Member
Join Date: Dec 2006
Location: Long Island, New York
Posts: 3,287
Bikes: a lowrider BMX, a mountain bike, a faired recumbent, and a loaded touring bike
Mentioned: 8 Post(s)
Tagged: 0 Thread(s)
Quoted: 146 Post(s)
Likes: 0
It was painted near the "Ghost Bike". A girl was run over by someone in her homeroom class at the local High School. That's NOT even near - where the "accident" happened. There was a set of cranks screwed to the telephone pole, with three inch drywall spikes (cordless drill) . That memorial stayed up for ten years. They had to use a front-end loader to pry it off the pole, because the heads of the screws were stripped.

It's across Glen Cove Avenue,from the North Shore High School, on the side of the Deli. Glen Head , 11545 NY.
Thread
Thread Starter
Forum
Replies
Last Post

Posting Rules
You may not post new threads
You may not post replies
You may not post attachments
You may not edit your posts
---
HTML code is Off
---