Senior Member
Join Date: Dec 2006
Location: Long Island, New York
Bikes: a lowrider BMX, a mountain bike, a faired recumbent, and a loaded touring bike
Posts: 3,064
Mentioned: 1 Post(s)
Tagged: 0 Thread(s)
Quoted: 81 Post(s)
Wrapping Bikes in Gift Wrap, Aluminum Foil, Etc.
---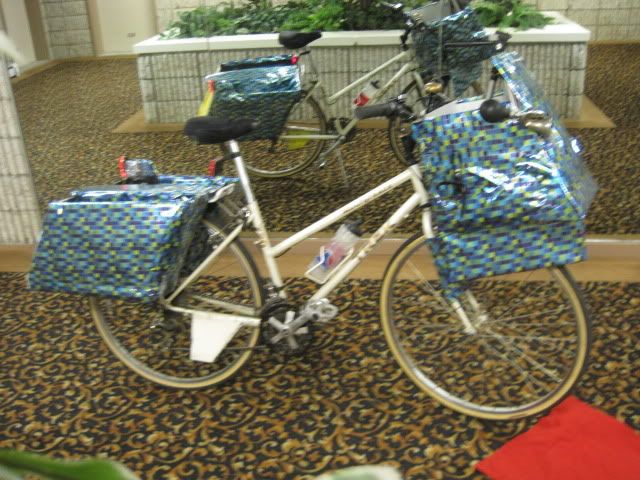 I'm going to ride this bike in the St. Patricks Day Parade tomorrow, so I wrapped the Corrugated Plastic boxes in Gift Wrap.
I don't know how long this will last, it's not intended to be permanent.
The Red Flag on the floor, in front of the bike really lets me do anything I want in the street, within reason. I highly recommend you'z all getting one.
That one piece of white, now that I look at these pictures, needs to be wrapped. It's a deraileur-guard/chain-guard, made of foam board (two layers) and held to the chainstay with Duco Cement and packing tape.
Should I wrap the spokes in Aluminum Foil? What's your opinion?
I seem to recall something like this being done in the inner cities, as a project to help at-risk-youths. Did you'z see the article?