Vintage MTB cantilever brake setup - need help

01-08-17, 10:54 AM
Senior Member
Join Date: Oct 2015
Posts: 201
Mentioned: 5 Post(s)
Tagged: 0 Thread(s)
Quoted: 71 Post(s)
Likes: 0
Liked 0 Times in 0 Posts
Vintage MTB cantilever brake setup - need help
---
Trying to set up the brakes on my 1986 Bridgestone MB-2. From what little I know of cantilever brakes, I should:
1) Start with the straddle wire at about a 45 degree angle
2) Bring the arms so they are parallel to the ground and the pads are almost touching the rim
3) Lubricate the bosses that the arms sit on, and loctite the screw that holds them on
That's about all I know...
My questions are:
1) Is the straddle wire set up properly in the rear?
2) It looks like I will need a new straddle wire in front, as the one that came with it is a bit too short. Does anyone have a link to a new straddle wire?
3) How do I keep the straddle wire from shifting over to one side? Should I ditch the whole straddle wire thing and go with something more modern? (Trying to keep the vintage look though)
4) How do I keep the brake pads even on both sides of the rim? There is no adjusting screw to adjust spring tension.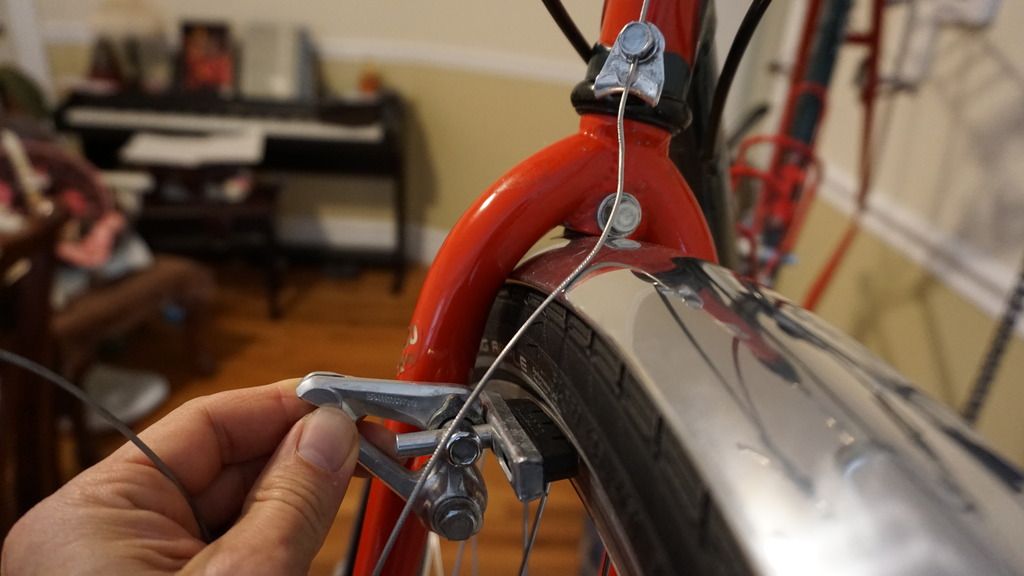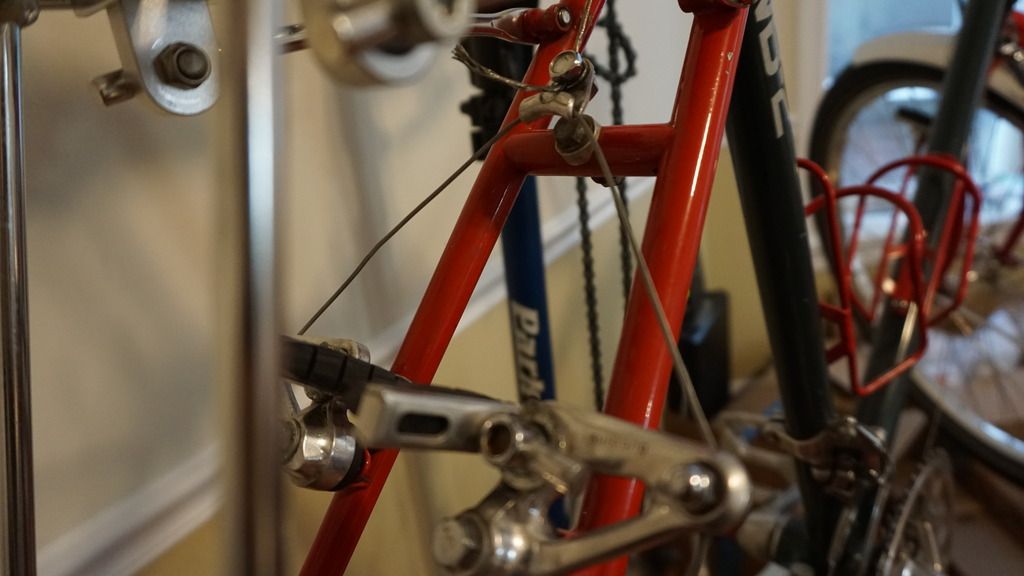 Thanks!

01-08-17, 11:09 AM
Senior Member
Join Date: Feb 2004
Location: St Peters, Missouri
Posts: 29,929
Bikes: Catrike 559 I own some others but they don't get ridden very much.
Mentioned: 15 Post(s)
Tagged: 0 Thread(s)
Quoted: 1444 Post(s)
Not the easiest brakes to set up. What are you trying to accomplish?

If your goal is to return the bike to stock, I think that you are doing the right things so just struggle through it. I think that it has more to do with persistence and experience to develop the necessary technique.

If you are setting up the bike for regular use, and the return spring anchor holes are on the right side of the canty studs, I'd upgrade the brakes to something that uses threaded brake pads.
__________________
My greatest fear is all of my kids standing around my coffin and talking about "how sensible" dad was.

01-08-17, 11:26 AM
I'm better at working on stuff like that in person ..

Like RG , keep at it.. the ring washer with the tab on it is tapered.. that is your toe in.


My Touring rig, uses that type hardware, though an even more complicated installation.
[Scott-Peterson SE]

01-08-17, 11:48 AM
Mid Tour!
Join Date: Oct 2016
Location: Soon back in Edmonton Alberta
Posts: 569
Bikes: Marin Muirwoods Racked out for this years Tour, Norco Indi 4 racked out from last years tour, Giant Defi II for week-end ripps.
Mentioned: 2 Post(s)
Tagged: 0 Thread(s)
Quoted: 151 Post(s)
Likes: 0

01-08-17, 11:54 AM
Senior Member
Join Date: Feb 2012
Location: Rochester, NY
Posts: 13,767
Bikes: Stewart S&S coupled sport tourer, Stewart Sunday light, Stewart Commuting, Stewart Touring, Co Motion Tandem, Stewart 3-Spd, Stewart Track, Fuji Finest, Raleigh Pro, Trek Cycle Cross, Mongoose tomac ATB, GT Bravado ATB, JCP Folder
Mentioned: 0 Post(s)
Tagged: 0 Thread(s)
Quoted: 2495 Post(s)
These Shimano cantis can be very nice brakes with good set up. Your guidelines are a good start to best set up.


One trick I sometimes do is to remove the canti from the post and pull it's spring out. Then replace the cani on the post and do initial pad and cable set up. Without the spring tension to fight against I find working with the various bits to be easier. I like my pads' smooth mounting shafts to be very close to parallel to the ground (or square to the rim's brake track). By rotating the wedged "washer" toe in or out can be set. I prefer a traditional straddle cable over the link wire method as you have more adjustability to play with. The straddle wire's fit in the pull up yoke will have some friction and the yoke can be slightly placed off center on the straddle cable to effect pad/rim centering. Pad/rim centering can also be dealt with by moving the pads in or out on their mounts (the eye bolts). Also one can increase or decrease the spring tension by over rotating an arm in the right direction a bit.


Until the next gen of Shimano cantis came out I thought this version was the best on the market. I still have a set on one of my bikes. I would pick this version over the "Low profile" versions that still are available these days. Andy.

01-08-17, 11:59 AM
Senior Member
Join Date: Aug 2007
Location: WI
Posts: 909
Mentioned: 0 Post(s)
Tagged: 0 Thread(s)
Quoted: 2 Post(s)
Likes: 0
Here are a couple pics of these brakes installed. I'd flip the straddle hangers around.
I may have an extra cable if you need one, but a regular brake cable would likely get the job done.

01-08-17, 12:04 PM
Senior Member
Join Date: Aug 2007
Location: WI
Posts: 909
Mentioned: 0 Post(s)
Tagged: 0 Thread(s)
Quoted: 2 Post(s)
Likes: 0
3 & 4 - If they aren't sitting evenly then I'd make sure both are moving smoothly on the post. Also a kinked straddle cable could cause uneven tension on one side or the other, or it could cause the cable to not center well in the hanger.

01-08-17, 12:20 PM

01-08-17, 12:25 PM
Senior Member
Join Date: Jul 2008
Location: Victoria, BC, Canada
Posts: 174
Mentioned: 0 Post(s)
Tagged: 0 Thread(s)
Quoted: 35 Post(s)
Likes: 0
Liked 0 Times in 0 Posts

01-08-17, 12:27 PM
Bike Gremlin

01-08-17, 01:42 PM
Senior Member
Originally Posted by
fietsbob
I highly recommend the Problem Solvers Wide Cable Carrier. I like to keep the carrier as low as possible, consistent with tire/fender clearance of course. Then I set the brake pad clearance by adjusting the straddle wire length. You set the side-to-side balance by shifting the straddle wire in the carrier. Put the brake return springs in matching holes if your frame has more than one.

01-08-17, 02:47 PM
Senior Member
Join Date: Mar 2016
Location: North Carolina
Posts: 1,124
Bikes: '87-ish Pinarello Montello; '89 Nishiki Ariel; '85 Raleigh Wyoming, '16 Wabi Special, '16 Wabi Classic, '14 Kona Cinder Cone
Mentioned: 5 Post(s)
Tagged: 0 Thread(s)
Quoted: 428 Post(s)
Likes: 0
I have an old Nishiki Ariel with the same brakes, As previously stated, these brakes are not the easiest to set up but once adjusted are pretty darn powerful brakes.

Two things that are key are install two new cables, housing and get two new yoke cables and getting the pads to hit the rim correctly. Don't short-cut on the cables.

You're on the right track for the initial set-up. What you'll want to do is clamp the pads lightly against the rim with a large C-clamp. I modified an old Park spring-type brake third hand to do this but a C-clamp will work also. Or you can have a buddy hold them closed to the rim. Adjust the pads so that they hit the rim dead on and the face of the pad hits the rim flat. This sometimes isn't easy and it takes some trial and error. Once done, the rest of the adjustments are pretty straight forward.
Thread
Thread Starter
Forum
Replies
Last Post

Posting Rules
You may not post new threads
You may not post replies
You may not post attachments
You may not edit your posts
---
HTML code is Off
---