T-handle tool organiser

08-18-18, 11:29 AM
Senior Member
T-handle tool organiser
---
I have bought a new set of Torx and hex t-handle wrenches. They are much higher quality than the ones I had previously. However, they did not come with a stand (workbench or wall-mounted stand). My previous budget set of wrenches did come with a stand.

I tried to fit the new ones into the old stands but they won't fit as the plastic handles are a lot thicker.

So, how do you organise your t-handle wrenches so that they are easy to grasp and pick up when you're working on your bike?

08-18-18, 12:32 PM
Bike Gremlin

08-18-18, 06:54 PM
:D
https://www.walmart.com/ip/Seville-C...57&athena=true
I just use a metal pegboard with various hooks & round loops above my work center, but the easier route from the link might be all you'd need. I tack welded a strip of metal pegboard to my bicycle stand to consistently use the same hooks & round loops.

08-18-18, 11:20 PM
Bike Gremlin

08-18-18, 11:37 PM
******
...the magnetic strip thingies work pretty well. I've used those, and right now I'm using the pegboard fitting that they sell for screwdriver sets.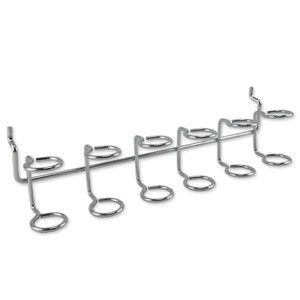 08-19-18, 12:07 AM
Bike Gremlin
Could be just OCD, but I don't like having tools magnetized. Except for the few screwdrivers that I do. At least not those used for working on metal, with or near bearings.

08-19-18, 01:04 PM
Senior Member
Piece of board with a row of holes drilled into it?
__________________
My greatest fear is all of my kids standing around my coffin and talking about "how sensible" dad was.

08-19-18, 06:45 PM
Home School Valedictorian
A piece of aluminum angle, drilled holes to match the various wrench diameters. The vertical leg can be used as a mounting bracket.
__________________
Excuse me if I, have some place in my mind,
Where I go time to time