New leather saddle is looser on one side - likely to break in asymmetrically?

09-19-19, 04:05 PM
Senior Member
Join Date: Oct 2005
Location: Fresno, CA
Posts: 4,454
Mentioned: 6 Post(s)
Tagged: 0 Thread(s)
Quoted: 128 Post(s)
Likes: 0
New leather saddle is looser on one side - likely to break in asymmetrically?
---
I recently purchased a minimally-used Velo Orange leather saddle. This is the model 3, similar profile to a Brooks B17, but thicker leather and longer break-in based on other comments I've read about the saddle. This was fine by me since the B17 fit me well straightaway and only got more comfortable as I rode it more.
Upon receiving the saddle, I immediately noticed that the leather is lower/dipped under the left sit-bone. It's not just the shape of stiff leather; it's actually loose on the left side under the sit bone, while being tight through the center and under the right side of the sit bone. The saddle looks little-used, which is consistent with the seller's comments (he reported riding only 20-30 miles, along with yearly proofide treatment during the 3 years the saddle was on a bike in his garage). So I suspect the piece of leather was asymmetrical to start with, or became so during the production process.
The attached pictures only capture a slight curvature which you can see from reflected light on the saddle. But the leather is notably loose on that side, compared to the center and right side.
I'm curious whether this is still likely to break in okay for me. It already has a slight ass-hatchet profile on the left side, but since this happened for different reasons than through break-in, it may even out while riding. Of course the only adjustment point is at the nose, so there is no way to even out the tension beyond hoping it wears symmetrically. The V.O. saddle has two holes punched on each side and is laced, but that adjustment is also symmetrical.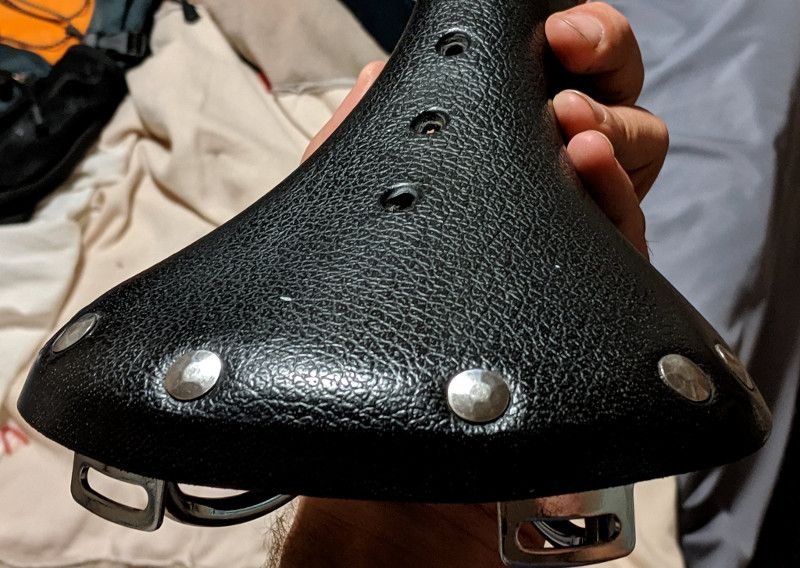 09-19-19, 04:45 PM
Difficult to tell from the picture.

I had an asymmetric B17. Endured it for the better part of 2 years, putting thousands of KMs on it. It never got comfortable. Eventually injured me. Anecdotal so not clear if your saddle is a dud or just atypical. Time will tell

09-20-19, 08:33 AM
Senior Member
Join Date: Feb 2012
Location: Rochester, NY
Posts: 16,952
Bikes: Stewart S&S coupled sport tourer, Stewart Sunday light, Stewart Commuting, Stewart Touring, Co Motion Tandem, Stewart 3-Spd, Stewart Track, Fuji Finest, Mongoose Tomac ATB, GT Bravado ATB, JCP Folder, Stewart 650B ATB
Mentioned: 0 Post(s)
Tagged: 0 Thread(s)
Quoted: 3722 Post(s)
Seems to me that the saddle's leather will shape it's self to the rider's contours and pressures anyway.

Leather is not a perfectly consistent material. The grain, thickness and strength/stiffness will and does vary across the hide (and thus the saddle too). It is this aspect that drives Brookes to cut their higher grade saddles out of the hides with greater attention to this consistency. That a copy doesn't pay as much attention to this when making a lower cost saddle should be of no surprise. Andy
__________________
AndrewRStewart

09-20-19, 12:15 PM
Senior Member
Join Date: Feb 2014
Location: Pasadena, CA
Posts: 4,802
Bikes: Schwinn Varsity
Mentioned: 22 Post(s)
Tagged: 0 Thread(s)
Quoted: 1895 Post(s)
Cannot see anything wrong from those pictures.

09-20-19, 02:56 PM
Señor Member
Join Date: Feb 2013
Posts: 5,063
Mentioned: 5 Post(s)
Tagged: 0 Thread(s)
Quoted: 647 Post(s)
I see the difference left to right, and 'long term injury' is what I thought right away... although I have no specific experience with this problem.
To the OP: Can you easily ride no hands with this saddle? I know that if a plastic saddle or it's rails are sufficiently warped or bent it will make a bike behave like it has a misaligned frame or fork. I don't know if this is useful information to you, but might be something to check out.
Thread
Thread Starter
Forum
Replies
Last Post
General Cycling Discussion
Long Distance Competition/Ultracycling, Randonneuring and Endurance Cycling

Posting Rules
You may not post new threads
You may not post replies
You may not post attachments
You may not edit your posts
---
HTML code is Off
---