Uniglide cassette with threaded sprocket reversed?

05-27-20, 04:02 PM
WGB
Uniglide cassette with threaded sprocket reversed?
---
This wheel has what I believe is a Uniglide cassette
Dust cap marked Shimano 6D which I believe signifies Uniglide
I have a chain whip and a spare chain. I removed a Uniglide three weeks ago and had no issues. I asked on here and was briefed on how to do it (both with a chain and a chainwhip and removal using the bike). Worked perfectly
This one, not so much. It seems to me as if the smallest sprocket (threaded one) is on backwards with the spacer on the outside . I would have assumed that this wasn't possible, that it was designed to prevent this from occuring. The first photo is the Uniglide cassette before me. I cannot get the chain on the chainwhip to fit onto the smallest sprocket because the chainwhip chain catches on the second smallest sprocket and falls off.
The below photo is a generic photo of a uniglide with the sprockets evenly spaced.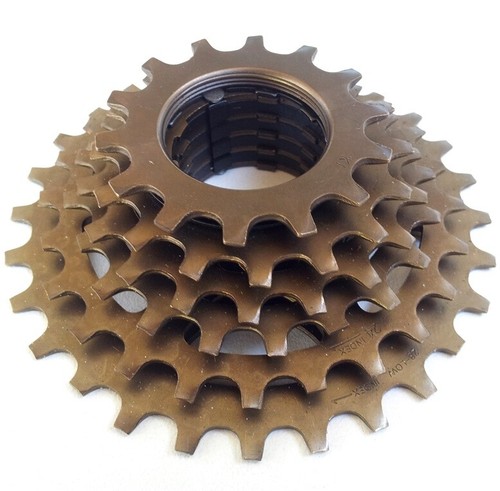 Am I doing this wrong and if I'm wrong what should I be doing?
If the threaded sprocket is on backwards, any ideas on how to remove it?? Could I try to secure the cassette with the chainwhip and try to turn the smallest sprocket with a pair of vise grips?

05-27-20, 04:16 PM
Constant tinkerer
Yes, the cog is on backwards. I'm not sure why it wasn't immediately fixed because it makes the smallest cog and probably the next smallest cog un-useable. Which is good news, because that means it won't have been tightened from riding. Use a vice, vice grips, or whatever you have to get it off.

05-27-20, 04:35 PM
7-speed cultist
Join Date: Aug 2011
Location: CID
Posts: 20,059
Bikes: 1991 Bianchi Eros, 1964 Armstrong, 1988 Diamondback Ascent, 1988 Bianchi Premio, 1987 Bianchi Sport SX, 1980s Raleigh mixte (hers)
Mentioned: 87 Post(s)
Tagged: 0 Thread(s)
Quoted: 2783 Post(s)
Setting aside the possibility that the previous owner is a complete idiot, they might have reversed the cog because it had started to skip. (Uniglide cogs have two useful lives that way.) If you were to stack on a spacer* in between, I see no reason that a backward 1st cog couldn't be made to work.

* I'd guesstimate 2-3mm but someone may have a more exact answer.

05-27-20, 05:00 PM
WGB
I'll see if I can access a vise and try to loosen the sprocket. Perhaps it was an attempt to double the life of the cassette but by not installing a spacer it sure is hard to work with!

Assuming I can get vise to lock on small sprocket, should I still need a single chainwhip??

05-27-20, 05:29 PM
WGB
FastJake
. I was just about to seek access to a vise when something you said hit me, reversing it in this manner by PO probably meant it wasn't on tight. I secured the cassette with a chainwhip and lightly tapped a chisel into the small sprocket which instantly came loose. Good call.
ThermionicScott
. Good point on the cassette sprockets getting used twice. I'll probably save the cassette until a co-op opens and find and install a spacer. Per Sheldon Cooper a six speed Uniglides takes a 3.65mm spacer.
There must have been a lot of these Uniglide cassettes out there! I had a cheap parts bike three weeks ago with one and today I was searching my garage for a functional rear wheel of any kind and in my stack I had two more (including this one) with Uniglide cassettes.
---
Last edited by WGB; 05-27-20 at

05:35 PM

.