I found a use for valve-stem nuts

08-02-20, 10:43 AM
Occam's Rotor
Join Date: Jul 2013
Posts: 6,148
Mentioned: 61 Post(s)
Tagged: 0 Thread(s)
Quoted: 2366 Post(s)
I found a use for valve-stem nuts
---
Most people consider valve stem nuts to be useless extra weight and just toss valve stem nuts into the trash (unless they have tubeless stems). (I keep mine snugged up against the equally useless valve stem caps.)

I have TRP hydraulic disc brakes on one of my bikes, and an adaptor for the 160mm rotor I use on the fork of a Soma Saga. I noticed that the pads touch the cooling fins, meaning that the calipers sit too close for the 160mm rotor. (I tried a 180mm adaptor, but it wasn't even close. I blame the fork IS mount.) So I went hunting for some washers. It turns out those valve stem caps thread onto the bolts that attach the calipers to the adaptors; they are the perfect threaded washer. As an added advantage, they were also of the perfect thickness, so this will keep the pads happy at least or until I can locate a proper IS to post adaptor for this bike.

08-02-20, 10:48 AM
coprolite
Yes an often used spacer.. Bike shops have a lot of them since new tubes always come with another one..

08-02-20, 12:52 PM
Senior Member
Join Date: Jul 2017
Location: Mississippi
Posts: 3,809
Bikes: '20 Tarmac Disc Comp '91 Schwinn Paramount '78 Raleigh Competition GS
Mentioned: 21 Post(s)
Tagged: 0 Thread(s)
Quoted: 1421 Post(s)
Maybe not as needed on a presta, but I use mine to ensure that when I put my air chuck on the tire that I am not pushing it down into the rim. I wish my schrader's had such as it takes a lot more force to get the chuck on them.

I use the plastic caps too. Never thought mud and gunk getting down the hole in the stem a good thing. Since so many don't use the caps and apparently don't have issues, it must not be the issue I imagine. But we all have our quirks.

08-02-20, 01:32 PM
coprolite

08-02-20, 02:08 PM
Old fart
I use the hexagonal ones as low-profile nuts on mudguard darumas. It never hurts to have as much clearance as possible.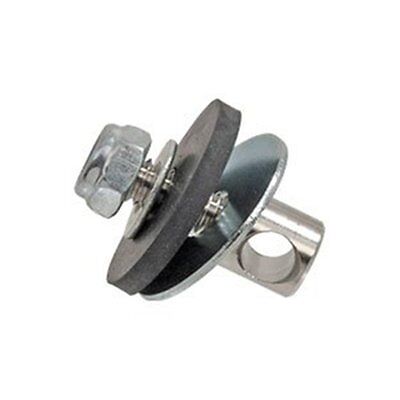 08-02-20, 06:46 PM
Senior Member
Join Date: Jun 2014
Location: Ontario, Canada
Posts: 4,044
Bikes: iele Latina, Miele Suprema, Miele Uno LS, Miele Miele Beta, MMTB, Bianchi Model Unknown, Fiori Venezia, Fiori Napoli, VeloSport Adamas AX
Mentioned: 11 Post(s)
Tagged: 0 Thread(s)
Quoted: 1081 Post(s)
I used a number of alloy Presta valve retaining nuts as spacers on one of my Minoura handlebar water bottle cage mounts.

Cheers

08-02-20, 07:22 PM
coprolite
you should tell all the weight counting folks where the aluminum ones come from,
the typical ones I see are brass with plating...