Sunrace Downtube Shifters

11-07-20, 12:24 PM
Sunrace Downtube Shifters
---
So will these shifters work / fit on standard downtube shifter bosses if you remove them from this clamp-on band? I really don't care if they index or not...which they do for 7 speed Shimano...I just want to know if they will bolt up. Thank you.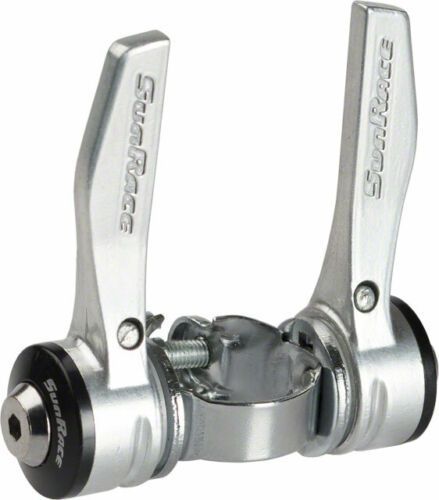 11-07-20, 02:07 PM
aka Tom Reingold
Join Date: Jan 2009
Location: New York, NY, USA
Posts: 40,135
Bikes: 1962 Rudge Sports, 1971 Raleigh Super Course, 1971 Raleigh Pro Track, 1974 Raleigh International, 1975 Viscount Fixie, 1982 McLean, 1996 Lemond (Ti), 2002 Burley Zydeco tandem
Mentioned: 493 Post(s)
Tagged: 0 Thread(s)
Quoted: 6992 Post(s)
I would bet with 90% certainty that they will work. The industry has standardized on that type of boss.

11-07-20, 02:25 PM
I'm not sure I get your deal, but I replaced my bar-end shifters with Sunrace downtube shift levers in 2008. The downtube didn't have bosses but 2 pegs, one on each side, that connected with a piece of threaded rod through a hole in the downtube, to hold the pass-throughs for the shift cables. They weren't useful mounts for the downtube shifters so I bought a 4-inch long
#8
machine screw, 2 pieces of threaded alumin(i)um sleeve, enough unthreaded sleeve to make up the difference. The levers mounted perfectly on the sleeves.
I have an alumin(i)um frame; there's no downtube shifter made for that size frame, so I had to improvise. You sound as though you have a steel frame, which may be very different.

11-07-20, 04:30 PM
The rear control is indexed-only, as far as I know, and they're on my only bike.

11-07-20, 04:42 PM
MotuekaCascadeChinook
Join Date: Jul 2017
Location: Mississippi
Posts: 10,594
Bikes: '20 Tarmac Disc Comp '78 Raleigh Competition GS
Mentioned: 40 Post(s)
Tagged: 0 Thread(s)
Quoted: 4286 Post(s)
Are those downtube levers? Clamp looks more like it's intended for one of those old 7 style stems. Regardless, I wouldn't assume anything about fit till you tried them.

11-07-20, 04:45 PM
Senior Member
Join Date: Feb 2015
Location: Mission Viejo
Posts: 4,834
Bikes: 1986 Cannondale SR400 (Flat bar commuter), 1988 Cannondale Criterium XTR, 1992 Serotta T-Max, 1995 Trek 970
Mentioned: 17 Post(s)
Tagged: 0 Thread(s)
Quoted: 1568 Post(s)
Bought a set of Sunrace index downtube shifters a few years ago. Have to be the worst shifters I've ever had.

John

11-07-20, 04:56 PM
Really Old Senior Member

11-08-20, 09:29 AM
It's a 28.6 clamp size for regular size cro-moly. But anyhow, that was the point of asking this question...to see if anyone had tried that.
---
Last edited by Jicafold; 11-08-20 at

09:33 AM

.

11-08-20, 08:32 PM
Señor Member
Join Date: Dec 2018
Location: Pac NW
Posts: 5,599
Bikes: Old school lightweights
Mentioned: 71 Post(s)
Tagged: 0 Thread(s)
Quoted: 2325 Post(s)
If you don't have a co-op with a bin of vintage shifters nor want to buy on ebay, I might try the ISO thread in the C&v subforum for something more appropriate ... like anything from Suntour or Shimano.