Roadbike Chainstay Protector

11-21-20, 01:55 PM
Roadbike Chainstay Protector
---
I have a 2020 Trek Domane SL6. 9 months old.

The chainstay protector that came with the bike is coming off. Is there something that gets strong recommendations for road bikes? Almost all research I've done on protectors pulls me into the MTB world.

My preference would be to have something clear. But I'll sacrifice looks if something comes out the clear winner in the space. Effectiveness of protection and not having to put on a new one every few months trumps looks in my book.

Thanks.

11-21-20, 02:54 PM
Senior Member
Join Date: Aug 2005
Location: Pittsburgh, PA
Posts: 32,567
Bikes: '96 Litespeed Catalyst, '05 Litespeed Firenze, '06 Litespeed Tuscany, '20 Surly Midnight Special, All are 3x10. It is hilly around here!
Mentioned: 36 Post(s)
Tagged: 0 Thread(s)
Quoted: 1551 Post(s)
Likes: 0
Chainstay protectors can protect the paint if you ride on rough roads, which is why they are more common on MTBs. I've had road bike that came with them and others that didn't so they are not universal. If you want to replace yours, Lizard Skin ans Bontrager (Trek) offer them as aftermarket items or you can make your own with Gorilla Tape or similar thick plastic adhesive film. Be sure to clean off any residual adhesive and any oil or dirt from the chainstay before applying the new protector or it will come off just as soon.

11-21-20, 04:17 PM
Senior Member
Join Date: Sep 2010
Location: Roswell, GA
Posts: 7,805
Bikes: '93 Trek 750, '92 Schwinn Crisscross, '93 Mongoose Alta
Mentioned: 24 Post(s)
Tagged: 0 Thread(s)
Quoted: 1237 Post(s)
Helicopter tape, used to protect the leading edges of helicopter rotor blades, has been used successfully. Do a Web search. As HillRider mentions, a clean. grease-free surface is essential for proper adhesion. Rounding sharp corners helps keep them from peeling up due to stress concentrations.

11-22-20, 11:32 PM
Senior Member
Join Date: May 2003
Location: Mountain Brook. AL
Posts: 3,845
Mentioned: 12 Post(s)
Tagged: 0 Thread(s)
Quoted: 259 Post(s)
Likes: 0
"Real" helicopter tape is sold in sizing big enough for a helicopter blade and is priced accordingly. Numerous vendors
sell variants represented as such cut down for bicycle use with entirely unknown provenance. Another option is tennis
racket protection tape available at sporting goods stores. An elliptical smooth cut on each end and a tapering of the
applique to match the tapered chain tube is left to the user.

Or you go to amazon and type bicycle chain stay protector into the search and find lots of options.
---
Last edited by sch; 11-22-20 at

11:35 PM

.

11-25-20, 09:54 AM
Senior Member
Join Date: Aug 2008
Location: C-Ville
Posts: 1,232
Bikes: are fun to ride
Mentioned: 0 Post(s)
Tagged: 0 Thread(s)
Quoted: 29 Post(s)
Likes: 0
Old inner tube zip tied, mastic tape, helicopter tape or one of the pre made jobs depending on your tastes.

11-25-20, 10:23 AM
Hits [ENTER] b4 thinking
Join Date: Jul 2017
Location: Mississippi
Posts: 5,172
Bikes: '20 Tarmac Disc Comp '91 Schwinn Paramount '78 Raleigh Competition GS
Mentioned: 27 Post(s)
Tagged: 0 Thread(s)
Quoted: 1988 Post(s)
I'm not going to notice what you put on your chain stay. It's not the part of your bike my eyes focus on. Unless perhaps you use some odd contrasting color.

When I got my Paramount, the previous owner had just used electrical tape. I removed it and used nothing.

11-25-20, 10:00 PM
Senior Member
Join Date: Sep 2004
Location: Chicago area
Posts: 1,568
Bikes: Airborne "Carpe Diem", Motobecane "Mirage", Trek 6000, Strida 2, Dahon "Helios XL", Dahon "Mu XL", Tern "Verge S11i"
Mentioned: 18 Post(s)
Tagged: 0 Thread(s)
Quoted: 640 Post(s)

11-26-20, 12:43 AM
Senior Member
Join Date: Dec 2015
Location: Menomonee Falls, WI
Posts: 963
Bikes: 1984 Schwinn Supersport, 1988 Trek 400t, 1977 Trek TX900, 1983 Bianchi Champione del Mondo, 1986 Trek 400 Elance, 1978 Raleigh Supercourse, 1991 PDG Paramount OS, 1971 Schwinn Sports Tourer, 1985 Trek 670
Mentioned: 6 Post(s)
Tagged: 0 Thread(s)
Quoted: 313 Post(s)
Go to aircraftspruce.com they sell 3M leading edge tape, the price has really jumped in the last few years, but you can get a 2in wide strip for a $1.95/ft. You donít need much for a chain stay protector. Works well, and easy to apply, if you use their wet method, practically invisible, cut it to any shape.
Tim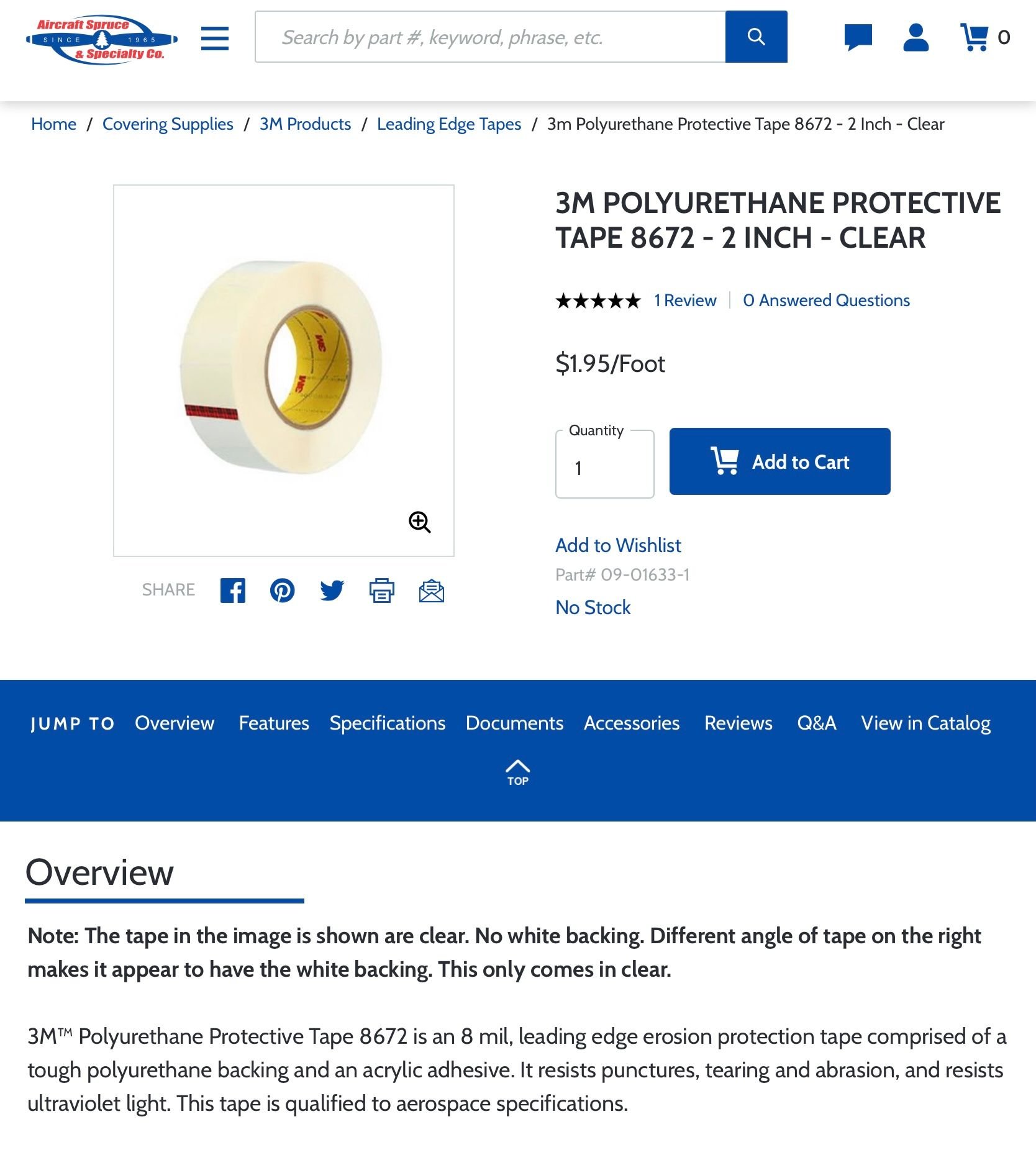 11-26-20, 01:08 AM
Senior Member
Join Date: Jul 2002
Location: Sacramento, California, USA
Posts: 39,552
Bikes: Ridley Excalibur, Gazelle Champion Mondial, On-One Pompino, Specialized Rock Hopper
Mentioned: 63 Post(s)
Tagged: 0 Thread(s)
Quoted: 2432 Post(s)

11-26-20, 09:36 AM
On violin edges, as protection against careless bowing and hand sweat, we use clear Con-Tact paper (plastic) brand shelf liner. It is thick and soft and bends or stretches easily to fit odd shapes. It would be perfect for this application, and maybe you already have a roll.

11-26-20, 12:01 PM
Bike shop chainstay protector under $10.00
Amazon chainstay protector down to $6.00
AliExpress chainstay protector $2.00

Take your pick and no need to faff with various improvisations and you get the right product for the right job.