Adding 3-Speed to Worksman

05-03-21, 11:59 AM
Junior Member
Adding 3-Speed to Worksman
---
Hello,
Newbie here, breaking in a Worksman Newsboy. Short, flat runs on blacktop until I get into better shape.

Thinking I want a 3-speed now. The local shop has quite a backlog for an install. Anyone know a small shop or bike tech that may be able to do this ...or is it something I should consider doing myself?

located in Lakeland, FL near Tampa

Thank you!

05-03-21, 10:21 PM
Senior Member
Join Date: Feb 2012
Location: Rochester, NY
Posts: 14,926
Bikes: Stewart S&S coupled sport tourer, Stewart Sunday light, Stewart Commuting, Stewart Touring, Co Motion Tandem, Stewart 3-Spd, Stewart Track, Fuji Finest, Raleigh Pro, Trek Cycle Cross, Mongoose tomac ATB, GT Bravado ATB, JCP Folder
Mentioned: 0 Post(s)
Tagged: 0 Thread(s)
Quoted: 2926 Post(s)
Lot's of shops regard trike service as a pain. The space needed to do it. The lack of routine experience and comfort with it. The need in their only profitable season to push as much dollars through their service dept. All combine to make it favorable for many shops to try to tightly schedule and minimalize the time and personal on any repair, let alone the less quick ones. I suspect if this had been dealt with during the off season the shop would have been more receptive on scheduling. Andy
__________________
AndrewRStewart

05-04-21, 11:10 AM
Hello
The BFs venerable guru Mr. Stewart gives us priceless insight.

I looked up your Worksman Newsboy and I gather it is a bicycle not a Tricycle?

Do you have the new 3 speed rear wheel with coaster brake and required cabling and shifter and just need it installed?

05-05-21, 10:54 AM
Senior Member
Join Date: Feb 2015
Location: Mission Viejo
Posts: 3,369
Bikes: 1986 Cannondale SR400 (Flat bar commuter), 1988 Cannondale Criterium XTR, 1992 Serotta T-Max, 1995 Trek 970
Mentioned: 12 Post(s)
Tagged: 0 Thread(s)
Quoted: 937 Post(s)
If you want a 3 speed for easier peddling, you might want to consider a larger rear cog initially. This will hopefully be an easy swap and help you get moving with less effort.

When you progress to where the gearing is too low, you can decide what you want to do.

John

05-05-21, 09:30 PM
Bikes are okay, I guess.
Join Date: Jan 2015
Location: Richmond, Virginia
Posts: 6,854
Bikes: Waterford Paramount Touring, Giant CFM-2, Raleigh Sports 3-speeds in M23 & L23, Schwinn Cimarron oddball build, Marin Palisades Trail dropbar conversion, Nishiki Cresta GT
Mentioned: 53 Post(s)
Tagged: 0 Thread(s)
Quoted: 1971 Post(s)
Try the larger rear cog first, if you can find one that'll fit. It will be the cheapest and easiest way to pedal more easily; the cog plus some extra chain and you're done.
I checked the specs and the Newsboy uses heavy gauge spokes, something you are unlikely to find in a 3-speed rear wheel. Also, you'd probably have to build the wheel anyway since most 3-speeds are not built on 2.125 rims. A shop could order the stuff and build the wheel, and probably drill the spoke holes oversize for thicker spokes if you want the wheels to match, and assemble everything. It's been years since I worked in shops but that sounds like a couple hundred dollars (
IF
you can get the parts these days) and maybe full payment in advance for the special order.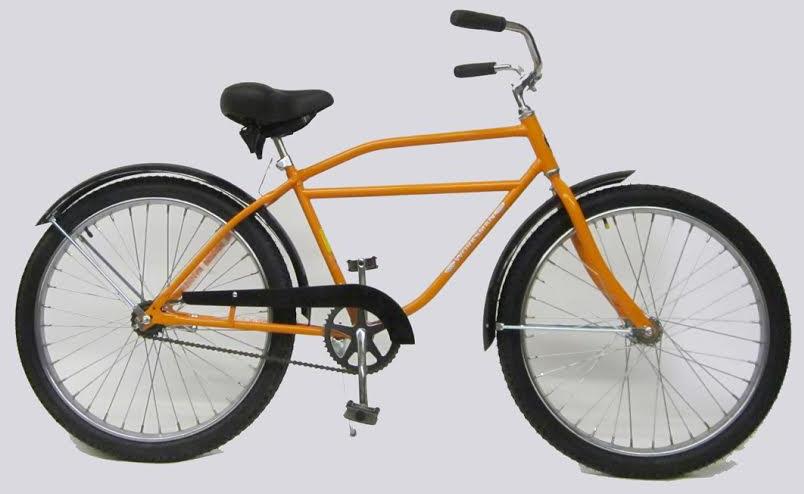 Not impossible, but maybe more than you want to get into.
You can also use a smaller chainwheel with the same rear cog.
---
Last edited by thumpism; 05-05-21 at

09:33 PM

.

05-05-21, 11:26 PM
Senior Member
Join Date: Sep 2020
Location: Eastern Poland
Posts: 628
Bikes: Romet Jubilat x 4, Wigry x 1, Turing x 1
Mentioned: 2 Post(s)
Tagged: 0 Thread(s)
Quoted: 172 Post(s)
Is the Worksman still as heavy as they used to be?

I see that they offer a Nexus 3 speed hub, so presumably all the parts are available and indeed just need obtaining and fitting.