Electra Townie 7D - tools, adapter recommendations

11-06-21, 02:57 PM
Electra Townie 7D - tools, adapter recommendations
---
Hi - I'm looking to place a mid-motor on my 2016 aluminum townie. It appears to have the "American" bottom bracket, which is almost 100 wide, with an internal diameter > 35mm, according to the Bafang compatibility tests. I'd like to buy the correct adapter and any needed tools (I haven't really ever done any bicycle maintenance). Way in the distant past, I did rebuild a car engine, so I'm not completely helpless; for the past couple of decades I have just relied upon local bike shops for all maintenance. So - any thoughts, links, etc would be very welcome.

11-07-21, 09:33 AM
Senior Member
Join Date: Feb 2015
Location: Mission Viejo
Posts: 5,445
Bikes: 1986 Cannondale SR400 (Flat bar commuter), 1988 Cannondale Criterium XTR, 1992 Serotta T-Max, 1995 Trek 970
Mentioned: 20 Post(s)
Tagged: 0 Thread(s)
Quoted: 1815 Post(s)
If you don't get a response, post this in the Electric Bikes subforum. A ton of knowledge on conversions over there.

John

11-07-21, 04:14 PM

11-08-21, 10:18 PM
An American BB is usually a term used for BMX, cruiser and Schwinn shaped things. It's threadless, roughly 68mm wide-ish, and much larger than 35mm internally. I think some of the Electra bikes did have those, but it sounds like you have some variation of an English BB. They can be anywhere from 68mm to 100mm wide for a fat tire bike. Generally you would only get a 100mm width BB on a bike with 4" wide tires.

If it's standard English threaded all you need to know is the width, Bafang makes models for everything up to 100mm wide. You can easily get an adapter for an American BB too though, they press/bolt into place and you end up with a 68mm, or maybe 73mm English threaded BB to work with.

For tools the Bafang kits usually offer the couple tools you need. If the original BB is still in the frame that's could be a couple more tools.

11-09-21, 10:34 AM
Senior Member
Join Date: Jul 2014
Location: socal
Posts: 3,676
Mentioned: 8 Post(s)
Tagged: 0 Thread(s)
Quoted: 740 Post(s)
Look at YouTube for assembly of a Bafang mid drive. Luna Cycle has the specific tools listed for BBS; for TS look at ECO (procedures for Bafang are well-documented, but I've never converted with TS since they seem to have quality problems). For your bike, AFAIK you need an 8 mm Allen to remove the bolt holding the crank arm, a gear puller to remove it from the spindle and whatever tool is specified for the bottom bracket. Park Tool has these, but you can find more expensive and cheaper that will accomplish the same task. If you have any questions of a more specific nature ask on the e-forum.

11-09-21, 10:45 AM
more daylight today!
Join Date: Jul 2017
Location: Mississippi
Posts: 12,205
Bikes: Tarmac Disc Comp Di2 - 2020
Mentioned: 43 Post(s)
Tagged: 0 Thread(s)
Quoted: 5000 Post(s)
The spec's for a new Townie 7D are what sounds like BSA threaded bottom bracket.
Bottom bracket: Sealed cartridge 68mm/118mm
https://electra.trekbikes.com/us/en_...Code=greendark
When you say 100 mm wide, you are talking about the shell, the spindle length or the chain line? The shell width should be pretty easy to measure without even taking it apart and be accurate to a millimeter or so. And if it's a cartridge BB and you have the tool, just remove the cranks and find out what that shell is.

11-09-21, 11:36 AM
Using Bafang's cutout paper tool, I'm measured what they refer to as the width of the bottom bracket, the part of the frame which holds a spindle to which the crank arms are attached.

11-09-21, 11:40 AM
Senior Member
Join Date: Jul 2006
Location: San Jose (Willow Glen) Ca
Posts: 8,915
Bikes: 85 team Miyata (modern 5800 105) , '84 Team Miyata,(dura ace old school) 80?? SR Semi-Pro 600 Arabesque
Mentioned: 94 Post(s)
Tagged: 0 Thread(s)
Quoted: 1884 Post(s)
was this one that came with the bafang kit or downloaded and printed? If downloaded and printed, then I would check to see if it printed true to size....I have run into this issue when printing drill point for skateboards
also a picture will really help
__________________
Life is too short not to ride the best bike you have, as much as you can
(looking for Torpado Super light frame/fork or whole biked 57,58)




11-09-21, 12:06 PM
Printed. Suspect…
---
It was one which was printed from online. Currently, I think it is suspect. Perhaps it is 67mm?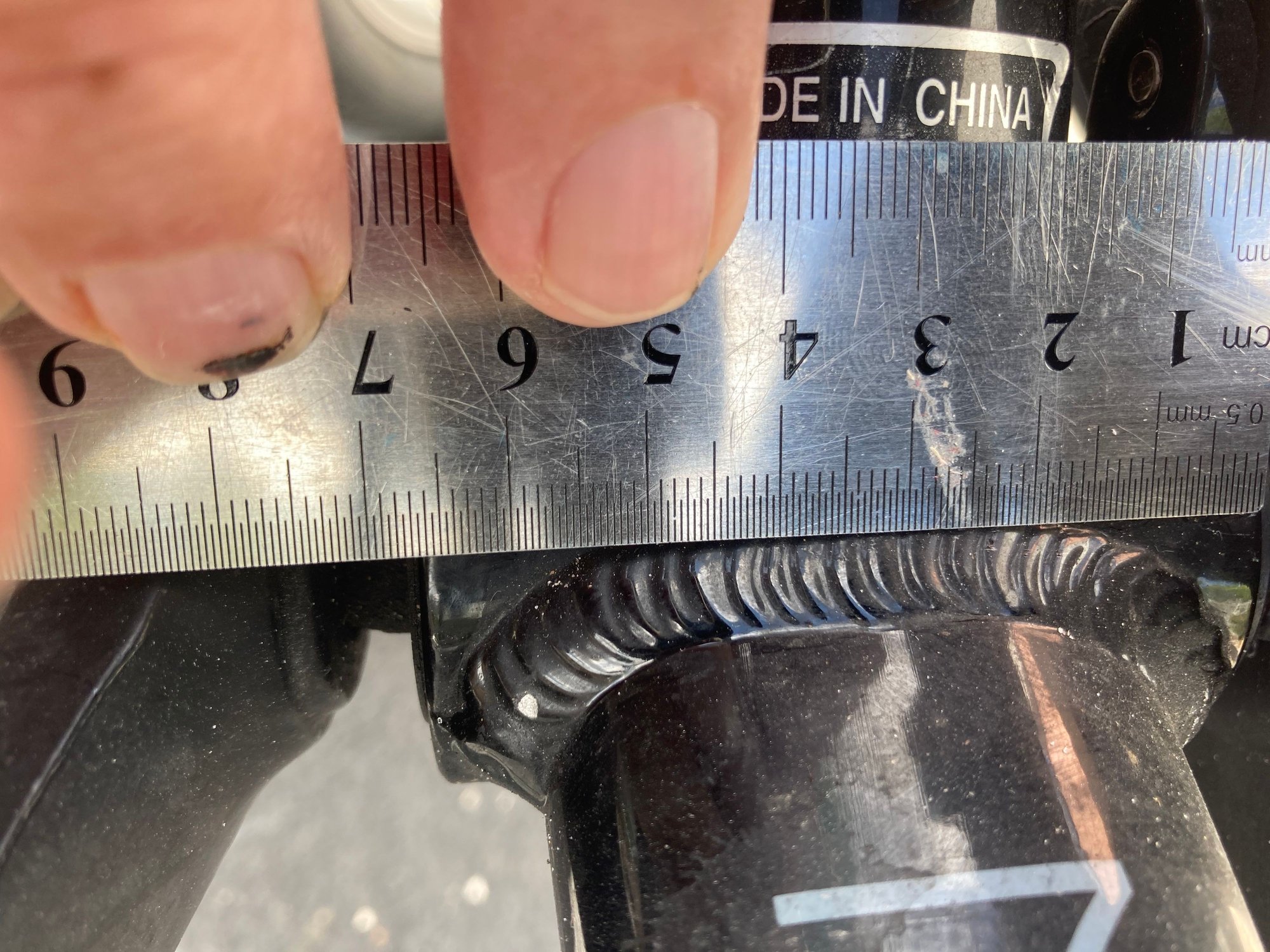 67mm?
8mm?
Lightweight 6061
Not sure if 35 mm

11-09-21, 02:10 PM
more daylight today!
Join Date: Jul 2017
Location: Mississippi
Posts: 12,205
Bikes: Tarmac Disc Comp Di2 - 2020
Mentioned: 43 Post(s)
Tagged: 0 Thread(s)
Quoted: 5000 Post(s)
I'd go with 68 mm.

BSA only has one internal diameter for the threaded part, 1.37 inches and only one TPI for the thread pitch, 24.

But it has several different shell widths. 68 and 73 being the most common. That looks like a common BSA threaded shell.

You might ask a Trek dealer if they have some way to look up what the spec of that year is. And if you know how to pull the cartridge, everything you need to know is probably written on the cartridge. Except for chain line. And that you can measure from the center of the seat tube to the center of your chain wheel.

But as to anything for Bafang, I've no idea what they'd want to know for a conversion or add-on. I barely know who they are and what they make. Electric doesn't show up in here too often.