Painting My Bike, I Have Some Questions

02-22-22, 02:57 PM
Junior Member
Join Date: Jul 2017
Location: SE Wisconsin
Posts: 110
Bikes: Trek X-Caliber (2020), Trek Trek Madone 5.1 (2011), Trek 1400 (1991)
Mentioned: 0 Post(s)
Tagged: 0 Thread(s)
Quoted: 39 Post(s)
Painting My Bike, I Have Some Questions
---
I'm painting my 2011 Trek Madone and I'm looking for advice on how to proceed with masking and paint.
I'm planning to use spray cans; a 2K primer followed by an acrylic color coats then finished with a 2K clearcoat. Nothing fancy. I'm sanding the frame done to bare CF, but I have questions on how to attack certain areas that can't be easily sanded; such as the areas where; 1.) BB cable guide is mounted, 2.) DuoTrap mounting, and 3.) rear dropouts.
For areas 1 and 2 I'm looking at sanding around the perimeter of the feature and masking off the areas not visible. For the aluminum dropouts I'm debating to sand them dome as well as can and paint -OR- mask them off completely and leave as bare aluminum.
My question is: will masking these areas off increase the probability of chipping of the new paint near the masked or am I better off sanding it down the best I can to have a continuous coat. I'm nervous especially around the dropouts that the primer may not adhere well, causing crinkling.
I thought about sanding the problem areas best I can, and then primer them first to see if there will be a problem first. I thought having just the dropouts media blasted. I don't know anybody who can do this for me.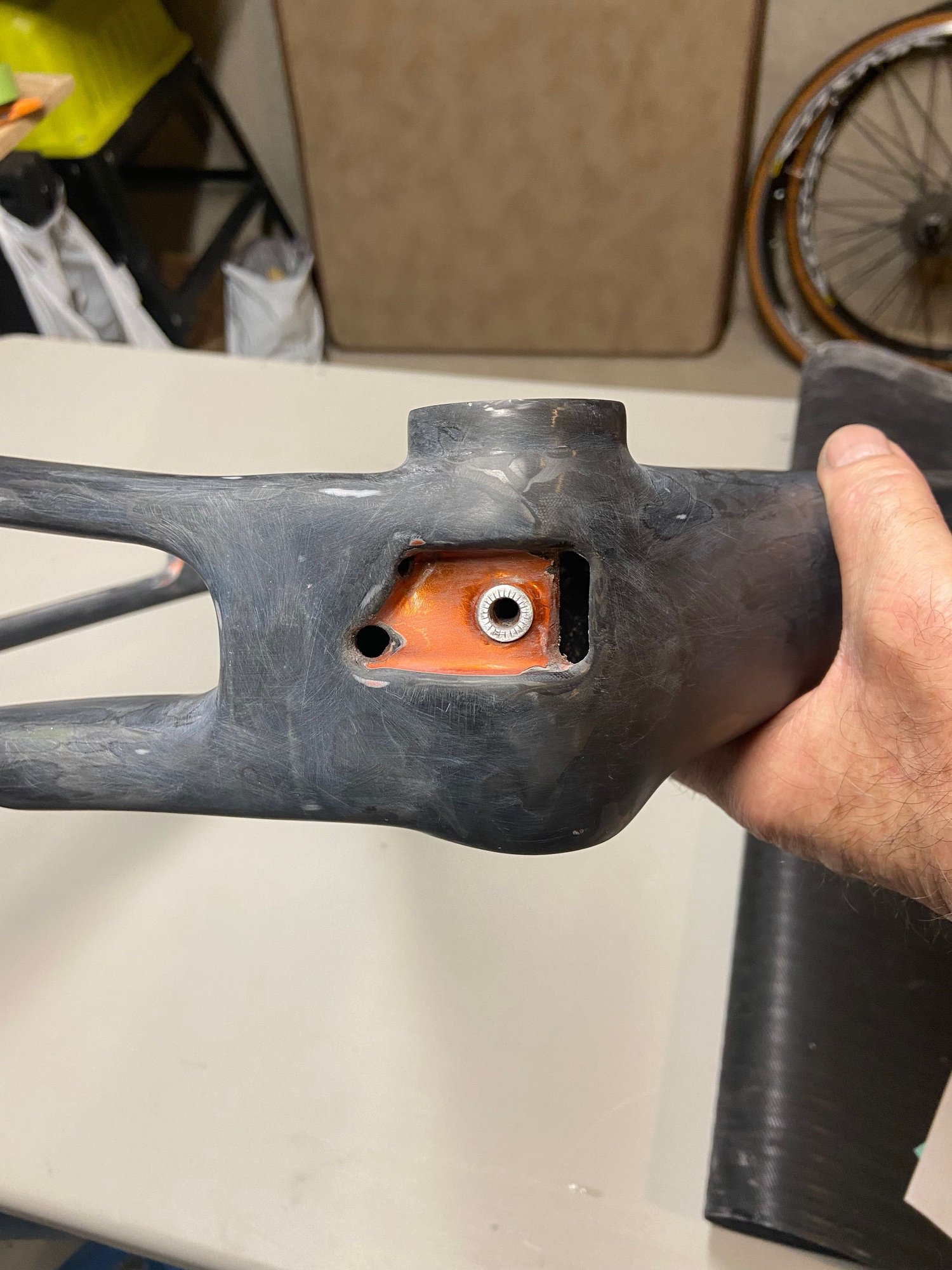 Bottom Bracket
DuoTrap
Dropout
Dropout

02-22-22, 03:13 PM
Senior Member
Join Date: Nov 2014
Location: Eugene, Oregon, USA
Posts: 27,273
Mentioned: 216 Post(s)
Tagged: 0 Thread(s)
Quoted: 17006 Post(s)
Have you tried something like a Dremel Wire Brush?
Make sure your tight spots are grease free.

02-22-22, 05:38 PM
Constant tinkerer
You know that you don't actually have to sand all the paint off, right? You could've just scuffed it up and painted over the original paint.

02-22-22, 05:52 PM
Junior Member
Join Date: Oct 2011
Location: Dallas, TX
Posts: 94
Mentioned: 0 Post(s)
Tagged: 0 Thread(s)
Quoted: 13 Post(s)
Likes: 0
I would mask the areas where there will be contact with something else (screw holes, dropouts) and the areas where you can't sand all of the paint off, just sand the transition so its smooth and paint over it. Don't paint the dropouts, the paint will just come off the first (or second) time you put your wheel(s) on.

02-23-22, 05:58 PM
Junior Member
Join Date: Jul 2017
Location: SE Wisconsin
Posts: 110
Bikes: Trek X-Caliber (2020), Trek Trek Madone 5.1 (2011), Trek 1400 (1991)
Mentioned: 0 Post(s)
Tagged: 0 Thread(s)
Quoted: 39 Post(s)
Yeah I roughed up the the frame sections other than the dropouts. I did try using a dremel around the crevices in the dropouts, I think it'll all work out. I was just a little nervous with the prep, thanks to everyone who commented.

02-24-22, 06:10 AM
...
Join Date: Oct 2021
Location: Whitestone and Rensselaerville, New York
Posts: 731
Bikes: Bicycles? Yup.
Mentioned: 2 Post(s)
Tagged: 0 Thread(s)
Quoted: 213 Post(s)
The 2K primer is excellent, sprays very evenly and has great adhesion. I think you're all set.