Upgrading cassette and chain

02-02-23, 07:09 AM
Upgrading cassette and chain
---
I have a 2020 fx3, and I want to get a tighter cassette. Something like a 11-32, with jumps of two for the 6 harder gears, then by 3. So something like
11,13,15,17,19,21,24,28,32,

Which cassette and chain would you recommend that would also work with my current setup which is the following based on the trek website.
Shimano Acera M3000, 9 speed Size:
Shimano Acera SL-M3010, 2 speed
Front derailleur Shimano Acera T3000, 34.9mm clamp, top swing, dual pull
Rear derailleur Shimano Alivio M3100, long cage
KMC X9 chain

02-02-23, 10:46 AM
Senior Member
Join Date: Oct 2007
Location: West Yorkshire, United Kingdom
Posts: 5,772
Mentioned: 5 Post(s)
Tagged: 0 Thread(s)
Quoted: 452 Post(s)
What is the matter with your current setup?

If you want an 11-32, all of them are likely to have the same ratios, research to confirm, but generally if you choose a range, all the cassettes available for that range will be the same ratio

02-02-23, 11:00 AM
I'm good to go!
Join Date: Jul 2017
Location: Mississippi
Posts: 13,759
Bikes: Tarmac Disc Comp Di2 - 2020
Mentioned: 46 Post(s)
Tagged: 0 Thread(s)
Quoted: 5613 Post(s)
You generally don't build a cassette with custom cog sizes anymore. So you look for one that matches closest to what you want.

So just look for Shimano and other brands that are compatible with Shimano and find the 9 speed cassette that you wish to use. Though on your DR, you probably shouldn't put lower than a 32 tooth low cog on it to stay within the specs of your DR.

If your current chain isn't showing wear, then you could just shorten it if you go to a 32 cog, but if you only go to a 34 cog, it might shift well enough without shortening it. Or just buy any 9 speed chain you like the looks of.

02-02-23, 05:34 PM
Method to My Madness
Join Date: Nov 2020
Location: Orange County, California
Posts: 2,958
Bikes: Trek FX 2, Cannondale Synapse, Cannondale CAAD4, Santa Cruz Stigmata GRX
Mentioned: 3 Post(s)
Tagged: 0 Thread(s)
Quoted: 1518 Post(s)

02-02-23, 06:59 PM
don't try this at home.
Join Date: Jan 2006
Location: N. KY
Posts: 5,733
Mentioned: 10 Post(s)
Tagged: 0 Thread(s)
Quoted: 894 Post(s)
Your bike has 30 / 46 chainrings, I think.
The two 9 speed cassette choices, in
Mike Sherman's Gear Calculator
. This chart shows mph speeds at typical flat road cadences for each gear combination.
The differences are fairly minor, either configuration would work okay. Both have 21-24-28-32 for the four largest cogs.
~~~~~
11-12-14-16-18-21-24-28-32.
This cassette is slightly better for evenly spaced shifts at the faster end of the cassette. But that's cross-chained, to be avoided.
~~~
compared to:
11-13-15-17-19-21-24-28-32
This looks a little better to me.
The large chainring has good spacing between shifts from around 12 mph to 20 mph. Good.
The small chainring has close shifts until it's cross-chained -- good.
A rider would spin out at over 30 mph (on a downhill) which is fine -- just coast on steeper downhills anyway.
~~~~~~~~~~~~~~
Compare to the bike's
original 11-36:
11,13,15,17,20,23,26,30,36
The advantage is some one more low gear for steeper hills. But the tradeoff is wider shift gaps at more typical flat road speeds.
The difference isn't extreme, though. Many riders would be happy with either a 11-32 or this 11-36.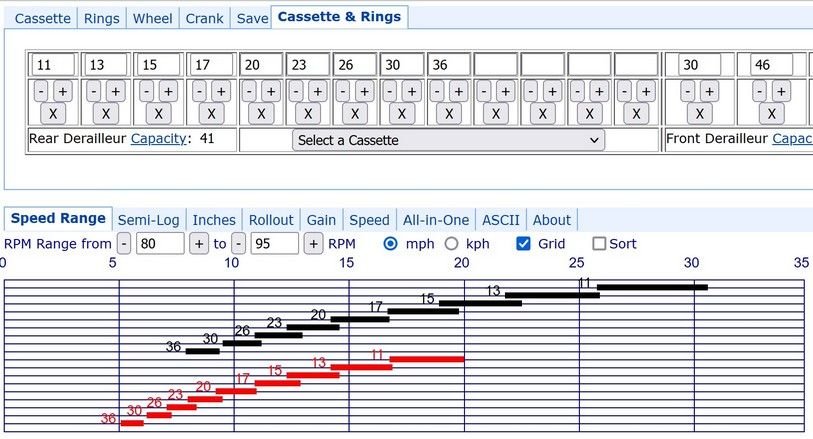 ---
Last edited by rm -rf; 02-02-23 at

07:22 PM

.

02-02-23, 07:31 PM
Senior Member
Join Date: Apr 2011
Posts: 5,434
Mentioned: 40 Post(s)
Tagged: 0 Thread(s)
Quoted: 3339 Post(s)
I would recommend any Shimano, SRAM or Sunrace cassette that it the least expensive for the gearing you're looking for. Bonus points for a more rust preventative silver finish. The cheap stuff shifts great, is durable enough and is often easier to clean. The kind of bike you have isn't going to benefit from paying for lower weight.

02-04-23, 10:21 PM
Senior Member
Join Date: May 2004
Location: Southern California
Posts: 2,177
Mentioned: 1 Post(s)
Tagged: 0 Thread(s)
Quoted: 107 Post(s)

02-05-23, 06:48 PM
Senior Member
Join Date: Sep 2004
Location: Chicago area
Posts: 2,440
Bikes: Airborne "Carpe Diem", Motobecane "Mirage", Trek 6000, Strida 2, Dahon "Helios XL", Dahon "Mu XL", Tern "Verge S11i"
Mentioned: 22 Post(s)
Tagged: 0 Thread(s)
Quoted: 942 Post(s)