Faith-Vigilance-Service
Join Date: Jul 2004
Location: Port Orchard, WA
Bikes: Trinity, Paradisus, Centurion, Mongoose, Trek
Posts: 8,330
Mentioned: 1 Post(s)
Tagged: 0 Thread(s)
Quoted: 0 Post(s)
Specialized RockHopper Parts?
---
A friend of mine picked up this 99-00' Rockhopper Comp for $2 at a garage sale. He had no idea if it was a decent bike ornot. He asked me if it was worth saving, because it needs quite a few parts. I figured out, brand ne it will need about $200 in Deore LX Mega 9s parts and a new crank to get it up up to snuff. I plan to shope Ebay to try and save as much as I can, since it is a heavily used bike, and I want to minimize his investment to get it up and runniing. It has quite a few scuffs and scratches, but absolutely no dents, kinks or bends in the frame. It reall is in pretty good shape, ,and fully servicable. Anyway, time to start Ebay shopping.

Here's a pic.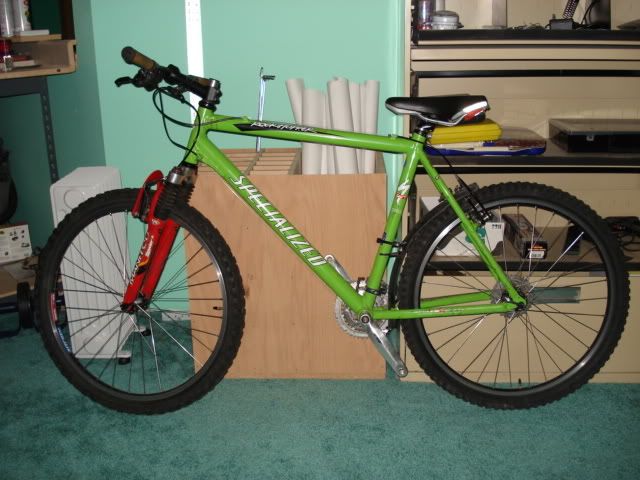 Also, I need your help. This bolt came with the bike, taped to the saddle in a plastic bag. What the heck is it?
It's not a crank bolt or something for the V-brakes. Nor is it for the seat clamp. It is too big for that. I've never seen one like this before.
__________________
President, OCP
--
"Will you have some tea... at the theatre with me?"
--