Difference Between

08-16-07, 07:12 AM
Roadie for Life
Join Date: Aug 2007
Location: Thousand Islands, NY
Posts: 12
Bikes: 2000 Cannondale R600 Triple
Mentioned: 0 Post(s)
Tagged: 0 Thread(s)
Quoted: 0 Post(s)
Likes: 0
Liked 0 Times in 0 Posts
Difference Between
---
I was wondering if anyone could give me a quick explanation of the difference between Tubular and Clincher Wheel Sets. What are the strengths and weakness of each.
Thanks to anyone that can shed some light for me


08-16-07, 07:23 AM
cab horn
Join Date: Jun 2004
Location: Toronto
Posts: 28,349
Bikes: 1987 Bianchi Campione
Mentioned: 1 Post(s)
Tagged: 0 Thread(s)
Quoted: 31 Post(s)
Likes: 0

08-16-07, 07:32 AM
Light Makes Right
Join Date: Apr 2005
Location: Green Mountain, Colorado
Posts: 1,520
Bikes: Gianni Motta Criterium, Dean Hardtail
Mentioned: 0 Post(s)
Tagged: 0 Thread(s)
Quoted: 0 Post(s)
Likes: 0
Liked 0 Times in 0 Posts
Clincher tires fit a rim like in the pic below. The tire is just like any motorcycle or car tire and most of the time has a tube to hold air inside. When the tube is inflated, it pushes the bead of the tire into the bead seats so they can't come off the rim. The tire itself is open a long the inside. Some newer mountain bike tires use tubeless technology - like a car tire. The rim is sealed and the beads seal against the side of the rim and hold the air in.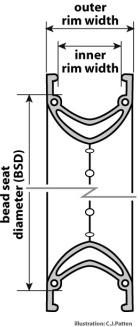 Tubulars, aka "sew-ups", have the tire and tube as one integral unit.
The rim doesn't have any sharp edges like the clincher rim - it's just sorta dished out - and the tire itself is actually glued onto the rim.
The great thing about clinchers is that if you get a flat, you just pull the tube out, patch it, reinstall and inflate. This is easy as can be out on the road and you're 100% after the repair.. With Tubulars, OTOH, if you get a flat out on the road the only way to fix it on the road is to put a whole new tire on. And since you can't really glue it back on on the road you have to be careful while cornering for the rest of the ride. The advantages of tubulars are a better road feel, better cornering (debateable) and more stable in case of a sudden flat.
Once you're home a tubular is a major PITA to patch. Or you can send it to a pro to do for $10 - $20. Tubulars are said to get less flats, however. I know I rarely get flats on my tubulars. Then again I rarely flat on clinchers either - more than the tubulars but rare enough for it to be just down to bad luck.
You might find this article more useful than my ramblings (boy these things are tough to describe).
http://www.sheldonbrown.com/tires.html
C
---
Last edited by GV27; 08-16-07 at

08:11 AM

.

08-16-07, 07:38 AM
Roadie for Life
Join Date: Aug 2007
Location: Thousand Islands, NY
Posts: 12
Bikes: 2000 Cannondale R600 Triple
Mentioned: 0 Post(s)
Tagged: 0 Thread(s)
Quoted: 0 Post(s)
Likes: 0
Liked 0 Times in 0 Posts
Actually that explanation helped a great deal and I appreciate the insight! I'll check that link out as well.

The illustration are a big help!
Thread
Thread Starter
Forum
Replies
Last Post

Posting Rules
You may not post new threads
You may not post replies
You may not post attachments
You may not edit your posts
---
HTML code is Off
---