side pull u-brake mod?

09-23-08, 09:13 AM
n00b
Join Date: Jan 2008
Location: Austin, TX
Posts: 472
Bikes: Vassago Jabberwocky, Traitor Crusade
Mentioned: 0 Post(s)
Tagged: 0 Thread(s)
Quoted: 38 Post(s)
Likes: 0
Liked 0 Times in 0 Posts
side pull u-brake mod?
---
i was noticing today about how much better the v-brakes on my road bike work over any u-brake setup i have ever had on my bmx bike. i remembered that when you run a u-brake as a front brake on a bmx bike, it works as a side-pull similar to a v-brake. what if i ran my rear (straight) cable all the way to one side of my rear u-brake, through one arm and to a anchor on the other arm, similar to a front brake? might it have a better mechanical advantage?
friction at the last bend might be a problem, but i could use a Diatech flexie or one of those v-brake pulleys like this-
or with a chain, like this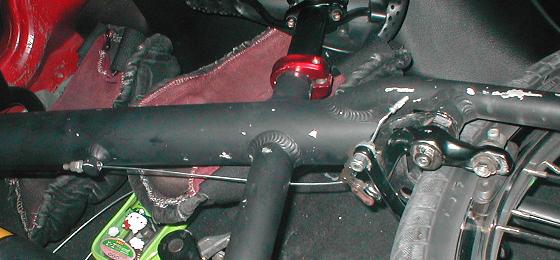 is this a waste of time or worth trying?

09-23-08, 09:18 AM
Senior Member
Join Date: Feb 2004
Location: St Peters, Missouri
Posts: 29,816
Bikes: Catrike 559 I own some others but they don't get ridden very much.
Mentioned: 15 Post(s)
Tagged: 0 Thread(s)
Quoted: 1405 Post(s)
I honestly don't know the answer to your question but, if it was my bike, I'd try it. What do you have to lose?

09-23-08, 09:23 AM
n00b
Join Date: Jan 2008
Location: Austin, TX
Posts: 472
Bikes: Vassago Jabberwocky, Traitor Crusade
Mentioned: 0 Post(s)
Tagged: 0 Thread(s)
Quoted: 38 Post(s)
Likes: 0
Liked 0 Times in 0 Posts