The bearings required for my headset are I.D. 30mm, O.D. 41mm and 6.5mm thick. The cost of the two bearing cartridges would be around $35-40+ online and I'd like to avoid this if possible. I've completely taken apart my headset other than the upper and lower bearing cups, but I cleaned them and they're in great condition. Every other piece looks to be in pretty good condition as well other than the rust on the outside of the bearing cartridges.
Enclosed is a picture of one of my bearings. The outside has a good amount of rust. Excuse me as I don't know the names of each component of the bearing cartridge, but I'll call it the outer shell, inner shell, ball bearings and hard plastic top and lower rings that covers the openings to the bearings.
My questions to any of you guys are this:
Can I soak this in some degreaser for a bit and then blow some compressed air to clean it out, put new grease in and put back the two rings and reuse? None of the parts seem to be broken or pitted, etc. There is rust around the outside but it doesn't seem like it rusted inside as there was ample amount of grease, it's just a bit dirty and gritty. Sorry for the bad photo. You can still see the rust a bit and at least the type of bearing cartridge. The grease is a rust color so I can't tell the extent, if any, of rust inside the cartridge.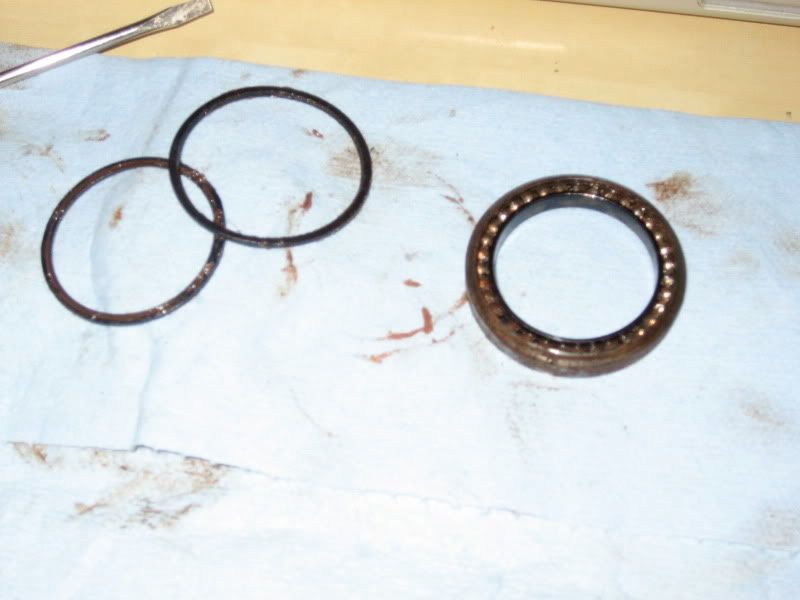 Have you had luck cleaning bearings like this and just regreasing and reusing or would I really be better off getting new cartridge bearings?