old schwinn upgrade

09-23-09, 06:24 PM
Senior Member
Join Date: May 2008
Posts: 59
Mentioned: 0 Post(s)
Tagged: 0 Thread(s)
Quoted: 0 Post(s)
Likes: 0
Liked 0 Times in 0 Posts
i sort of started out this way, i wanted to fix a wheel on a bike that i already owned. now i have a bag full of tool and am constantly justifying to my wife why i need another bike/part/tool. if you are interested in this, you should buy the tool and the wheels or even a spoke wrench and some new aluminum rims ($10 on nashbar). if not, you should a. buy the wheels and bring it to a bike shop. b. find some wheels on CL. c. find a decent bike riding bike on CL for far less than the investment you will make in tools and parts in the next 3-5 years. the pressure is on, long term decision man. dave

10-04-09, 07:48 PM
Senior Member
Join Date: Jul 2000
Location: Snowy midwest
Posts: 5,392
Mentioned: 0 Post(s)
Tagged: 0 Thread(s)
Quoted: 1 Post(s)
Likes: 0
Liked 0 Times in 0 Posts
Originally Posted by
johnknappcc
That's both freewheel's and cassette's.
The difference, the freehub is integrated into a freewheel and screws onto the bub as a single unit. The cassette is just that, a group of cogs that slide onto the freehub, and then a lockring keeps the cassette clamped in place on the freehub.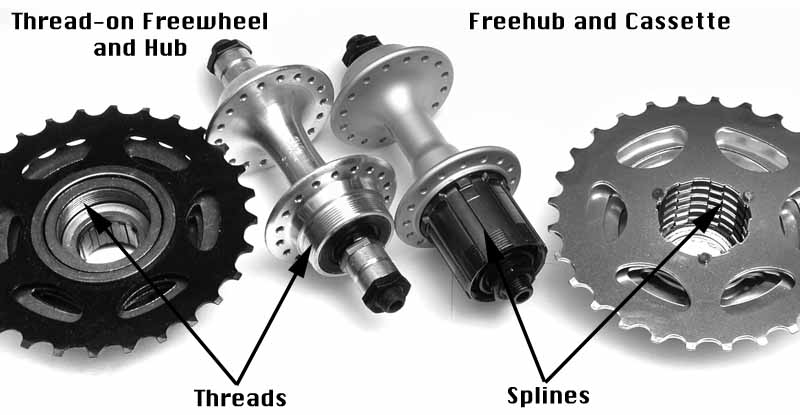 I'm betting 99.9999% percent you have a freewheel. My 1986 Schwinn Voyageur (with 27" wheels) had a 5 speed freewheel.
Freewheel (I'm assuming yours looks just like this, probably even the same spline pattern):
And not like this:
Beautiful post, JohnKnappcc. It was very kind of you to take the trouble to give such a detailed explanation.
NOW, that said....
If you REALLY want to upgrage, get yourself a freewheel with a super big granny gear. This will be your substitute for not having a triple up front. Check out this baby for $11.38 from
Niagra Cycle
:

10-04-09, 07:58 PM
The Sleeper
Join Date: Jul 2009
Location: Wichita, KS
Posts: 152
Bikes: GT Transeo 2.0 Disc 2009
Mentioned: 0 Post(s)
Tagged: 0 Thread(s)
Quoted: 0 Post(s)
Likes: 0
Liked 0 Times in 0 Posts
old bikes are cool man go for it, here's an old one saved from a shed bound life. picked it up next to nothing got the wheels for 100 bux added 7 speed cassette and now its as solid as any other bike.

10-04-09, 08:21 PM
Thrifty Bill
Join Date: Jan 2008
Location: Mountains of Western NC
Posts: 22,017
Bikes: 86 Katakura Silk, 87 Prologue X2, 88 Cimarron LE, 1975 Sekai 4000 Professional, 73 Paramount, plus more
Mentioned: 67 Post(s)
Tagged: 0 Thread(s)
Quoted: 654 Post(s)
Likes: 0
Originally Posted by
jcutch
I am new to cycling, especially road bikes. I also have very little money to spend on the sport. My friend gave me an old Schwinn road bike. Not sure of the year or model but I would say early 80s. I would love to get this thing up and running and have a functional road bike to ride around.

The main thing I need are new wheels. the current ones are steel and they are horribly bent. they are 27". I have been looking for a good pair of alloy wheels, preferably quick release. the cheapest I have found are from Niagara cycling. but it appears they don't come with any cogs on the back wheel? do I need to find a wheel set with the same amount of cogs as my old ones? is it possible to just buy the wheels and put the cassette I have on the new wheels? any help would be great.
If you are thrifty and on a budget, forget about buying new wheels. Instead, pick up a donor bike or some wheels at a garage sale. I commonly find good wheelsets at garage sales for $20 or less, and have picked up pretty good donor bikes for around $20 as well. Hit the garage sale/thrift store circuit, and you will find something.
Thread
Thread Starter
Forum
Replies
Last Post
Electronics, Lighting, & Gadgets

Posting Rules
You may not post new threads
You may not post replies
You may not post attachments
You may not edit your posts
---
HTML code is Off
---