Headset spacer as a shim washer?

02-27-10, 11:53 AM
.;/.,
Join Date: Sep 2009
Location: Toronto
Posts: 576
Mentioned: 0 Post(s)
Tagged: 0 Thread(s)
Quoted: 0 Post(s)
Likes: 0
Liked 0 Times in 0 Posts
Headset spacer as a shim washer?
---
hey guys, need more headset help!
i got a new headset for my T1, but i noticed that i still had this weird fork-seizing problem as soon as i put everything together. basically the fork no longer moved in the headtube except with great effort. everything was smooth when i just put the bearings and fork in, so i figured out it was because the upper cover was too pressed down and was pressing against the top of the head tube. i put in as many shim washers as the headset came with (3) but it still had the same problem. so i ended up putting one of the spacers underneath the upper cover, but i have no idea if this is safe. the fork spins nice and smooth now, but it's also fugly and i'm not sure if it's functional (the bearing is slightly exposed). is it safe to ride on this for now or should i wait until i can get some more washers?
thanks!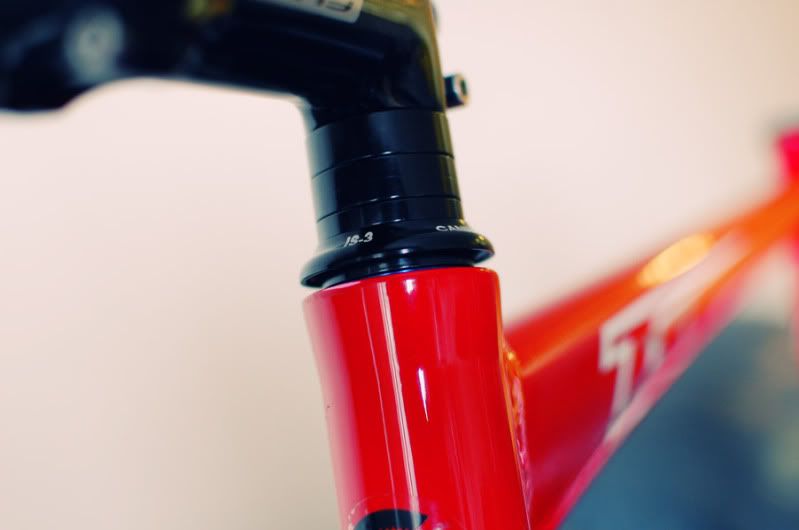 02-27-10, 01:11 PM
cab horn
Join Date: Jun 2004
Location: Toronto
Posts: 28,353
Bikes: 1987 Bianchi Campione
Mentioned: 1 Post(s)
Tagged: 0 Thread(s)
Quoted: 41 Post(s)
Likes: 0
Thread
Thread Starter
Forum
Replies
Last Post

Posting Rules
You may not post new threads
You may not post replies
You may not post attachments
You may not edit your posts
---
HTML code is Off
---