Colnago Dream Plus RD hanger!
---
Hello!
I took my bike in to the LBS because it wasn't shifting well
and the mech told me that the RD hanger is pretty "bendy" at the moment.
He said it isn't going to last very long and I should get it replaced. However,
I am in Korea at the moment and Colnago distributors have changed multiple times
in the past 10 years and they don't carry any spare parts.
I've been searching online for replaceable hangers and I couldn't get more than this.
I've come across one hanger, #87, that looks the most similar to the current hanger.
From my bike: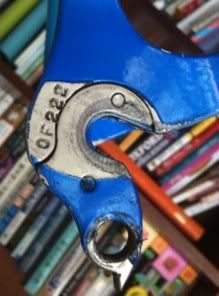 #87t:
Here are my questions:
1) Are Dream Plus hangers much easier to find in the US?
2) Can #87 be retrofitted on my bike?
3) What are my other options??
Thanks!!
---
Last edited by fade; 06-13-10 at

06:56 PM

.