Early Carbon Fiber question

01-20-11, 03:46 PM
Senior Member
Join Date: Jun 2008
Location: Portland
Posts: 101
Bikes: Lots of 80s Bianchis
Mentioned: 0 Post(s)
Tagged: 0 Thread(s)
Quoted: 3 Post(s)
Early Carbon Fiber question
---

01-20-11, 04:22 PM
I am by no means an expert, but I do own a similar bike. My 2500 has some of the same spots. From past experience with carbon motorcycle parts, I believe that is just the clear coat starting to loosen a bit. If the tubes are still tight to the lugs, then I don't see a problem with riding it. It may need a new clear paint job some day, but I wouldn't worry about it too much.

Maybe someone will chime in with a definite answer for both of us.

01-20-11, 04:40 PM
Senior Member
Join Date: Feb 2005
Location: Oklahoma
Posts: 9,438
Bikes: Trek 5500, Colnago C-50
Mentioned: 0 Post(s)
Tagged: 0 Thread(s)
Quoted: 2 Post(s)
I agree with the above. Test the bonding by trying to twist the top tube at the lugs, but don't try too hard.
My 5500 has some bubbling in the clear coat adjacent to the bottom bracket and the axle dropouts. I don't believe the joints have been compromised.

01-20-11, 07:35 PM
Senior Member
Join Date: Jun 2008
Location: Far, Far Northern California
Posts: 2,874
Bikes: 1997 Specialized M2Pro
Mentioned: 0 Post(s)
Tagged: 0 Thread(s)
Quoted: 0 Post(s)
I have the same bike (am now passing it on to my daughter). It's a great bike, but I remember reading that some of them had problems with separation. You may be able to turn something up with googling (like
this
).
I think mine was a '92 and it shows no evidence of separation (I think it spent a lot of time in a garage before I bought it for $350).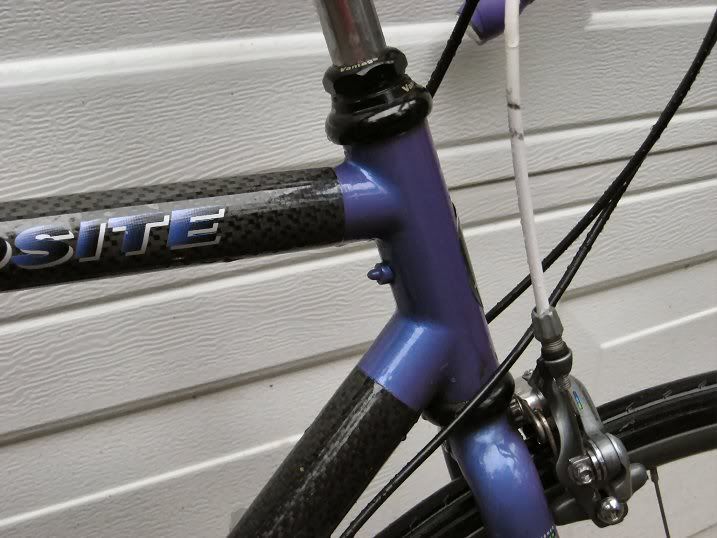 01-21-11, 01:39 AM
bike whisperer
Join Date: Dec 2009
Location: Melbourne, Oz
Posts: 7,773
Bikes: https://weightweenies.starbike.com/forum/viewtopic.php?f=10&t=152015&p=1404231
Mentioned: 8 Post(s)
Tagged: 0 Thread(s)
Quoted: 303 Post(s)
I had a Giant CFR1 that ended up developing a crack through the paint all around the seat tube where it went into the seat cluster lug... from memory, the seat tube even appeared to have moved down about 1/3mm.

It never made any noise, and it seemed to ride just the same... mind you, I kind of eased off on bombing it off gutters after I noticed the crack...

Held up fine till it was pinched a couple of years later. Hope it instantly exploded under the **** who nicked it.

Posting Rules
You may not post new threads
You may not post replies
You may not post attachments
You may not edit your posts
---
HTML code is Off
---