FSA Gossamer replacement BB choices and installation questions

02-23-12, 12:14 PM
blah blah blah
Join Date: Aug 2009
Posts: 2,520
Mentioned: 0 Post(s)
Tagged: 0 Thread(s)
Quoted: 5 Post(s)
Likes: 0
Liked 0 Times in 0 Posts
FSA Gossamer replacement BB choices and installation questions
---
Hi, I have an FSA Gossamer double crankset 130 bcd and the external bearing BB sounds crunchy after only about 4000 miles. It looks like FSA BB-6000 is the compatible part, but searching seems to show that I can run a Shimano external bearing BB with these cranks, right? For some reason the FSA BB is more expensive but doesn't last nearly as long?!?

If I switch to Shimano BB, should the spacer configuration remain the same? I haven't taken the cups off, but from googling it looks like there are probably some spacers in there. It's in an english threaded 68 mm BB shell on a road bike. Thank you for your help!

Edited to add: Any other tips also appreciated as I've never done this service before! I'm assuming generous grease to the BB cup threads? What about the spindle or splines where the left crank arm attaches? Loctite for the crank arm pinch bolts? Thanks!
---
Last edited by milkbaby; 02-23-12 at

12:17 PM

.

02-23-12, 02:30 PM
Constant tinkerer
Hmm, looks like the FSA system is of the same design as the Shimano Hollowtech, but I'm not sure the BBs are interchangeable. The FSA uses the MegaeXo system. Maybe they are interchangeable, but I have never tried.
All the different external bearing cranks are described here:
https://www.parktool.com/blog/repair-...o-ultra-torque

02-23-12, 07:18 PM

02-23-12, 08:04 PM
is just a real cool dude
Join Date: Aug 2010
Location: The Thumb, MI
Posts: 3,167
Mentioned: 12 Post(s)
Tagged: 0 Thread(s)
Quoted: 28 Post(s)
Likes: 0
The Shimano cups will work with Gossamer cranks but not with FSA carbon cranks. Don't waste your money on the FSA cups and pick up a Ultegra or Dura Ace bottom bracket instead. You can get a Dura Ace bottom bracket for probably cheaper then a standard FSA bottom bracket and last a lot longer. Plus you can upgrade the bearings in the Dura Ace cups also to ceramic setup if you want. I run Gossamer CX cranks on my Guerciotti cross bike with a Ultegra bottom bracket and would of bought a Dura Ace bb but didn't feel like waiting. Both are fairly close in price and under $40 on most places online and probably in most retail stores also. If you search online you'll see the same thing about FSA bottom brackets failing very quickly and to actually use Shimano instead. Shimano doesn't use spacers with their bottom brackets. Pictures speak louder then words instead of just regurgitating whatever you read online and being a e-mechanic.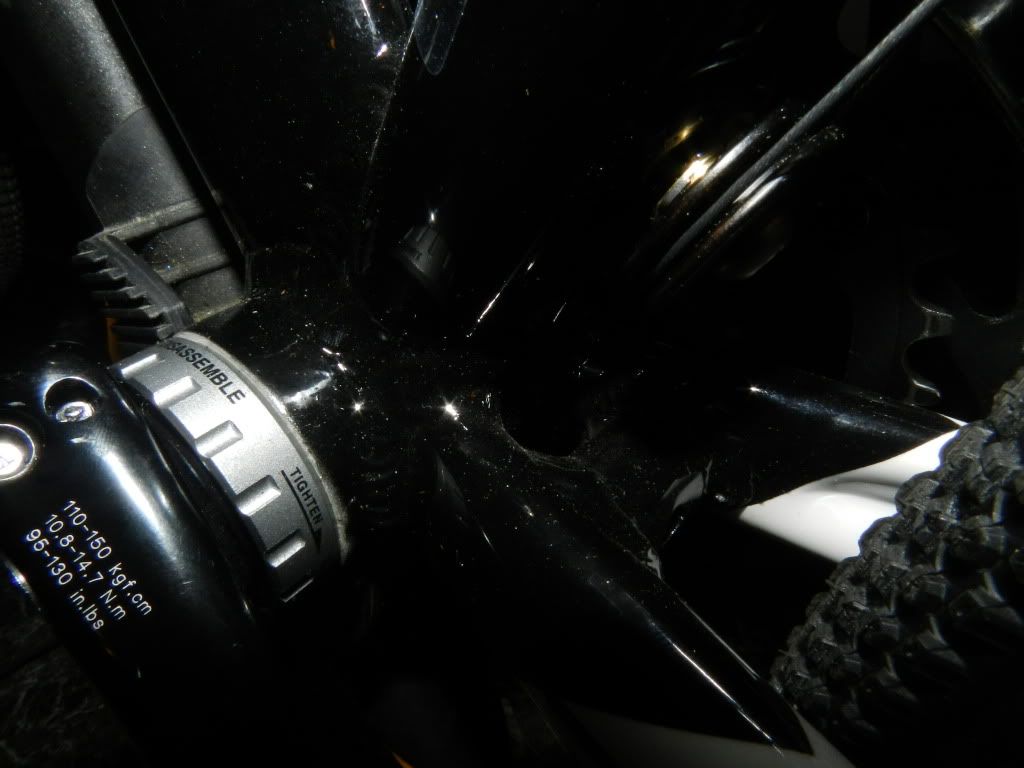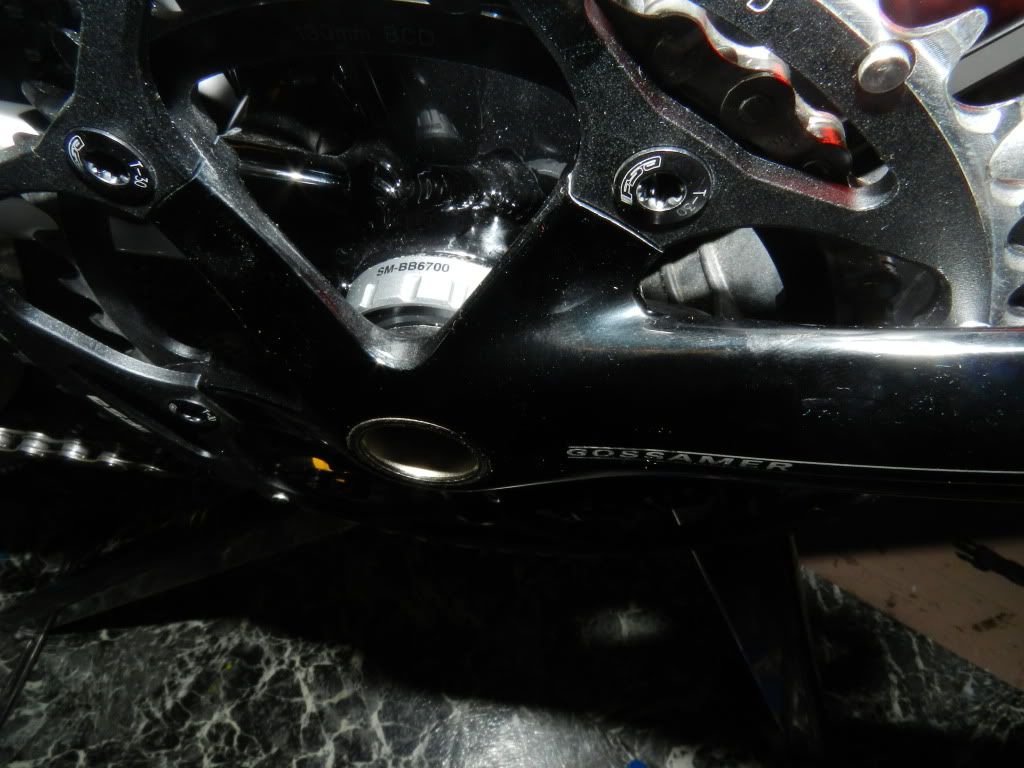 02-23-12, 08:16 PM
Senior Member
Join Date: Nov 2008
Posts: 207
Mentioned: 0 Post(s)
Tagged: 0 Thread(s)
Quoted: 0 Post(s)
Likes: 0
Liked 0 Times in 0 Posts
In my experience, yes, Shimano's Hollowtech BB is compatible.

My BD Fantom CX Pro came with the FSA Gossamer compact crankset and
bb-6000 BB (titanium finish, so 68mm, according to their literature). I replaced
the bb-6000 with an Ultegra 6600 hollowtech ~8000 miles ago, no issues to date.

IIRC spacers were the same, but the bb-6000 had a couple o-rings that the hollowtech
didn't. I just installed the hollowtech per Shimano's instructions, it's a pretty straight
forward installation.

Grease or anti seize is a good thing. Note that one side is threaded LH, the other RH.
Don't recall which is which off the top my head.

Don't under estimate the value of a beer or three whilst working on it.

Cheers,

Kelly

02-24-12, 12:19 PM
blah blah blah
Join Date: Aug 2009
Posts: 2,520
Mentioned: 0 Post(s)
Tagged: 0 Thread(s)
Quoted: 5 Post(s)
Likes: 0
Liked 0 Times in 0 Posts
Thank you!!! Youse all rulezzz!
Ultegra BB = $24, FSA BB = $40, Me = WTF?!?

Got the Ultegra BB on order now and everything is well sorted... Thanks again!!!

02-24-12, 12:37 PM
Wookie Jesus inspires me.
Join Date: Mar 2011
Location: Seattle, WA
Posts: 2,225
Mentioned: 0 Post(s)
Tagged: 0 Thread(s)
Quoted: 4 Post(s)
Likes: 0
I'll just add another experience for the records:

The MegaExo BBs that work with Gossamers work with the line of Shimano Hollowtech cranks. Likewise Shimano BBs work with the MegaExo line.

The ceramic 8010 uses the same spindle diameter as the Shimano cranks, but the cups are narrower. They will work with Shimano if you use some BB spacers.

I would go with the Shimano ones any day.
Thread
Thread Starter
Forum
Replies
Last Post
Cyclocross and Gravelbiking (Recreational)

Posting Rules
You may not post new threads
You may not post replies
You may not post attachments
You may not edit your posts
---
HTML code is Off
---