No rear derailleur cable stop

07-08-13, 09:27 AM
Member
Join Date: Oct 2012
Posts: 37
Mentioned: 0 Post(s)
Tagged: 0 Thread(s)
Quoted: 0 Post(s)
Likes: 0
Liked 0 Times in 0 Posts
No rear derailleur cable stop
---
Can I get away with running the outer cable housing all the way from the cable guides underneath the bottom bracket shell to the rear derailleur taped at a point to the chain stay?

Asking as I've just had the chain-stay fixed and the guy didn't ask if I would like to have stops brazed on, I assumed he would do it and annoyingly it's now been painted and so it is too late to fit them without ruining the paint work.

07-08-13, 09:31 AM
自転車整備士
Join Date: Apr 2012
Location: Denver, Colorado USA
Posts: 898
Bikes: '86 Moots Mountaineer, '94 Salsa Ala Carte, '94 S-Works FSR, 1983 Trek 600 & 620
Mentioned: 0 Post(s)
Tagged: 0 Thread(s)
Quoted: 0 Post(s)
Likes: 0
Liked 0 Times in 0 Posts
You could do it, but that's going to be a pretty expensive piece of shift housing you have to purchase!
Why not go with a clamp on cable stop?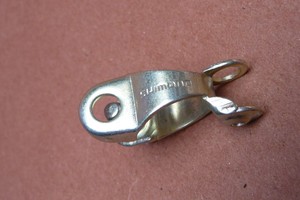 Of course it's not as clean, but better than using full gear housing.


07-08-13, 09:35 AM
coprolite
Join Date: Jun 2010
Location: NW,Oregon Coast
Posts: 41,650
Bikes: 8
Mentioned: 188 Post(s)
Tagged: 0 Thread(s)
Quoted: 6836 Post(s)
Likes: 0
If the shifting is Friction, you can compensate for any housing compression loss in the shifting

with your hands, on your shift levers.. by feel..

07-09-13, 04:16 AM
Member
Join Date: Oct 2012
Posts: 37
Mentioned: 0 Post(s)
Tagged: 0 Thread(s)
Quoted: 0 Post(s)
Likes: 0
Liked 0 Times in 0 Posts
Thread
Thread Starter
Forum
Replies
Last Post

Posting Rules
You may not post new threads
You may not post replies
You may not post attachments
You may not edit your posts
---
HTML code is Off
---