Help with Removal of Gearset from Hub

03-29-14, 06:08 PM
Newbie
Join Date: Mar 2014
Posts: 2
Mentioned: 0 Post(s)
Tagged: 0 Thread(s)
Quoted: 0 Post(s)
Likes: 0
Liked 0 Times in 0 Posts
Help with Removal of Gearset from Hub
---
Hello Im trying to remove this gearset from this hub so I can change out the spokes but I cant for the life of me figure out which way this comes apart. It has written on the outside ring "Shimano VIA"

03-29-14, 06:13 PM
Veteran Racer

03-29-14, 06:26 PM
Newbie
Join Date: Mar 2014
Posts: 2
Mentioned: 0 Post(s)
Tagged: 0 Thread(s)
Quoted: 0 Post(s)
Likes: 0
Liked 0 Times in 0 Posts
Well i've tried that and it doesnt. I tried 2 chain whips thinking maybe half the gears were threaded on. No luck. I also tried unscrewing the top and it doesnt seem to do that either...

03-29-14, 06:51 PM
Thunder Whisperer
Join Date: Apr 2008
Location: NE OK
Posts: 8,852
Bikes: '06 Kona Smoke
Mentioned: 6 Post(s)
Tagged: 0 Thread(s)
Quoted: 274 Post(s)
Likes: 0


03-29-14, 07:01 PM
Señor Member
Join Date: Feb 2013
Posts: 5,050
Mentioned: 5 Post(s)
Tagged: 0 Thread(s)
Quoted: 633 Post(s)
that looks like a shimano uniglide cassette

the five largest cogs are held on by the smallest
and it is threaded on
it might be darn tight
but it is threaded on

03-29-14, 07:04 PM
smallest Cog is screwed on, the largest ones are splined, But taken out of a wheel You are kind of screwed ,

as the leverage of the wheel rim is not there because some fool took the rim apart before removing the gear cluster

now you need to lace some kind of rim back on there again to remove the cassette.

Or you may just have scrap-metal ..

03-29-14, 07:18 PM
Senior Member
Join Date: Feb 2012
Location: Rochester, NY
Posts: 14,622
Bikes: Stewart S&S coupled sport tourer, Stewart Sunday light, Stewart Commuting, Stewart Touring, Co Motion Tandem, Stewart 3-Spd, Stewart Track, Fuji Finest, Raleigh Pro, Trek Cycle Cross, Mongoose tomac ATB, GT Bravado ATB, JCP Folder
Mentioned: 0 Post(s)
Tagged: 0 Thread(s)
Quoted: 2807 Post(s)
With two good chain whips one should be able to loosen the small cog from the others then the rest will slide off. It's probably just dumb luck that this is a cassette and not a freewheel, given the rim being removed.

never remove a rim prior to trying to remove the cogs! Andy.

03-29-14, 07:33 PM
Senior Member
Join Date: Feb 2004
Location: St Peters, Missouri
Posts: 30,083
Bikes: Catrike 559 I own some others but they don't get ridden very much.
Mentioned: 15 Post(s)
Tagged: 0 Thread(s)
Quoted: 1518 Post(s)
The small cog unscrews CCW.

You need to hold the rest of the cassette stable with one chain whip and unscrew the small cog with a second chain whip. It will probably be hard to unscrew because your pedaling motion is constantly tightening it. I've had the best luck by positioning the two chain whips so that I can unscrew the cog by squeezing the two whips together.

Good luck!
__________________
My greatest fear is all of my kids standing around my coffin and talking about "how sensible" dad was.

03-29-14, 07:53 PM
Insane Bicycle Mechanic
This is correct. Unscrewing the top cog will allow the rest to come off. However, it's going to take a lot of force to break that cog loose, especially if it's been there 20+ years. Clamp one chain whip in a vise, wrap the chain around the third cog, and use the other chain whip on the small cog. It's awkward, and the small cog tends to let go suddenly. Don't get your fingers caught between the chain whips.
Here's what your hub will look like without the cogs (on the left):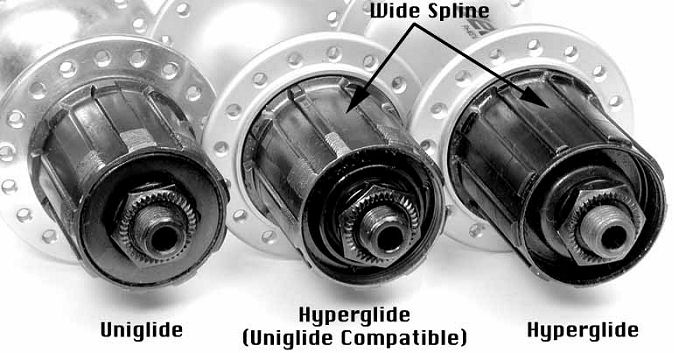 __________________
Jeff Wills
Comcast nuked my web page. It will return soon.
.

03-29-14, 10:08 PM
Senior Member
Join Date: Dec 2010
Location: Above ground, Walnut Creek, Ca
Posts: 6,681
Bikes: 8 ss bikes, 1 5-speed touring bike
Mentioned: 0 Post(s)
Tagged: 0 Thread(s)
Quoted: 86 Post(s)
Likes: 0
if it's a uniglide, and i have no reason to doubt it, but then again i don't really know, i think i might want to take the advice of using a vice to hold one of the chainwhips. IME, those cog teeth can make one of the nastiest wounds you'd ever NOT want to have. additionally, i would seriously consider using some kind of cheater bar or pipe over the chainwipe that is on the small cog and stand back a bit. spreading the force necessary to break the cog loose by using the long cheater bar will reduce the drama associated with the process to an acceptable level.
of course, nothing like this has ever happened to me

, so it's just a suggestion.

03-30-14, 07:15 AM
cycles per second
Join Date: Oct 2003
Location: Minnesota
Posts: 1,790
Bikes: Vitus Aluminum, DiamondBack Apex, Softride Powerwing 700, "Generic" Ishiwata 022, Trek OCLV 110
Mentioned: 0 Post(s)
Tagged: 0 Thread(s)
Quoted: 2 Post(s)
Likes: 0
Liked 0 Times in 0 Posts
As others have said, it's a Uniglide freehub and cassette and the smallest cog threads on. All the others will just slide off, so if you don't care about keeping the smallest cog, you could just use a Dremel tool and try to cut it in half to remove it.

Another thing you can try, since you just want to replace spokes and already have the axle out, is to remove the freehub body from the hub. But you are probably going to have the same leverage problems as you do trying removing the cassette cogs from the freehub. But since pedaling forces do not tighten this bolt, it might be looser. The freehub is attached to the hub using a fixing bolt that takes a 10mm allen wrench.
---
Last edited by Gonzo Bob; 03-30-14 at

08:18 AM

.
Thread
Thread Starter
Forum
Replies
Last Post
Classic and Vintage Bicycles: Whats it Worth? Appraisals.

Posting Rules
You may not post new threads
You may not post replies
You may not post attachments
You may not edit your posts
---
HTML code is Off
---