Dura Ace 7400 shifters compatibility question

04-30-14, 12:41 AM
Senior Member
Join Date: Apr 2009
Location: Jacksonville, OR
Posts: 349
Bikes: Land Shark, Ritchey, Fat Chance, and about 19 others
Mentioned: 1 Post(s)
Tagged: 0 Thread(s)
Quoted: 3 Post(s)
Likes: 0
Liked 0 Times in 0 Posts
Dura Ace 7400 shifters compatibility question
---
I'm building up an older bike and have some DA 7400 7 speed DT shifters and a rear wheel with a shimano 7 speed hub and I want to run my suntour cyclone mk2 rear derailleur. Will this work or is the cable pull different?

04-30-14, 08:11 AM
Senior Member
Join Date: Feb 2012
Location: Rochester, NY
Posts: 14,939
Bikes: Stewart S&S coupled sport tourer, Stewart Sunday light, Stewart Commuting, Stewart Touring, Co Motion Tandem, Stewart 3-Spd, Stewart Track, Fuji Finest, Raleigh Pro, Trek Cycle Cross, Mongoose tomac ATB, GT Bravado ATB, JCP Folder
Mentioned: 0 Post(s)
Tagged: 0 Thread(s)
Quoted: 2927 Post(s)
Who knows? Not Many, if any. The ST cyclones were not ever designed to have to be indexable and as such their cable actuation ratios were never mentioned. You'll have to find some one who has tried this combo before, good luck. Why don't you just try it and then you can be the world's expert on this combo. Andy.

04-30-14, 08:11 AM
Cat 6
Join Date: Dec 2007
Location: Mountain Brook, AL
Posts: 7,377
Mentioned: 24 Post(s)
Tagged: 0 Thread(s)
Quoted: 454 Post(s)
You'll have to be very lucky. The Cyclone was not intended to be an index RD when it was new. You can pick up a 740x RD for $35 (or less). The Cyclone's probably worth at least $20, so that's not much swap cost, if any.
__________________
72 Frejus, Holdsworth Record & special CNC / 74 Italvega NR / c80 ?French? / 82 Raleigh Intl MkII / 83 Trek 620 / 87 Centurion IM MV / 03 Casati Dardo / 08 BF IRO / 09 Dogma FPX / 10 Vassago Fisticuff



04-30-14, 09:29 AM
Señor Member
Join Date: Feb 2013
Posts: 5,050
Mentioned: 5 Post(s)
Tagged: 0 Thread(s)
Quoted: 633 Post(s)
the 7400 shifters have a friction mode
so yes
it will work
but very unlikely that the indexing will work

05-01-14, 12:29 PM
Senior Member
Join Date: Apr 2009
Location: Jacksonville, OR
Posts: 349
Bikes: Land Shark, Ritchey, Fat Chance, and about 19 others
Mentioned: 1 Post(s)
Tagged: 0 Thread(s)
Quoted: 3 Post(s)
Likes: 0
Liked 0 Times in 0 Posts
I'm going to end up using my other rear derailleur, I just thought the cyclone looked better on the bike.

05-01-14, 12:52 PM
Cat 6
Join Date: Dec 2007
Location: Mountain Brook, AL
Posts: 7,377
Mentioned: 24 Post(s)
Tagged: 0 Thread(s)
Quoted: 454 Post(s)
__________________
72 Frejus, Holdsworth Record & special CNC / 74 Italvega NR / c80 ?French? / 82 Raleigh Intl MkII / 83 Trek 620 / 87 Centurion IM MV / 03 Casati Dardo / 08 BF IRO / 09 Dogma FPX / 10 Vassago Fisticuff



05-01-14, 12:55 PM
Senior Member
Join Date: Apr 2009
Location: Jacksonville, OR
Posts: 349
Bikes: Land Shark, Ritchey, Fat Chance, and about 19 others
Mentioned: 1 Post(s)
Tagged: 0 Thread(s)
Quoted: 3 Post(s)
Likes: 0
Liked 0 Times in 0 Posts
It's a 7401 so it will work. I just like how this one looked: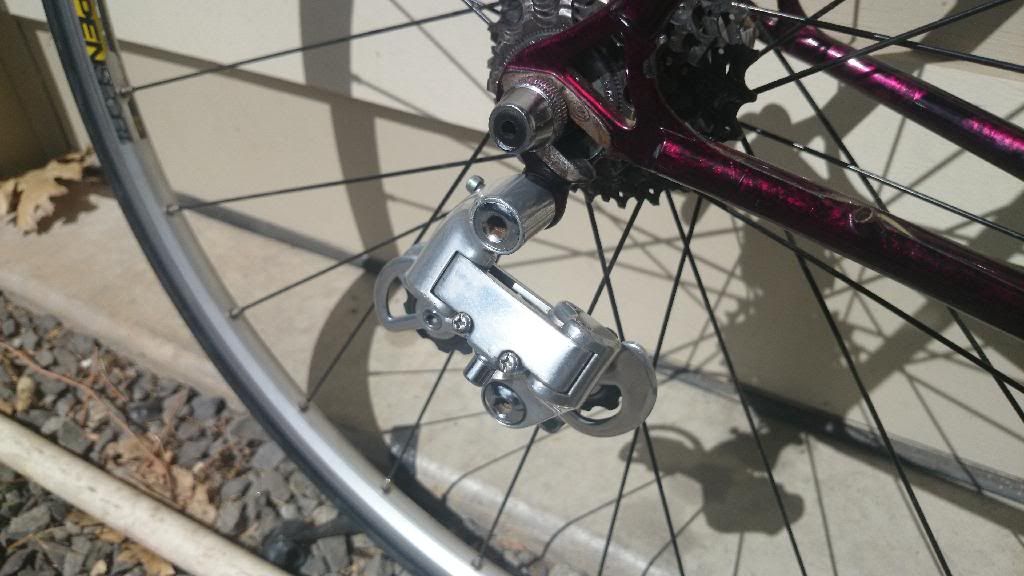 Thread
Thread Starter
Forum
Replies
Last Post

Posting Rules
You may not post new threads
You may not post replies
You may not post attachments
You may not edit your posts
---
HTML code is Off
---