found this gem today

09-16-08, 08:48 PM
I ride.
Join Date: Sep 2005
Location: USA
Posts: 182
Bikes: Colony BMX build, an abused Rocky Mountain MTB and an old Trek road bike
Mentioned: 0 Post(s)
Tagged: 0 Thread(s)
Quoted: 0 Post(s)
Likes: 0
Liked 0 Times in 0 Posts
found this gem today
---
I was looking on craigslist and found a guy selling a couple bikes including this beast. he didnt know much about it except he picked it up from a guy who rode an ares and that the seat said primo. all i could tell by the picture was that the frame looked like it was either a mutiny, standard tao, or some hoffman. I was mainly looking for something with a decent bottom bracket to swap into my STA since mine is slowly taken a crap. I went to look at it and ended up buying it for $40.
Im still trying to figure out what each part is, but here is what I recognize so far:
frame: mutiny soldier (from around '01)
bars: not sure but they were originally white, have a 9.5" wide crossbar and are cut down to 21.5"
grips: primo
headset: aheadset
fork:???
stem: hoffman
seat: primo hemroid
seat post:???
cranks: I recognize them but cant put a name to them yet. I wanna say mosh or demolition but Im not sure yet.
pedals: primo tenderizers
front wheel: alex mx-22 laced to a nice redline race hub 48h
rear wheel: generic single wall most likely
front tire: snafu rim job
rear tire: lire Flatlander
also came with a pair of old primo pegs but i took them off.
the rear wheel was pulled back super tight to where there was absolutely no flex in the chain and the cranks were so tight I thought they were seized. after loosening the cranks and sliding the rear wheel up, it rides pretty smooth. being 20.5" it feels a little long for me (5'4" haha) and the gear ratio feels a little weird. probably 39-16 or something, i havent counted teeth. Im probably going to jsut swap the fork over to the STA for now since the dropouts look much beefier and arent bent like the poverty fork on the sta. not bad for $40 eh

sorry for the bad pic, the batteries in my camera are dead so i used a web cam.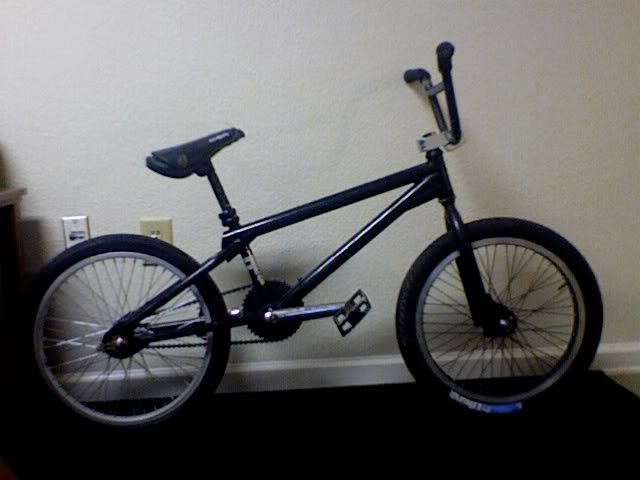 09-16-08, 09:51 PM
Live To Ride Ride To Live
Join Date: Jun 2005
Location: Winnipeg, Manitoba
Posts: 2,639
Bikes: Fit flow
Mentioned: 0 Post(s)
Tagged: 0 Thread(s)
Quoted: 0 Post(s)
Likes: 0
Liked 0 Times in 0 Posts
sickk, you ******* sell me that frame

edit, cranks maybe solid?

09-16-08, 11:08 PM
I ride.
Join Date: Sep 2005
Location: USA
Posts: 182
Bikes: Colony BMX build, an abused Rocky Mountain MTB and an old Trek road bike
Mentioned: 0 Post(s)
Tagged: 0 Thread(s)
Quoted: 0 Post(s)
Likes: 0
Liked 0 Times in 0 Posts
on a side note, whoever built this bike=fail. they over tightened EVERYTHING. ive never had to force a bolt so hard to get it to loosen. one of the bolts on the stem to clamp the steerer tube is stripped so I cant get the stem off. it took me 10min to undo the bolts for the bars and the bolt for the headset cap was also stripped. the seat guts were a pain to loosen and I dont want to even think of trying to take the pedals off. all that plus the over tightened cranks and rear wheel i had to deal with before. uhg, at least its a solid bike, it doesnt make a sound when i drop it