Shopping List for my BMX

09-10-09, 01:02 PM
Newbie
Join Date: Sep 2009
Posts: 2
Bikes: 1999 Redline RL380
Mentioned: 0 Post(s)
Tagged: 0 Thread(s)
Quoted: 0 Post(s)
Likes: 0
Liked 0 Times in 0 Posts
Shopping List for my BMX
---
So I recently decided to pull my old bike out of the garage after a few years of non-use. It is a '99 Redline RL380. So far, I've replaced the rear tire with an Animal GLH. The rear rim (Sun zx25) is bent (is fixing it an option?), it needs a better front tire (I'll probably get another Animal), new handle grips, and I want to add a set of brakes to the front wheel (probably a cheap caliper set). In all, I'm looking to spend about $80-100. Any advice on what to get for a new rim, or anything else I should do to make this bike decent? I only do small jumps (2-3 feet) and would like to learn some flatland tricks, so that is the style i want to have this bike geared towards.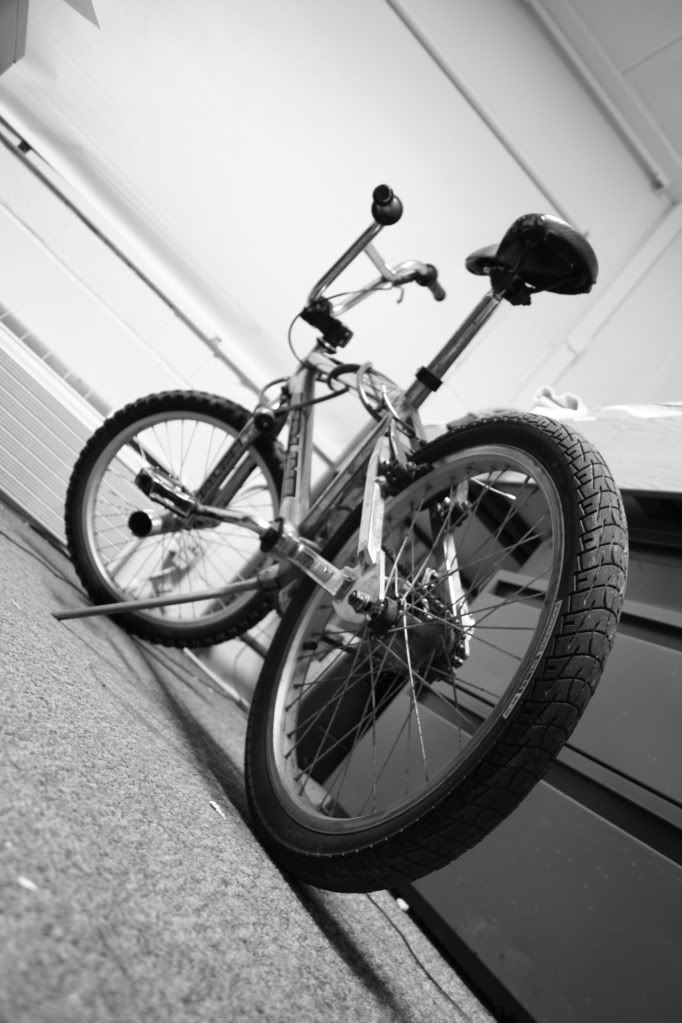 Original Specs:
Bicycle Type BMX
Sugg Retail $224.99
Weight Unspecified
Sizes Pro
Color Chrome-Plated
Frame & Fork
Frame Construction TIG-welded
Frame Tubing Material Chromoly seat tube/hi-tensile steel
Fork Brand & Model Redline
Fork Material 4130 chromoly, unicrown crown
Rear Shock Not applicable
Components
Component Group Not applicable
Brakeset Tektro 915A rear brakes, Tektro 341A rear levers
Shift Levers Not applicable
Front Derailleur Not applicable
Rear Derailleur Not applicable
Crankset Redline Big Block, 44 teeth
Pedals Redline aluminum platform
Bottom Bracket Redline Big Block
BB Shell Width American
Rear Cogs 1-speed, 16 teeth
Chain 1/2 x 3/32"
Seatpost Redline, 25.4mm diameter
Saddle Redline Padded
Handlebar Redline Pro
Handlebar Extensions Not applicable
Handlebar Stem Redline Flight Group
Headset 1 1/8" threadless Tioga TG
Wheels
Hubs Aluminum, nutted
Rims Sun Rims, 36-hole
Tires Front: 20 x 2.00" RL Logo, Rear: 20 x 1.75" RL Logo
Spoke Brand Redline UCP, 2.0mm straight gauge
Spoke Nipples Brass nipples

09-10-09, 07:19 PM
Senior Member
Join Date: Feb 2009
Posts: 208
Mentioned: 0 Post(s)
Tagged: 0 Thread(s)
Quoted: 0 Post(s)
Likes: 0
Liked 0 Times in 0 Posts
grips: odi longnecks
i ride the alenation delinquent but you can pick upp a cheep dubble wall rim for anywhere between $30-$40 thats all you realy need , and if thats a single wall rim that you have on there you might have to get new spokes.
then you ll have a perty good starter set up
oh good job on the tire, im going to get the same one when my odysseys wear out

and are those screw on pegs?

09-10-09, 11:05 PM
Your imaginary friend.
Join Date: Jul 2007
Location: Wandering aimlessly.
Posts: 2,211
Bikes: A sweet Quamen ATL custom, GT Mach 2
Mentioned: 0 Post(s)
Tagged: 0 Thread(s)
Quoted: 1 Post(s)
Likes: 0
Liked 0 Times in 0 Posts
That is a race bike.....
__________________
Every passing minute is another chance to turn it all around.

09-10-09, 11:13 PM
Newbie
Join Date: Sep 2009
Posts: 2
Bikes: 1999 Redline RL380
Mentioned: 0 Post(s)
Tagged: 0 Thread(s)
Quoted: 0 Post(s)
Likes: 0
Liked 0 Times in 0 Posts
I checked, the rim that's on there is only single walled, so i guess ill need new spokes.
Here's the rim
I'm looking at based on your suggestion, will it work? The pegs are not threaded, I put the bolt on the inside of the pegs.
Thanks for the replies.