Peugot "Carboprofile" Mint

07-12-15, 03:10 AM
Senior Member
Join Date: Jun 2014
Posts: 91
Bikes: 2014 Cannondale Synapse 105, 2014 specialized Tricross
Mentioned: 0 Post(s)
Tagged: 0 Thread(s)
Quoted: 0 Post(s)
Likes: 0
Liked 0 Times in 0 Posts
Peugot "Carboprofile" Mint
---
Hey all,
This add caught my eye out of curiosity. I searched through a bunch of brochures from Peugeot but couldn't find it. I did manage to track down a listing from Spain with the bike though. The add says it's been in storage since purchase, I'm wondering if it's worth the asking price (though I suppose there's nothing special about it as this postings been up for a month).
vintage peugeot rare model
Here's the add from Spain:
MIL ANUNCIOS.COM - Bicicleta carretera Peugeot talla 56
Any Peugeot experts care to chime in?
Thanks!

07-12-15, 05:03 AM
Still learning
Here in the region which lies north of SW Ontario, we have Peugeot Carbolite 103 steel frames which were introduced in the early 1980s. The bike shown in the ad probably hasn't been recently overhauled and would typically sell for $125 +/- $25 in the USA in US dollars. Even in a robust market like Toronto, asking price is $100 too high.

07-12-15, 07:07 AM
Bianchi Goddess
I would suspect the reason it is 'in storage since new' is it is simply too big for the owner. I agree with OddJob that it will very likely need a overhaul to get some fresh grease into the bearing. $200ish tops, where I live I wouldn't give more the C note for it. It is likely 'rare' simply because the seller hasn't seen another one.
I see they use keywords in Spain too.
bicicleta marca Peugeot con cuadro Carboprofil (especial aerodinamico), talla 56, con 12 velocidades. Esta en exelente estado de conservacion, no hay que hacerle nada. precio no negociable, precio no negociable. Atiendo solo telefono o_____________________ bicicletes segona ma urbana años sesenta años ochenta años noventa 60 setenta 70 ochenta 80 fixi BH rieju bianchi torrotgac Orbea torrot peugeot GAC gacela pinarello colnago battaglin marotias macario otero mavic shimano zeus columbus mendiz olimpic We
__________________
Bianchis '87 Sport SX, '90 Proto, '90 Campione del Fausto Giamondi Specialisma Italiano Mundo, '91 Boarala 'cross, '93 Project 3, '86 Volpe, '97 Ti Megatube, , '90 something Vento 603,

Others but still loved,; '80 RIGI, '80 Batavus Professional, '87 Cornelo, '09 Motobecane SOLD, '?? Jane Doe (still on the drawing board), '90ish Haro Escape

07-12-15, 09:52 AM
Senior Member
Join Date: Oct 2011
Location: Fairplay Co
Posts: 7,252
Bikes: Current 79 Nishiki Custum Sport, Jeunet 620, notable previous bikes P.K. Ripper loop tail, Kawahara Laser Lite, Paramount Track full chrome, Raliegh Internatioanl, Motobecan Super Mirage. 59 Crown royak 3 speed
Mentioned: 17 Post(s)
Tagged: 1 Thread(s)
Quoted: 279 Post(s)
Likes: 0
The price seems a bit high buy at least a $100 or so. Plus some things seem just off not right based on the add the owner says the bike has been in storage since new yet has some noteciable wear in places and cheapo new seat and bartape that is poorly done, from perfect like the owner says. Also it is a huge frame with the seat and stem slammed the whole way down so they may have issues good chance one or both are stuck. I say pass on this one as presented it's really only $175-200 bike at best CAD in Toronoto most other places it would be $100 bike.

07-12-15, 10:46 AM
Senior Member
Join Date: Jun 2014
Posts: 91
Bikes: 2014 Cannondale Synapse 105, 2014 specialized Tricross
Mentioned: 0 Post(s)
Tagged: 0 Thread(s)
Quoted: 0 Post(s)
Likes: 0
Liked 0 Times in 0 Posts
Thanks folks.
I suspected as much. A bike that's "been in storage since new" for 20+ years is a little too good to be true anyways, and would certainly have been snatched up anyways in Toronto by now if it were actually mint / rare.
@
bianchigirll
, Ya sellers do like to use words like " EXCELLENT, Mint, Rare " without having any understanding of what they mean and / or hoping the buyer doesn't


07-12-15, 11:28 AM
Decrepit Member
Join Date: Aug 2005
Location: Santa Rosa, California
Posts: 10,491
Bikes: Waterford 953 RS-22, several Paramounts
Mentioned: 64 Post(s)
Tagged: 0 Thread(s)
Quoted: 616 Post(s)
Likes: 0
Liked 0 Times in 0 Posts
If you look closely at the seat tube in the photo and the aero shaped ovalizing of the tube in the bottom two thirds of its length, it appears to have a symmetrical aero profile. I'm just guessing, but it is probably just an aero shaped version of Carbolite 103, which is plain carbon steel.
The bike is overpriced, although there may be some cachet adding value because of the shaped tubing.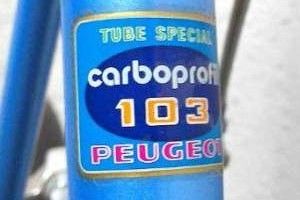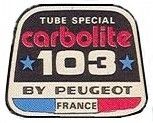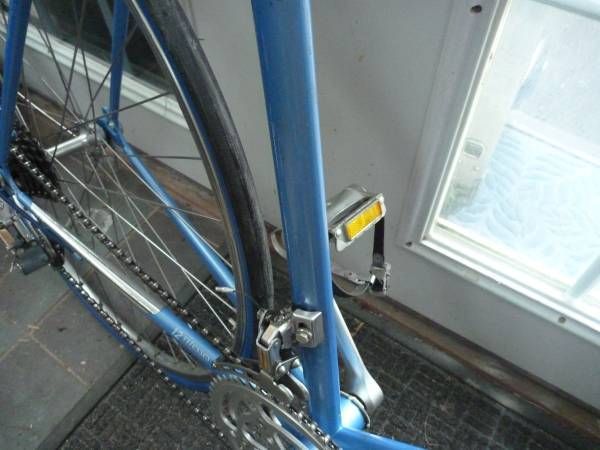 __________________
- Stan
my bikes
Science doesn't care what you believe.


07-13-15, 09:24 PM
Senior Member
Join Date: Jul 2009
Posts: 11,139
Bikes: 1986 Alan Record Carbonio, 1985 Vitus Plus Carbone 7, 1984 Peugeot PSV, 1972 Line Seeker, 1986(est.) Medici Aerodynamic (Project), 1985(est.) Peugeot PY10FC
Mentioned: 21 Post(s)
Tagged: 0 Thread(s)
Quoted: 139 Post(s)
Likes: 0
Liked 0 Times in 0 Posts
That's the same tubing used on the Peugeot Centenary edition bike.....which I think was issued in 1983........
Just a squashed version of the regular Carbolite 103 "house" tubing from Peugeot.......
Thread
Thread Starter
Forum
Replies
Last Post

Posting Rules
You may not post new threads
You may not post replies
You may not post attachments
You may not edit your posts
---
HTML code is Off
---