Bianchi Strada - saved from the garbage

06-01-16, 05:00 PM
Senior Member
Join Date: May 2014
Location: Cleveland, Ohio
Posts: 1,427
Mentioned: 19 Post(s)
Tagged: 0 Thread(s)
Quoted: 165 Post(s)
Bianchi Strada - saved from the garbage
---
The guy who sold me the bike found it in the garbage. Should be a early 90's model, I believe.
The frame looks nice,. I want to rebuilt it. What group was original on the bike?
What should I use?
I have Shimano 600 and Suntour Le Pree?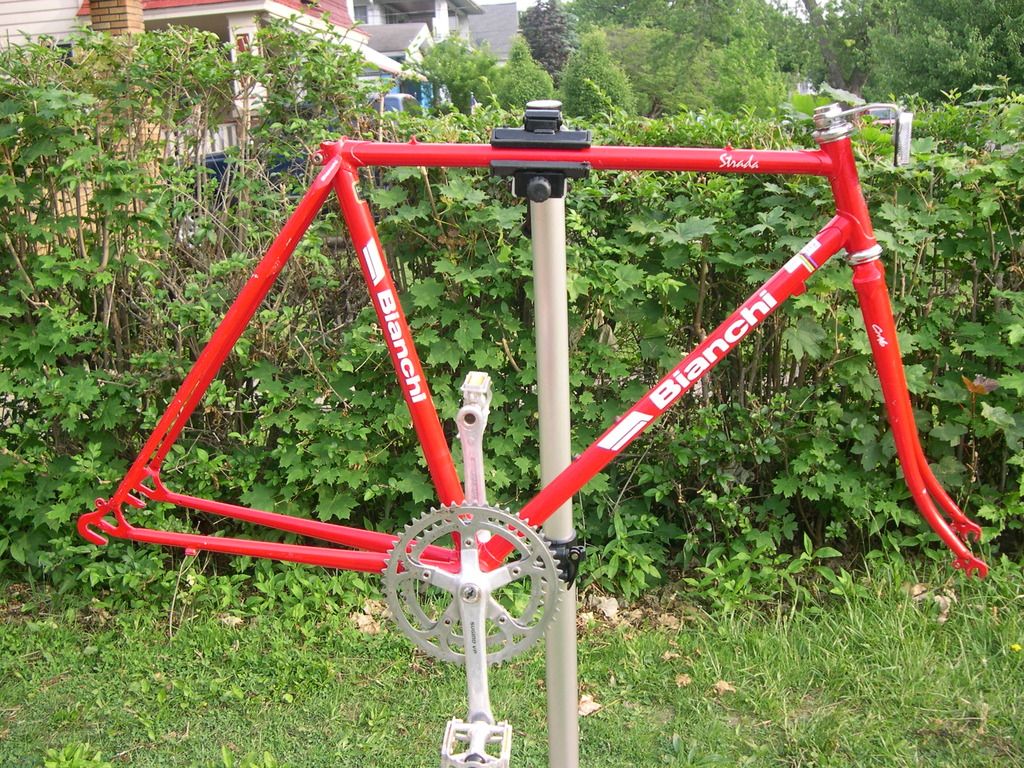 __________________
'81 Schwinn Super Sport;



06-02-16, 08:39 AM
Senior Member
Join Date: Nov 2004
Posts: 21,050
Mentioned: 565 Post(s)
Tagged: 1 Thread(s)
Quoted: 3821 Post(s)
Likes: 0
Based on the rectangular CdM decal, it should be a 1987 model, but the serial number will tell us for sure. This was Bianchi's entry level model with a plain gauge CrMo main triangle mated to hi-tensile forks and stay. Note the stamped dropouts and down tube cable stop for stem shifters.

Equipping with Lepree or 600 would be overdressing the frame. Original specs included Shimano Tourney derailleurs and Chang Star brakes with safety levers. Those are the original Sugino VP cranks. The frame is designed for 27" wheels but you may be able to fit 700C depending on the reach of the available brakeset. Reasonable grade aluminum components should build up to about a 26 lb bicycle if you use 700C.

My decision to use 600 versus Lepree would probably depend on whether it's going to be a keeper or flipper and which generation of 600 you have. I'd take LePree over any of the pre-index versions of 600, if it's a keeper, but it may all come down to which derailleur has a claw to allow frame mounting.
---
Last edited by T-Mar; 06-02-16 at

08:51 AM

.

06-02-16, 09:09 AM
7-speed cultist
Join Date: Aug 2011
Location: CID
Posts: 20,100
Bikes: 1991 Bianchi Eros, 1964 Armstrong, 1988 Diamondback Ascent, 1988 Bianchi Premio, 1987 Bianchi Sport SX, 1980s Raleigh mixte (hers)
Mentioned: 88 Post(s)
Tagged: 0 Thread(s)
Quoted: 2794 Post(s)

06-02-16, 09:55 AM
Señor Member
Join Date: Feb 2013
Posts: 5,050
Mentioned: 5 Post(s)
Tagged: 0 Thread(s)
Quoted: 633 Post(s)
THe Strada was pretty bottom of the barrel. A shop I worked at found a bunch of them from ~1988 still in boxes in the early 2000s and we sold them for $100 each, and I thought at the time that was about right.

09-23-20, 09:38 PM
Junior Member
Join Date: Aug 2020
Location: California
Posts: 21
Bikes: Fuji Classic (Track), Peugeot U-08, Bianchi Strada turned Fixie
Mentioned: 1 Post(s)
Tagged: 0 Thread(s)
Quoted: 13 Post(s)
Likes: 0
Did you happen to change the bottom bracket? I've come across the same frame but my BB isn't in the best of conditions, would a 68mm English threaded BB work well?

09-24-20, 09:15 AM
Senior Member
Join Date: Jun 2014
Location: Ontario, Canada
Posts: 4,290
Bikes: iele Latina, Miele Suprema, Miele Uno LS, Miele Miele Beta, MMTB, Bianchi Model Unknown, Fiori Venezia, Fiori Napoli, VeloSport Adamas AX
Mentioned: 12 Post(s)
Tagged: 0 Thread(s)
Quoted: 1166 Post(s)
Resurrections a 4 years old thread. OP has most likely moved on with the build.

Cheers

09-24-20, 12:40 PM
Bianchi Goddess
Join Date: Apr 2009
Location: Shady Pines Retirement Fort Wayne, In
Posts: 27,350
Bikes: Too many to list here check my signature.
Mentioned: 145 Post(s)
Tagged: 2 Thread(s)
Quoted: 1947 Post(s)
__________________
Bianchis '90 Proto, '90 Campione del Fausto Giamondi Specialisma Italiano Mundo, '91 Boarala 'cross, '93 Project 3, '86 Volpe, '97 Ti Megatube, '93 Reparto Corse SBX

Others but still loved; '80 Batavus Professional, '87 Cornelo, '?? Jane Doe (still on the drawing board), '90ish Haro Escape SLX Bertoni "Speckled Trout"

Thread
Thread Starter
Forum
Replies
Last Post
Classic and Vintage Bicycles: Whats it Worth? Appraisals.

Posting Rules
You may not post new threads
You may not post replies
You may not post attachments
You may not edit your posts
---
HTML code is Off
---