Peugeot ID?

07-03-16, 01:33 AM
Junior Member
Peugeot ID?
---
Hey everyone! Just a newbie looking for a quick ID if its not too much trouble. I picked up 2 single speeds this week and not quite sure which model the Peugeot is exactly. I want to say its a P6 Iseran but not 100% and there is no identifying markings.
Also, it has a different chrome Peugeot fork(Peugeot symbol stamped on both sides of fork at top) with a sticker that reads, columbus fourreau originaux. I have looked and looked and cant find any mention of a chrome fork on a Peugeot that is this model though. All the other blue Iserans have colored forks. Is this just a frankenbike thing? Someone just replaced the orginal fork with one from a different Peugeot? If so, why would they do that?
The Peugeot has a Sugino RD2, new seat, new handlebars/wraps, new chain, Shimano Sora front brake, and flip flop rear hub (fixed gear/SS). It is also making a clicking noise under load which cannot be replicated unless Im actually riding. Any ideas on that?
Single speeds - Album on Imgur
Thanks guys.
EDIT: So, I think its actually an 86 PX10?
https://velofinds.com/2015/06/14/lat...ic-components/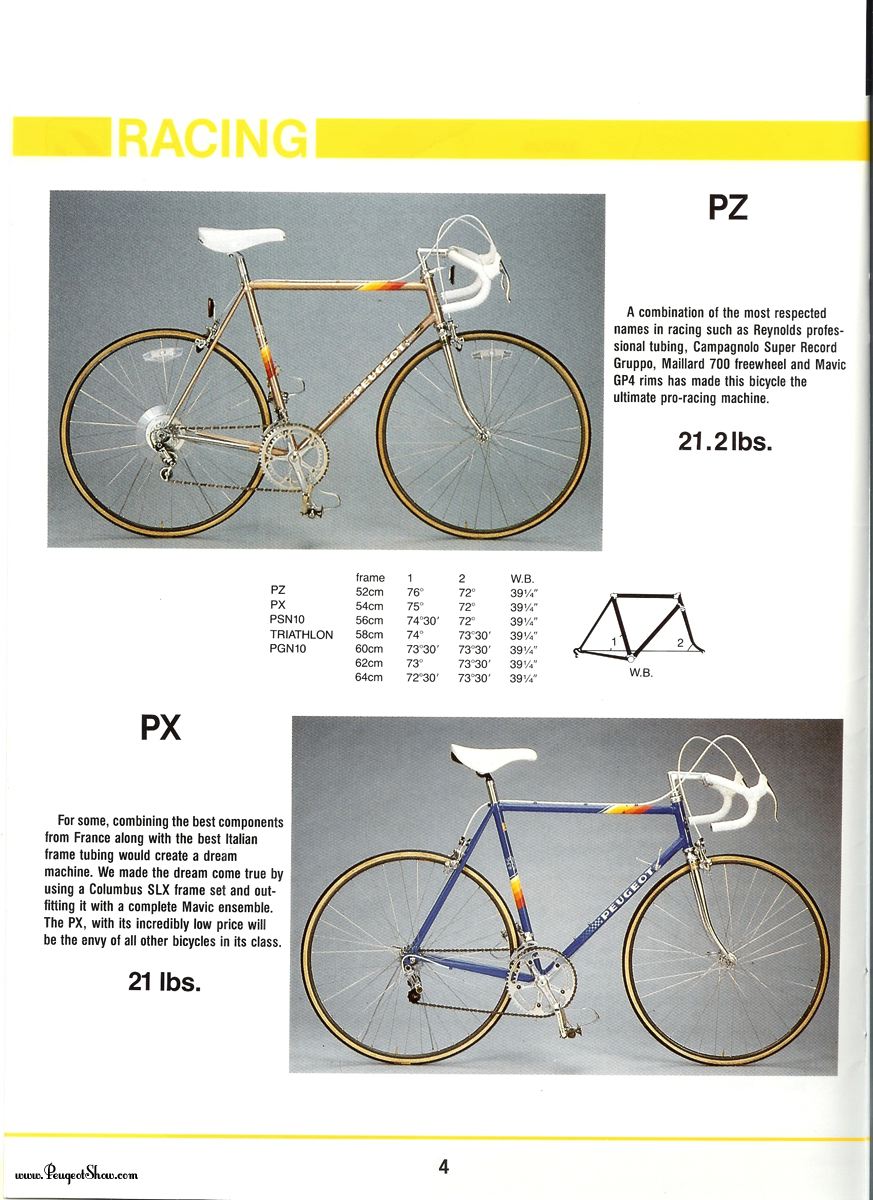 07-03-16, 05:29 AM
Still learning
If the remains of the decal at the top of the seat post look like a Columbus decal, you got yourself a fine and rare frame there. Also, there may be a white paper sticker on the left chainstay near the crank, with SN, size and model on it.

Enjoy!

07-03-16, 06:22 AM
Senior Member
Join Date: Nov 2004
Posts: 22,881
Mentioned: 607 Post(s)
Tagged: 1 Thread(s)
Quoted: 4536 Post(s)
Likes: 0
Generally people retain the OEM headset if nothing else and that does appear to be the Mavic 310 that was OEM on the PX, so that's a very good sign. However, to be postive, Remove the front wheel and check inside the bottom of the the fork's steerer tube for the five helical ridges that are indicative of a Columbus steerer (see attached pictures). Then remove the crankset and bottom bracket and look inside the frame. An SLX frame will have these same ridges inside at the ends down tube, seat tube and chain stays. They quite small (3.5mm wide x 0.35 mm thick) so use a good light or feel for them.

07-03-16, 08:44 AM
Junior Member
Thanks fellas. Yup, its confirmed to be a PX10!
Thread
Thread Starter
Forum
Replies
Last Post

Posting Rules
You may not post new threads
You may not post replies
You may not post attachments
You may not edit your posts
---
HTML code is Off
---