Higgins ultralight Racing Tricycle

07-31-16, 01:59 PM
Junior Member
Join Date: Sep 2010
Posts: 20
Mentioned: 0 Post(s)
Tagged: 0 Thread(s)
Quoted: 3 Post(s)
Likes: 0
Higgins ultralight Racing Tricycle
---
OK,
Looking for info on this trike. Anyone own one?
I would like to come up with a Reasonable selling price.
thanks,

07-31-16, 02:23 PM
Senior Member
Join Date: Apr 2007
Location: Thunder Bay, Ontario, Canada - burrrrr!
Posts: 10,755
Bikes: 1958 Rabeneick 120D, 1968 Legnano Gran Premio, 196? Torpado Professional, 2000 Marinoni Piuma
Mentioned: 186 Post(s)
Tagged: 0 Thread(s)
Quoted: 1087 Post(s)
Likes: 0
I, and at least one other forum member, have some trike experience. Mine was a bicycle,
converted to a tricycle
, using a Ken Rogers kit to implement the conversion. The one thing I learned about this was a trike with one wheel drive is pretty darn hard to get used to...
As for value, the trike is in a special category and I am not sure how much of a following is out there. I do know there are clubs dedicated to trikes, and competitions, but not sure if any can be found in North America.
Value? That would depend on: your location, the actual condition of the trike, the components fitted and, of course, your marketing skills.
Location is important, usually defining the strength of the market in the area. Condition of the trike is pretty much self explanatory. The componentry is important simply because there is a broad range of components that could be fitted, and some, Campagnolo for instance, is top drawer stuff commanding bigger bucks.
Your own skill at selling is also important to how much your bike is worth. A dirty bike or trike is worth a lot less than a clean one. A functioning machine is worth more than one that don't work. Poor pictures or no pictures, in an advertisement, results in fewer interested potential buyers.
In short, we need better pictures, your location and a description of functionality. Armed with that, you will get a much more accurate appraisal - hopefully.
All that said - cool trike! Can't wait to see more pics, if you choose to share.
__________________
"98% of the bikes I buy are projects".

07-31-16, 02:24 PM
Senior Member
Join Date: Nov 2015
Location: Cambridge UK
Posts: 1,704
Bikes: Trek Emonda SL6 .... Miyata One Thousand
Mentioned: 0 Post(s)
Tagged: 0 Thread(s)
Quoted: 63 Post(s)
Likes: 0
plus minus £450 here in the UK .... they are cool .... I will be buying one in a month or two .... we have a good selection here, I nearly bought a Bob Jackson racing tricycle a few weeks ago ... sold for £310.00 but I had just bought a Giant TCR carbon road bike: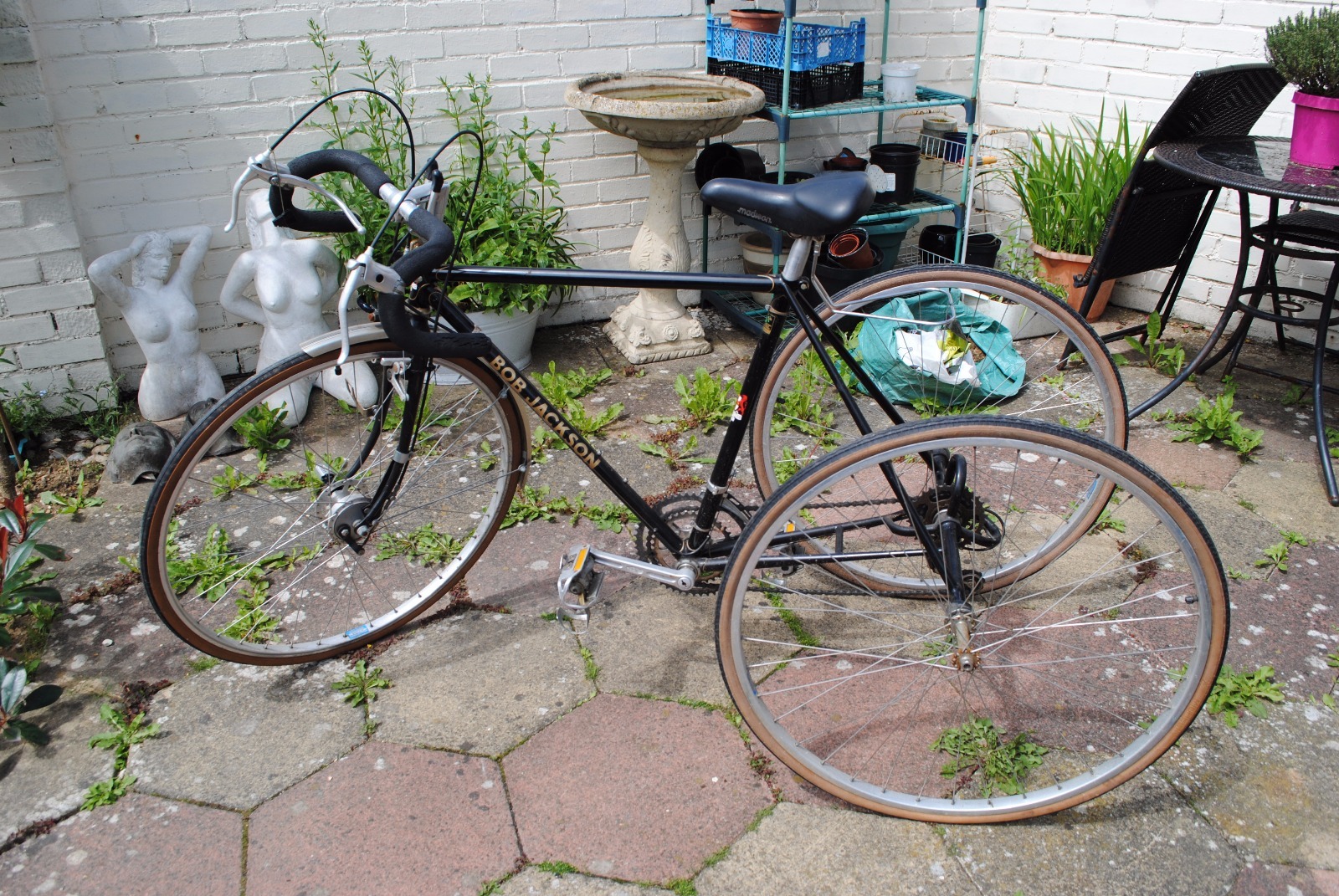 12-28-19, 06:28 PM
Hello

12-28-19, 09:44 PM
Senior Member
Join Date: Oct 2011
Location: Fairplay Co
Posts: 8,176
Bikes: Current 79 Nishiki Custum Sport, Jeunet 620, notable previous bikes P.K. Ripper loop tail, Kawahara Laser Lite, Paramount Track full chrome, Raliegh Internatioanl, Motobecan Super Mirage. 59 Crown royak 3 speed
Mentioned: 21 Post(s)
Tagged: 1 Thread(s)
Quoted: 482 Post(s)
Cool looking bike can you let use know if the the drive and rear brake are both wheels Raliegh desigm or just one wheel offset Wittorth/ Edelbrook design? Won't effect price much nice tris only go for $200 or so and take a while to sell.

12-29-19, 10:53 AM
King Speed Wind
Join Date: Jul 2007
Location: Kalamazoo MI
Posts: 19,365
Bikes: Fuji SL 2.1 Carbon Cannondale Synapse Alloy Trek Checkpoint ALR gravel Trek 710 Vintage 531 Steel
Mentioned: 44 Post(s)
Tagged: 0 Thread(s)
Quoted: 2397 Post(s)

12-29-19, 04:45 PM
Senior Member
Join Date: Aug 2010
Location: Utah
Posts: 6,662
Bikes: Paletti,De Rosa Neo Pro,Pinarello Monviso,Duell Vienna,Giordana XL Super(2)Lemond Maillot Juane (2) & custom & Versailles,PDG Paramount,Serotta CSI,Fuji Opus III,Davidson Impulse,Pashley Guv'nor,Evans,Fishlips,Jan De Reus,Prologue TT,Y-Foil,Softride
Mentioned: 119 Post(s)
Tagged: 0 Thread(s)
Quoted: 1642 Post(s)
I wanted one in 2016 and going into 2020 I still want one.
__________________
Steel is real...and comfy.

12-30-19, 05:06 AM
Hello
Thread
Thread Starter
Forum
Replies
Last Post
General Cycling Discussion

Posting Rules
You may not post new threads
You may not post replies
You may not post attachments
You may not edit your posts
---
HTML code is Off
---