Hon California Folding Bike Stainless

09-26-16, 05:24 PM
Newbie
Join Date: Sep 2016
Posts: 4
Mentioned: 0 Post(s)
Tagged: 0 Thread(s)
Quoted: 0 Post(s)
Likes: 0
Liked 0 Times in 0 Posts
Hon California Folding Bike Stainless
---
Hello everyone.

I picked this up at an estate sale. I'm curious as to year, model, etc. and what it is worth. The bike came from a retired LAPD officer that moved to Florida. I did some initial research about how serial numbers on older models were engraved. I found numbers on the bike and in manual. Please See pictures. I will probably sell it but after having it for awhile I might keep it!

Thank you in advance for any info.
---
Last edited by igeaux4lsu; 10-04-16 at

07:08 PM

.

09-29-16, 02:32 PM
Decrepit Member
The number engraved by hand (104-32-4800) appears to be a Social Security Number based on the format. Owners frequently engrave their SSNs on bikes and other property to assist in recovery if stolen. The number 312072 is the serial number.
It looks a lot like an early Dahon from the 1980s. Dahon is a company founded by Dr. David Hon in Southern California.
Is there a tubing sticker anywhere on the frame? Dahon apparently did make some stainless steel folders for stowing aboard sailboats and used for local transportation at different ports.
Here's one that was posted on the folder forum here on BikeForums: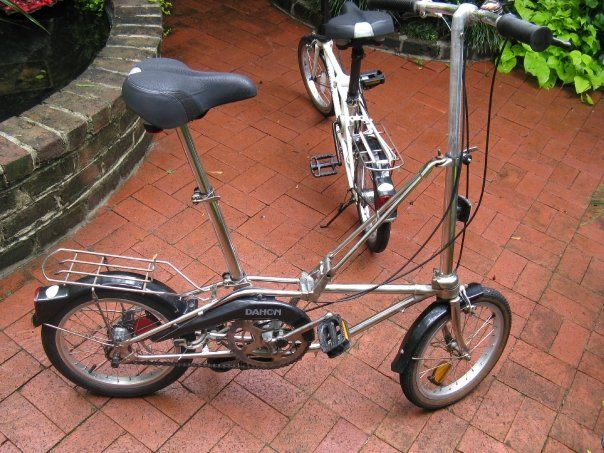 Here's an ad for two of them for sale at $275 each, or $500 for both.
Dahon Stainless Steel Mariner Folding Bikes
Dahon | Wikipedia
---
Last edited by Scooper; 09-29-16 at

02:57 PM

.

10-05-16, 07:58 AM
Newbie
Join Date: Sep 2016
Posts: 4
Mentioned: 0 Post(s)
Tagged: 0 Thread(s)
Quoted: 0 Post(s)
Likes: 0
Liked 0 Times in 0 Posts
Thank you for the information.
So Based on the Dahon website instruction for serial numbers, it looks like the serial number would indicate the item was made in December 1983 "312". Is that how you interpret it?

10-05-16, 08:34 AM
Decrepit Member
I am unable to find any serial number information on the Dahon website. You can contact them by email at
contact@dahon.com
and ask them when your bike was made.
You can also download an owner's manual (pdf) for the 1987 folder which appears to be similar to yours at
Dahon Support - Manuals

10-05-16, 09:42 AM
Newbie
Join Date: Sep 2016
Posts: 4
Mentioned: 0 Post(s)
Tagged: 0 Thread(s)
Quoted: 0 Post(s)
Likes: 0
Liked 0 Times in 0 Posts
Thanks.
I tried contacting them before I posted here and still have not received a response.
Here is the info from Dahon I was referring to for determining age.
DAHON How Old is my DAHON? - DAHON
I wasn't sure if I interpreted it right but I think it is a 1983 because of etching on frame and the fact that it says "Hon" and not Dahon which I think started in 1984. All very hard to decipher
Info is much appreciated.

10-05-16, 11:11 AM
Decrepit Member
After reading what's at your link, I'd agree it's probably a 1983.
Thread
Thread Starter
Forum
Replies
Last Post

Posting Rules
You may not post new threads
You may not post replies
You may not post attachments
You may not edit your posts
---
HTML code is Off
---