Raleigh USA Titanium Bike

10-28-16, 09:40 AM
Raleigh USA Titanium Bike
---
Can some tell me about this bike? I was told it was Russian Ti. 531 forks.
Rather flexy. I picked up the frame for cheap in the 90's and had it built up. Shimano 600 & a C Record crank in my case.
330 gel rims... Rode it a lot of miles.
Looks similar to the Dyna-Tech bike just posted up?
Value? Limited numbers? I have never seen another...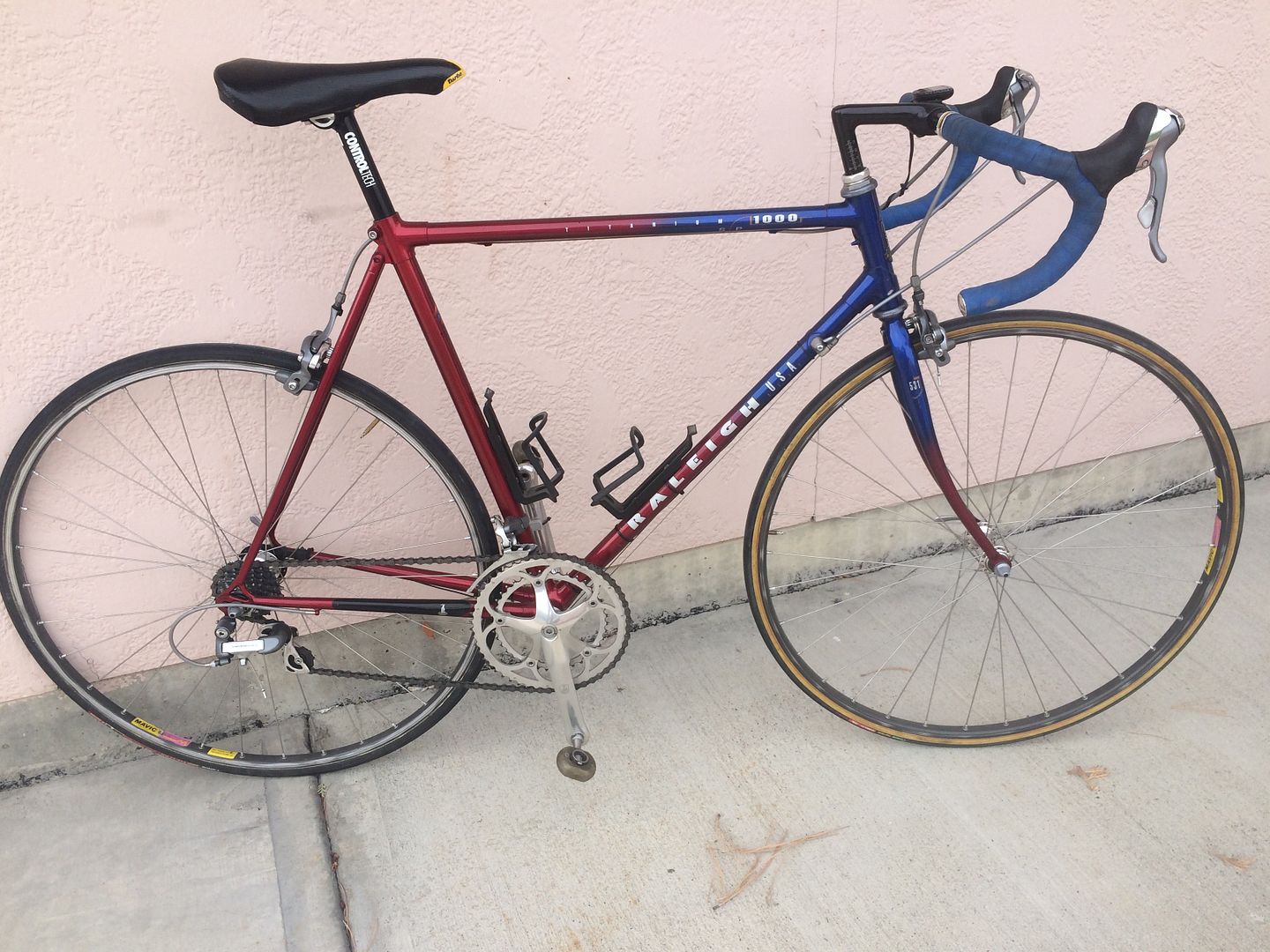 10-29-16, 09:09 PM
Well I guess there isn't much info on this frameset. It shows SP 1000, which I take is Special Products as I learned from the Dyna-Tech thread.
1000? Is there a 2000 or 3000 or is this just a one off (maybe as Dyna-Tech?).
I bought this frame about 20 years ago for about $399 new hanging in a bike shop. I suppose this bike is worth the sum of its components. I answered my own question, thanks.

10-30-16, 06:59 AM
Senior Member
Join Date: Nov 2004
Posts: 22,546
Mentioned: 599 Post(s)
Tagged: 1 Thread(s)
Quoted: 4411 Post(s)
Likes: 0
The subject bicycle is basically the USA equivalent of the Ti Dyna-Tech. OEM was 600 Ultegra and the stays are Reynolds 753 and the fork is Reynolds 531. There was an SP 2000 equipped with Dura-Ace and metal matrix composite main tubes of aluminum alloyed with silicon carbide. Your SP1000 should be circa 1993-1994, and had an MSRP of $1770.00 US in 1993.

The prime difference between you SP 1000 and the Dyna-Tech are the lugs, particularly the seat lug. On your frame, the stays are bolted to a boss on the lug, while the Dyna-Tech's are brazed directly to the lug. I've seen Dyna-Tech with your seat lug style, so I suspect this was a lug design change, possibly going from steel to aluminum or vice-versa. If we compare the serial numbers of the two frames, we may be able to determine which is the earlier design.
---
Last edited by T-Mar; 10-30-16 at

07:08 AM

.

10-30-16, 09:57 AM
Thank you T-Mar. I was hoping you would post up. Your knowledge is amazing.

Mine was a never assembled bare frame when I got it - I just happened to use 600 components, plus went with Mavic Gel 330 tubular rims. The Control Tech seatpost is simple elegance, with effective adjusting.
I did not know the stays material (thought it was some sort of steel). Interesting mix of tubing. Flexy small diameter Ti main tubes. Good stiff 531 fork, and I would imagine the 753 stays for staying light but stiffer than Ti in that area.
This bike was always a good rider, although I did not realize how flexy it was until riding other newer bikes.
That sure was Raleighs' experimental era...
I thought it was a good time to ask about mine seeing how the Dyna-Tech is very similar.
Cheers.
I'll go check for the serial numbers...
---
Last edited by Maxacceleration; 10-30-16 at

10:23 AM

.
Thread
Thread Starter
Forum
Replies
Last Post
Classic and Vintage Bicycles: Whats it Worth? Appraisals.

Posting Rules
You may not post new threads
You may not post replies
You may not post attachments
You may not edit your posts
---
HTML code is Off
---