Bike ID

11-05-16, 07:37 PM

11-06-16, 11:04 AM
Senior Member
Join Date: Oct 2011
Location: Fairplay Co
Posts: 8,031
Bikes: Current 79 Nishiki Custum Sport, Jeunet 620, notable previous bikes P.K. Ripper loop tail, Kawahara Laser Lite, Paramount Track full chrome, Raliegh Internatioanl, Motobecan Super Mirage. 59 Crown royak 3 speed
Mentioned: 21 Post(s)
Tagged: 1 Thread(s)
Quoted: 446 Post(s)
I don't believe it is a Grand Prix based on the chromed forged rear dropouts and the lug work which looks a little nicer than you typically see on a Nottingham built Grand Prix, in general this bike looks to be nicer than a Grand Prix. It does appear to be a close match to a late 60's Super course or maybe early 70's Carlton branded Raliegh. A close up of the seat cluster and seat post size would help to confirm.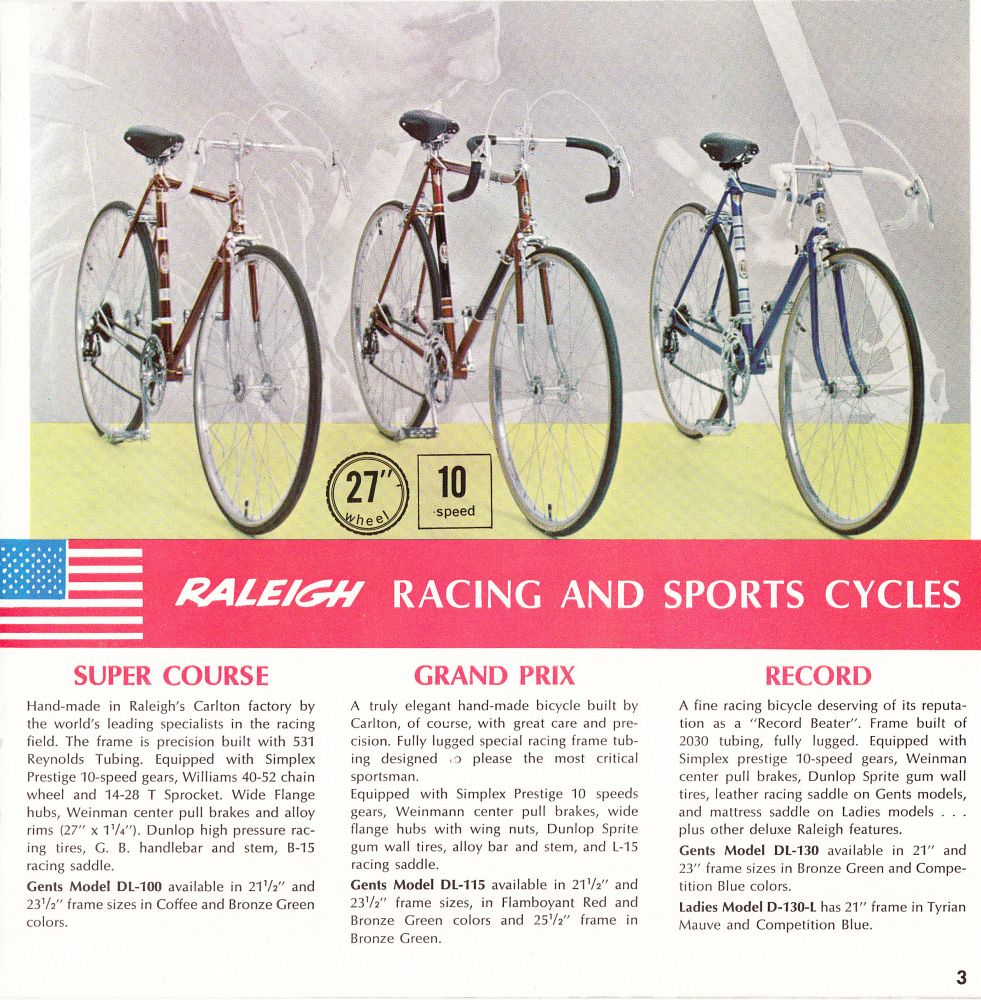 11-06-16, 12:52 PM
Senior Member
Join Date: Oct 2015
Location: Washington, IL
Posts: 126
Bikes: 1952 Schwinn Black Phantom, 1955 Girls Blue Phantom, 1934 Elgin, 1934 Hawthorne, 1954 Columbia 3 star DeLuxe, 1982 Bianchi 12v, 1992 Schwinn Paramount 9C, 1970s Motobecane single speed, 2011 Litespeed C1r
Mentioned: 4 Post(s)
Tagged: 0 Thread(s)
Quoted: 31 Post(s)
What is stamped on the lower head tube lug; behind the caliper?

11-09-16, 05:09 PM
Senior Member
Join Date: Feb 2013
Location: Alta California
Posts: 10,271
Mentioned: 292 Post(s)
Tagged: 1 Thread(s)
Quoted: 2366 Post(s)
Thread
Thread Starter
Forum
Replies
Last Post
Classic and Vintage Bicycles: Whats it Worth? Appraisals.

Posting Rules
You may not post new threads
You may not post replies
You may not post attachments
You may not edit your posts
---
HTML code is Off
---