Raleigh Superbe value

12-29-16, 11:46 PM
Junior Member
Join Date: Dec 2016
Posts: 8
Mentioned: 0 Post(s)
Tagged: 0 Thread(s)
Quoted: 2 Post(s)
Likes: 0
Liked 0 Times in 0 Posts
Raleigh Superbe value
---
The 3 speed is currently broken so what would be the value on this without it fixed and with it fixed ?
image (2).jpg

12-30-16, 05:29 AM
Senior Member
Join Date: Feb 2007
Posts: 1,157
Mentioned: 0 Post(s)
Tagged: 0 Thread(s)
Quoted: 7 Post(s)
Likes: 0
Need more info & better pix to help you. Age, condition, location , better description, etc. It could be a $2 part is all it needs to fix the gearing , or a $50 part ??

12-30-16, 10:25 AM
Junior Member
Join Date: Dec 2016
Posts: 8
Mentioned: 0 Post(s)
Tagged: 0 Thread(s)
Quoted: 2 Post(s)
Likes: 0
Liked 0 Times in 0 Posts
I believe the age is around 1971 and the condition is just okay with a lot of scratches on the frame. The entire 3 speed setup is missing so this would cost about $35. Also it is located in chicago

12-30-16, 02:58 PM
If it's in poor cosmetic condition and the rims are rusty and it needs tires, etc, and the three-speed can't be demonstrated to work, $30 to $50 depending on how much you like/want it. If the purpose is to fix it up and make someone happy, maybe more. In any case, if you go to work fixing it, the expense of the bike will be insignificant in the end.

12-31-16, 08:15 PM
Friendship is Magic
Join Date: Nov 2010
Location: The Big Tomato
Posts: 20,529
Bikes: old ones
Mentioned: 292 Post(s)
Tagged: 0 Thread(s)
Quoted: 23276 Post(s)

12-31-16, 09:15 PM
If the hub is not connected up with the required shifter, cable pulley, "fulcrum," and indicator chain, it's not easy to verify whether the hub shifts or not. As mentioned, if the indicator chain is present, you can pull it while rotating the wheel and see if all three speeds are present. But, if it's not working properly, lots of times it's just a matter of lubrication and getting the insides to move around when the chain is pulled. I don't think you can guarantee a result until you get after it.

The Superbes were nice bicycles and it looks like the bike in question may be well worth restoring -- it's hard to tell just from that one picture. It does appear to have the Dynohub but no light so it's hard to verify that it works properly. The bike has some nice features including the proper colored rack and what appears to be complete and not grossly disgusting sheet metal. If the frame and sheet metal appear to be in a decent condition without serious work required -- if you think they are in a condition such that cleaning and minor spot painting/repair will satisfy you and you can get the bike for a decent price and you have a plan for how to control your costs, I think it's a worthwhile project. I've gone after significantly worse. I think because the hubs can't be guaranteed to work and it has the wrong saddle and it's not the best looker, you should be able to get a decent price.

Be prepared, though. A $30 to $50 bike can turn into a much, much more expensive undertaking in short order. In addition to the 3 speed hardware, you need a decent saddle. If the rims are too gross to be tolerated, you're going to have to build or pay someone to build you some wheels. If you want to get the lighting working, you're going to need some hardware. Tires can be had relatively cheaply, but nice tires make a nice difference. The upside is that when you're done you will likely have a very, very nice older bike with some serious, in my opinion, class.

edit:
If you have a week or two to kill, peruse the bigly three speed English bicycle thread. There are some pictures in that thread of some stunningly beautiful Superbes (aka Super Bees). I think that of them all, the pictures posted by John D Thompson show best what a really nice Superbe can look like.
---
Last edited by desconhecido; 12-31-16 at

09:19 PM

.

12-31-16, 10:09 PM
Senior Member
Join Date: May 2014
Location: Cleveland, Ohio
Posts: 1,602
Mentioned: 19 Post(s)
Tagged: 0 Thread(s)
Quoted: 182 Post(s)
Here is my recent ladies Superbe and the mens Sports
The Superbe has a front dynohub, rear rack, front and rear working lights and a fork with lock, but no key.
Missing the pump and the under seat tools bag. The seat should be a Brooks B72 probably.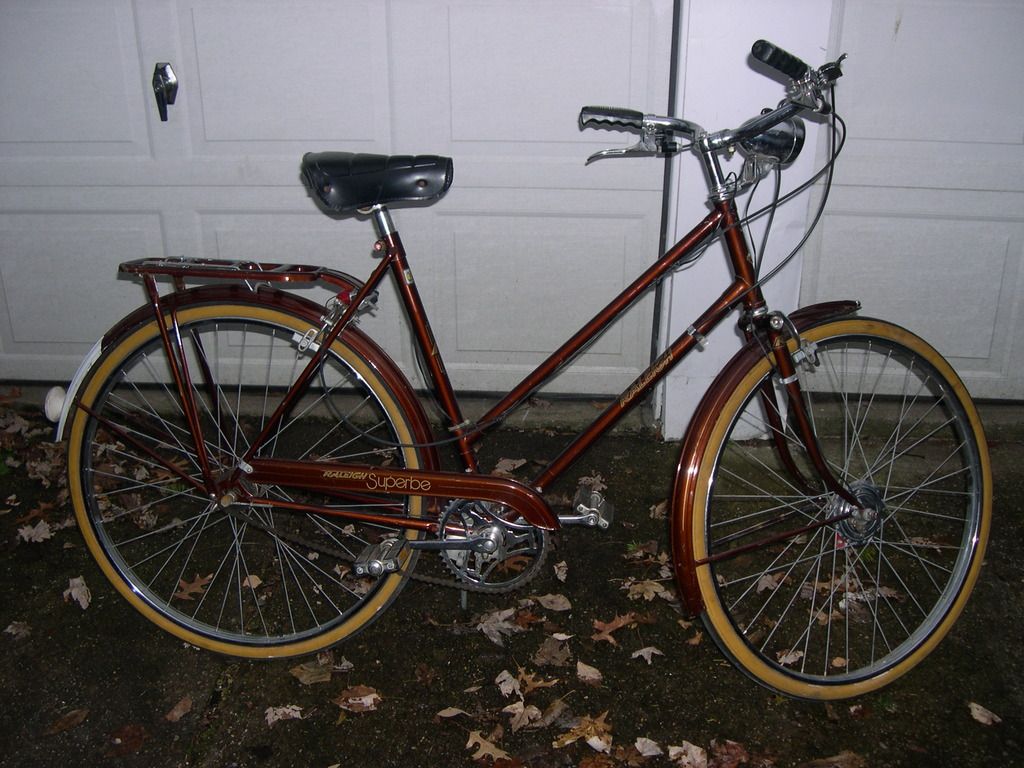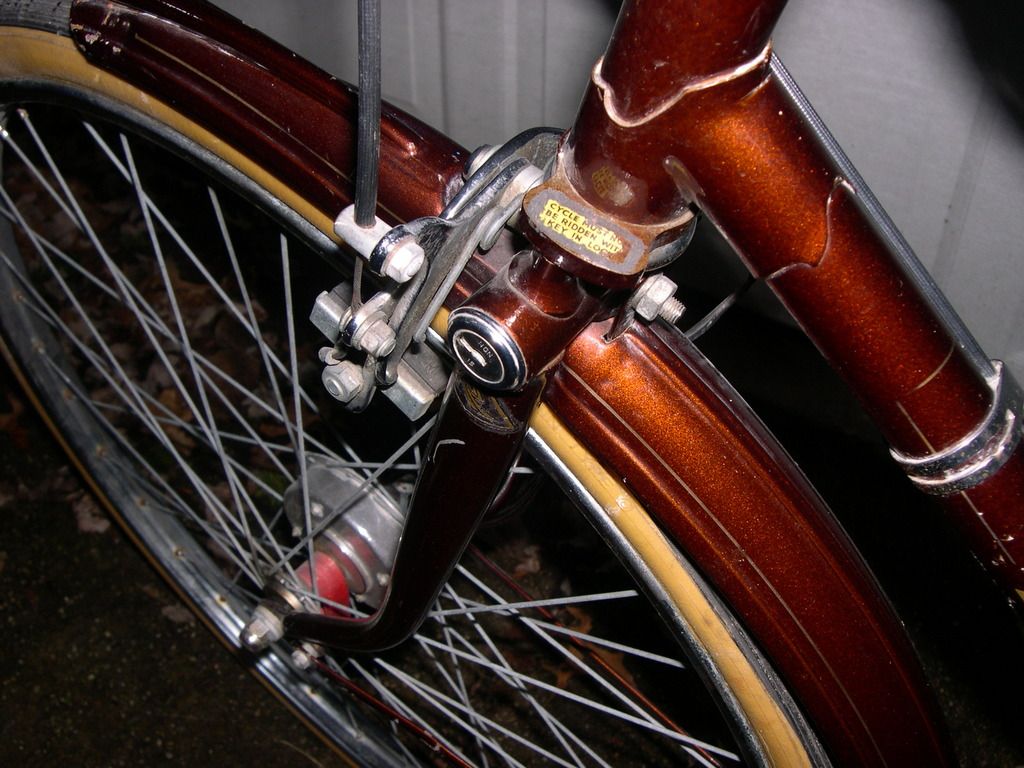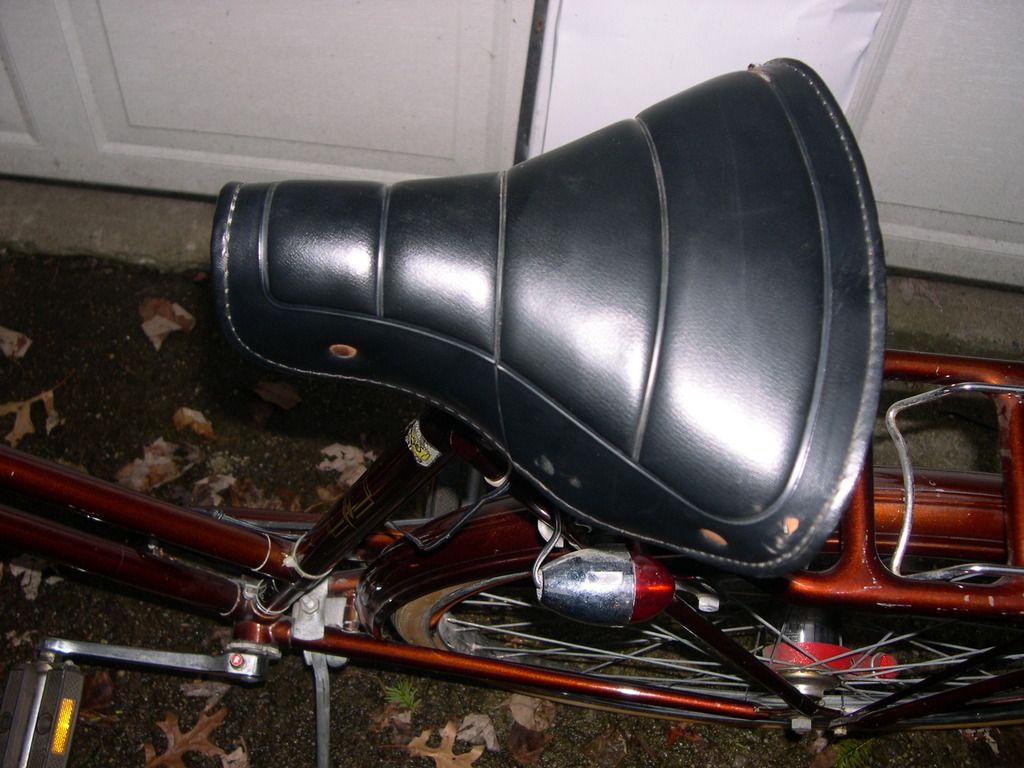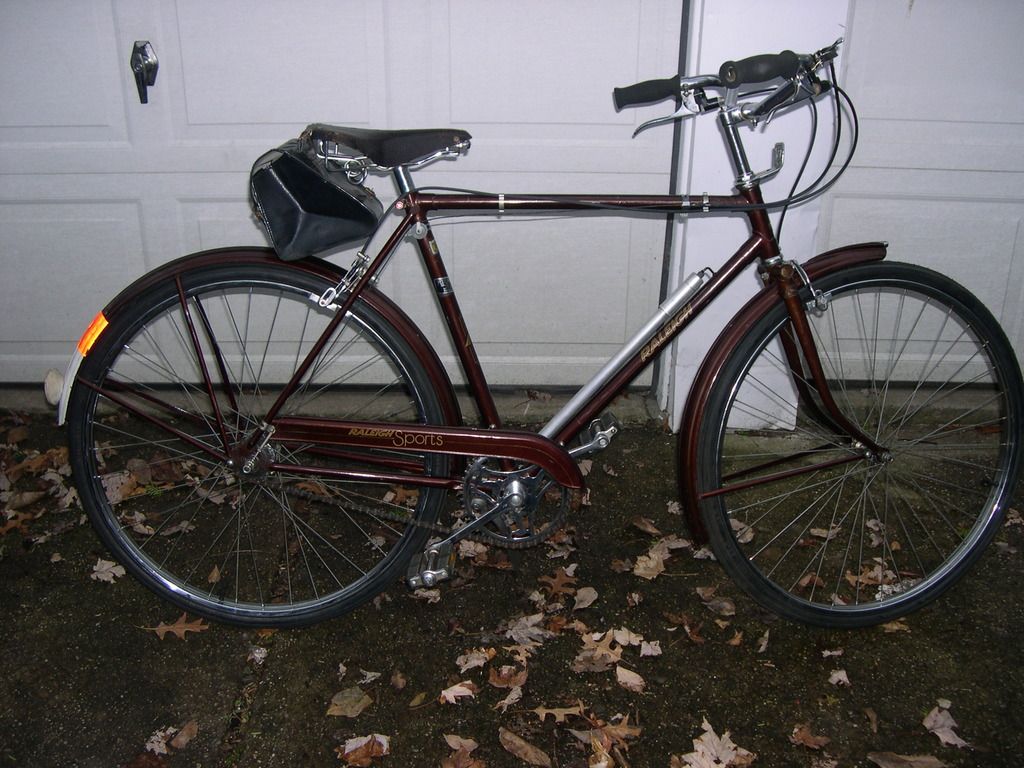 __________________
1972 Mondia Special; 1972 Claud Butler; 1992Torelli Nitro Express made by Mondonico
---
Last edited by marius.suiram; 12-31-16 at

10:14 PM

.

01-06-17, 09:27 PM
Senior Member
Join Date: Nov 2014
Location: Saratoga calif.
Posts: 882
Bikes: Miyata 610(66cm), GT Vantara Hybrid (64cm), Nishiki International (64cm), Peugeot rat rod (62 cm), Trek 800 Burning Man helicopter bike, Bob Jackson frame (to be restored?) plus a never ending stream of neglected waifs from the Bike exchange.
Mentioned: 14 Post(s)
Tagged: 0 Thread(s)
Quoted: 286 Post(s)
Likes: 0
If you do fix up the Raleigh do yourself a favor and get a 20 tooth or larger sprocket for the rear wheel. They don't cost much and will make the gearing much more useful. I just finished cleaning up a 69 blue sport and a month ago did a 78 sport.

If you strip the bike down you can clear coat it. I de rusted with navel jelly then lightly sanded the frame with 1000 grit wet / dry sand paper then sprayed the frame with Rustoleum clear lacquer I bought at Home Depot. It really brought out the color of the frame and made it shine.
Thread
Thread Starter
Forum
Replies
Last Post
Classic and Vintage Bicycles: Whats it Worth? Appraisals.
Classic and Vintage Bicycles: Whats it Worth? Appraisals.
Classic and Vintage Bicycles: Whats it Worth? Appraisals.
Classic and Vintage Bicycles: Whats it Worth? Appraisals.

Posting Rules
You may not post new threads
You may not post replies
You may not post attachments
You may not edit your posts
---
HTML code is Off
---