'84 Peugeot PH10LE

06-06-17, 11:26 PM
Senior Member
Join Date: Jun 2017
Location: West Orange County, CA
Posts: 995
Bikes: '84 Peugeot PH10LE
Mentioned: 16 Post(s)
Tagged: 0 Thread(s)
Quoted: 355 Post(s)
Likes: 0
'84 Peugeot PH10LE
---
I bought it new in '85 and restored it to show room condition last year. After a 20 year hiatus from riding I'm back in the saddle. Not looking to sell but just curious if it's worth any thing more than the $190 I paid for it 33 years ago.
Thanks
Jon

06-07-17, 03:11 AM
Senior Member
Join Date: Apr 2007
Location: Thunder Bay, Ontario, Canada - burrrrr!
Posts: 9,147
Bikes: 1958 Rabeneick 120D, 1968 Legnano Gran Premio, Rocky Mountain Cardiac
Mentioned: 144 Post(s)
Tagged: 0 Thread(s)
Quoted: 597 Post(s)
Likes: 0
Welcome to the Bike Forums Jon.

My immediate guess is that the bicycle is worth more than $190.00 in today's vintage bicycle market, how much more I can't say without seeing some good quality pictures of the bike, itself. So...

Send us some pictures, we love to view the work of others, sometimes with envy, I might add. Also, those pictures will help with any attempts at appraisal.

Again, welcome to the Bike Forums.
__________________
Learn how to find, restore and maintain vintage road bicycles at...
MY "TEN SPEEDS"

06-09-17, 12:02 AM
Senior Member
Join Date: Jun 2017
Location: West Orange County, CA
Posts: 995
Bikes: '84 Peugeot PH10LE
Mentioned: 16 Post(s)
Tagged: 0 Thread(s)
Quoted: 355 Post(s)
Likes: 0
This is all I have right now. It's a 25" frame. Still has the RIGIDA rim stickers intact. One is visible on the front wheel in the pic at the 6:00 position.
Jon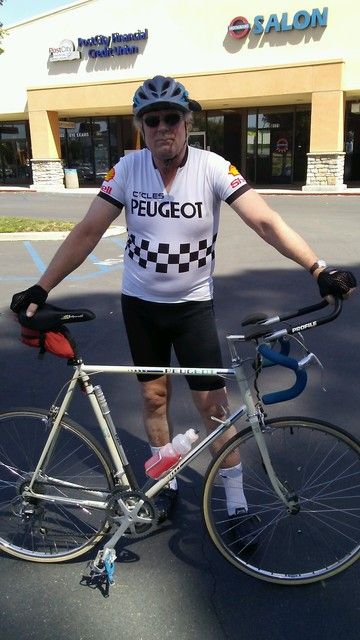 ---
Last edited by Jon T; 06-09-17 at

12:06 AM

.

06-09-17, 11:28 AM
Senior Member
Join Date: Nov 2015
Posts: 2,765
Mentioned: 89 Post(s)
Tagged: 0 Thread(s)
Quoted: 971 Post(s)
Likes: 0
As-is, the bike might be worth about what you paid, so I agree, about 190 - 200 bucks.
I noticed that you upgraded it quite a bit, but the upgrades do not really make the value of the bike appreciate that much if it does at all, as the Carbolite 103 frame was pretty much base line in Peugeot's sport bike model line.
Best thing with the PH10 is owning and riding one as it provides a very stable but also very lively ride.
I owned one in the 80's (1982 model, also modded up) and I can still say that it had one of the best rides of all the bikes I have owned. It also looked beautiful with its pearl white paint and classic Peugeot checker graphics.
Thread
Thread Starter
Forum
Replies
Last Post

Posting Rules
You may not post new threads
You may not post replies
You may not post attachments
You may not edit your posts
---
HTML code is Off
---