ID and value help on a Bianchi Brava

07-21-17, 03:37 PM
Senior Member
Join Date: Jun 2011
Posts: 62
Bikes: 1970 Peugeot PX-10E, 1971 Gitane Tour de France, 1976 MKM, 1980 Holdsworth Mistral, 1984 Woodrup Giro Touring, 1985(?) Bianchi Stelvio, 1987 Bianchi Brava, 1989 Schwinn (Waterford) Paramount, 1994 Trek 1400
Mentioned: 0 Post(s)
Tagged: 0 Thread(s)
Quoted: 1 Post(s)
Likes: 0
Liked 0 Times in 0 Posts
ID and value help on a Bianchi Brava
---
I think the Brava may have changed more than any other Bianchi model over the years, and this one has me puzzled. I'd like the experts to weigh in on what I have here and what it's worth.
Based on looking at catalogs and iPics, I believe the frame to be an '87 Bianchi Brava – it's lugged Tange ChrMoly double-butted -- and probably the alloy parts (bars, stem, post) are original. Beyond that I'm not sure. It has Shimano "Flight Deck" brake/shifters; I know Shimano "brifters" appeared on later Brava versions and I know they were around at the time, but the '87 catalog I found shows standard downtube shifters and normal aero levers. The calipers are alloy Shimano 105 single pivot sidepulls. The crank and derailleurs say "Shimano 105" also, but they have a black finish. I'm pretty sure the wheels are upgrades (Shimano Ultegra hubs, 9 speed cassette, rims are similar but the front's a Mavic and the rear's a Matrix). The pedals look like the originals in the '87 catalog. Some pictures: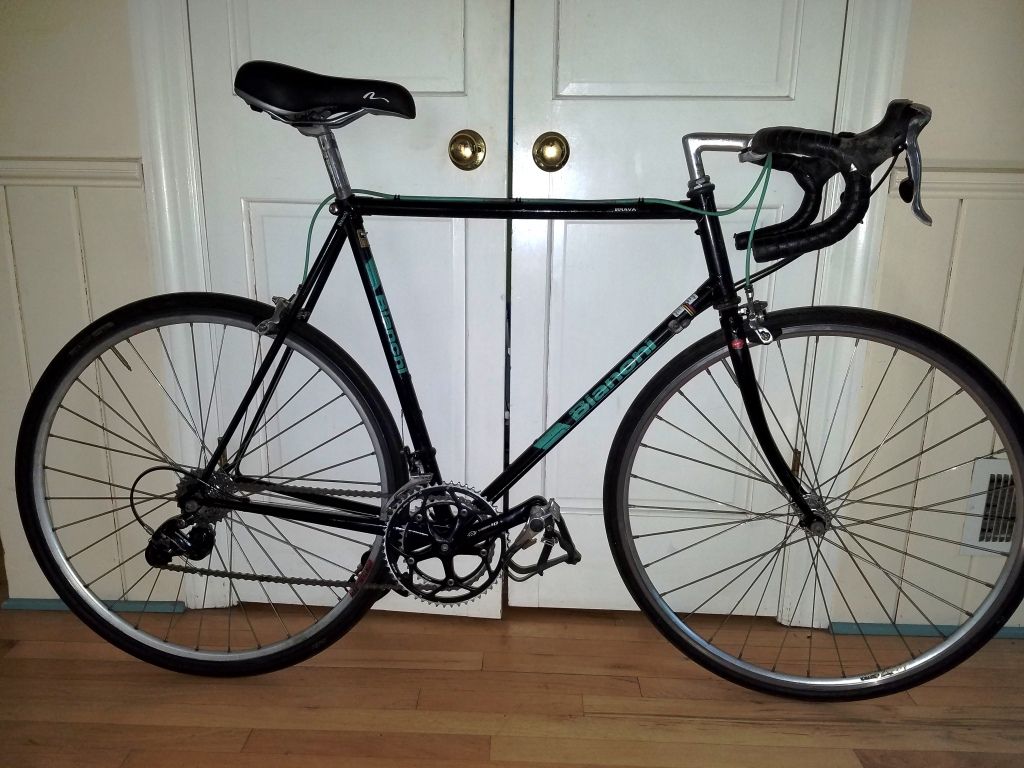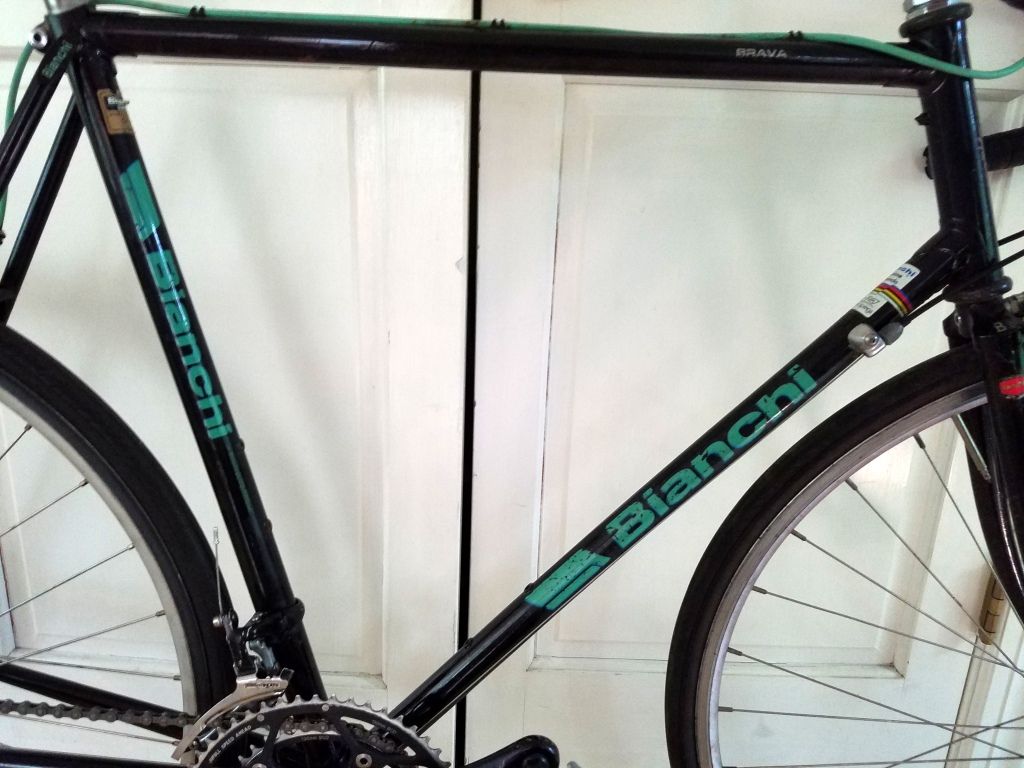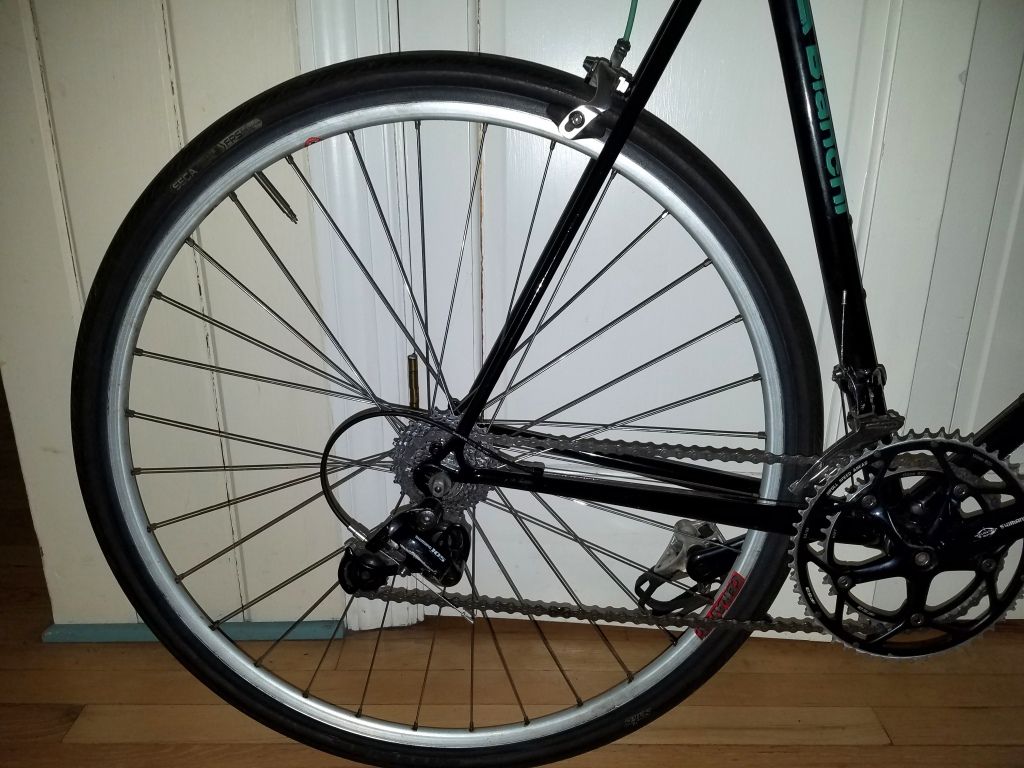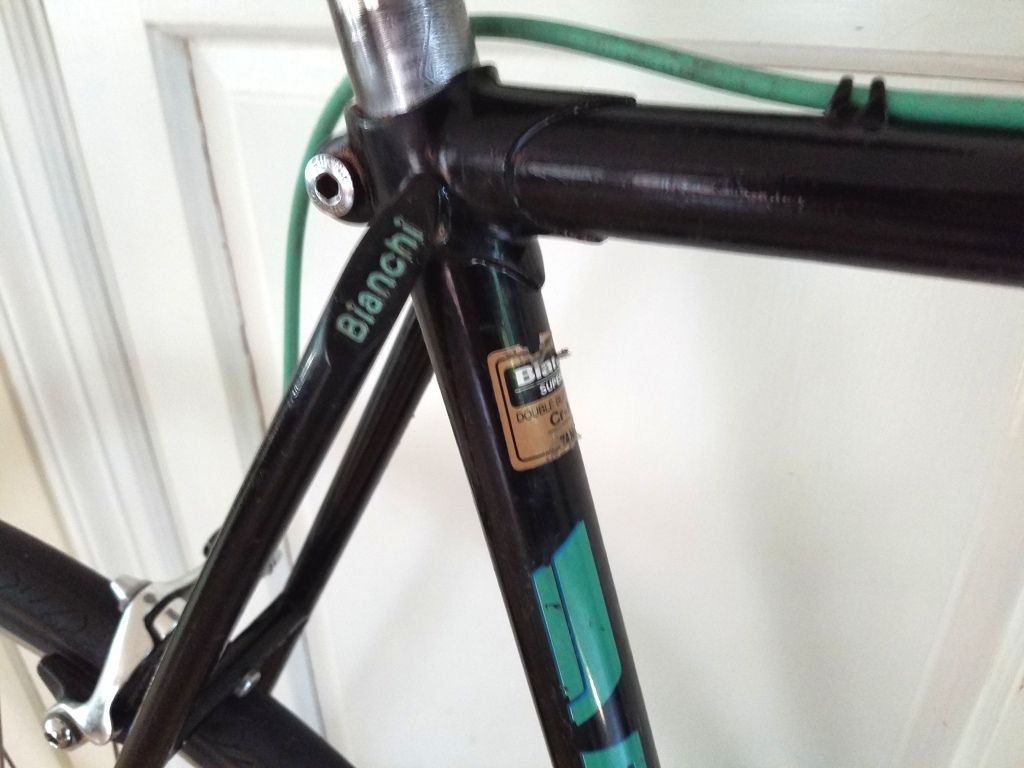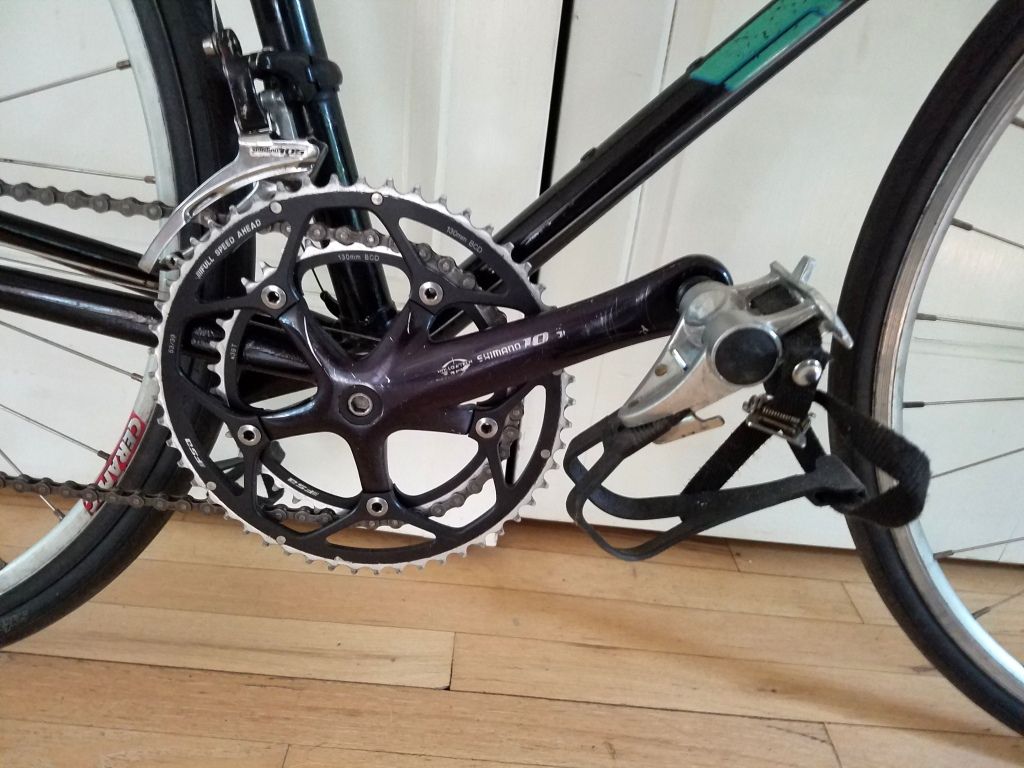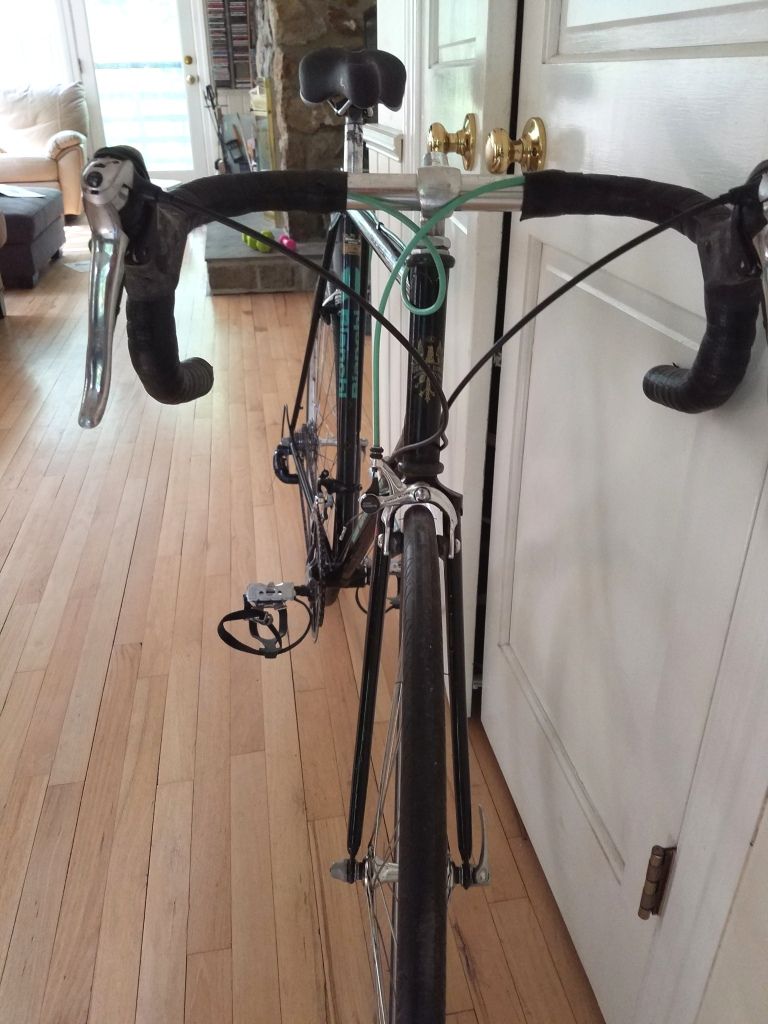 I can use the parts off of it, but I hate to break up a classic original. If it
is
a classic original. What would this be worth if sold as is? If it's not original, is it worth restoring to its original configuration? What's an OE '87 Brava worth? Is there any demand for this frame as a frame? It's a sweet ride, and everything works great, but I have too many bikes that are sweet rides and work great. Trying to decide if this is a keeper.
---
Last edited by Zumkopf; 07-21-17 at

03:47 PM

.

07-22-17, 02:27 AM
Senior Member
Join Date: Nov 2004
Posts: 17,556
Mentioned: 410 Post(s)
Tagged: 1 Thread(s)
Quoted: 2378 Post(s)
Likes: 0
Though you didn't supply the serial number, it's a heavily modified 1987 Brava. Pedals are OEM, as are the brake calipers and headset. The crankset, brifters, derailleurs, wheels and saddle definitely are not OEM. I'm not sure about the bars, stem and seat post. They look like they could be OEM.

Value in OEM condition would be about $300 US. IMO, the mods actually increase the value, probably to around $400. Basically, you're getting the benefits of brifters and 9 speed Hyperglide cassette versus 7 speed Uniglide freewheel. Weight savings on the newer hubs, derailleurs and particularly the crankset, offset the extra weight of the brifter and two extra cogs.

The big questions is whether the previous owner cold set the rear triangle spacing to 130mm or left it at 126mm. This may affect your decision on which direction to proceed.

BTW, Shimano did not introduce brifters commercially, on road bicycles, until the 1991 model year.