ID: Plain Italian road bike

03-24-18, 11:05 PM
Junior Member
Join Date: Sep 2013
Posts: 14
Bikes: Centurion Ironman
Mentioned: 1 Post(s)
Tagged: 0 Thread(s)
Quoted: 0 Post(s)
Likes: 0
Liked 0 Times in 0 Posts
ID: Plain Italian road bike
---
Hello,
I just picked up this frame at the local bicycle co-op. It was donated as a frameset with a Campagnolo headset but the fork was damaged. Most of my vintage knowledge is about Japanese bikes, not Italian.
Here is an album of pictures:
https://imgur.com/gallery/BvqZv
The bottom bracket is 70mm (Italian thread), the rear dropout 126mm. The seatpost is 27.2. For what it's worth, the seat tube is 62cm ctt, top tube is 58cm, chainstay is 41.5cm. I can measure the HT / ST angles if that will help. Top tube is 25.4, seat and down are 28.6. The frame weighs 2.13 kg / 4.7 lbs.
The obvious identifying marker are the heart shapes in many of the lugs. The chainstay bridge is also a lovely design. The rear brake bridge is drilled for a recessed nut. The dropouts are not stamped with any make. On the headtube there looks to be some residue, possibly from headbadge. It is fairly low on the headtube and spans almost 180* of the tube, mostly in a straight line.
The bottom bracket shell has cutouts on the underside, and nice cable guides. I tried to take a couple pictures of the inside of the BB shell as well; the joining of the tubes to the shell is different from most other bikes I've looked inside. Finally, the front NDS of the shell has stamped '60'.
I hope I have taken some useful pictures; I am happy to take more, just let me know where to point the camera. Any guess as to the make, model, or even tubing are appreciated. I am also keen to determine a reasonable axle-to-crown for a replacement fork.
Thanks for your time.

03-25-18, 12:00 AM
Senior Member
Join Date: Feb 2013
Location: Alta California
Posts: 10,296
Mentioned: 293 Post(s)
Tagged: 1 Thread(s)
Quoted: 2377 Post(s)

03-26-18, 12:29 AM
Senior Member
Thanks for tagging me on this one, @
juvela
. I always forget to look through the appraisals threads...
@
Zhaan
- you've taken great pics. The problem is that, unfortunately, all the frame details (lug cutouts, bottom bracket cutouts and cable guides, chainstay bridge, etc.) can be found on frames done by different builders, so it would be difficult to pin this frame down with certainty. It also doesn't help that this frame was repainted (or at least looks so to me).
If I had to guess, I'd say that this is a Viner. Something along the lines of these two (one from an eBay listing and one from a thread on fixedforum.it):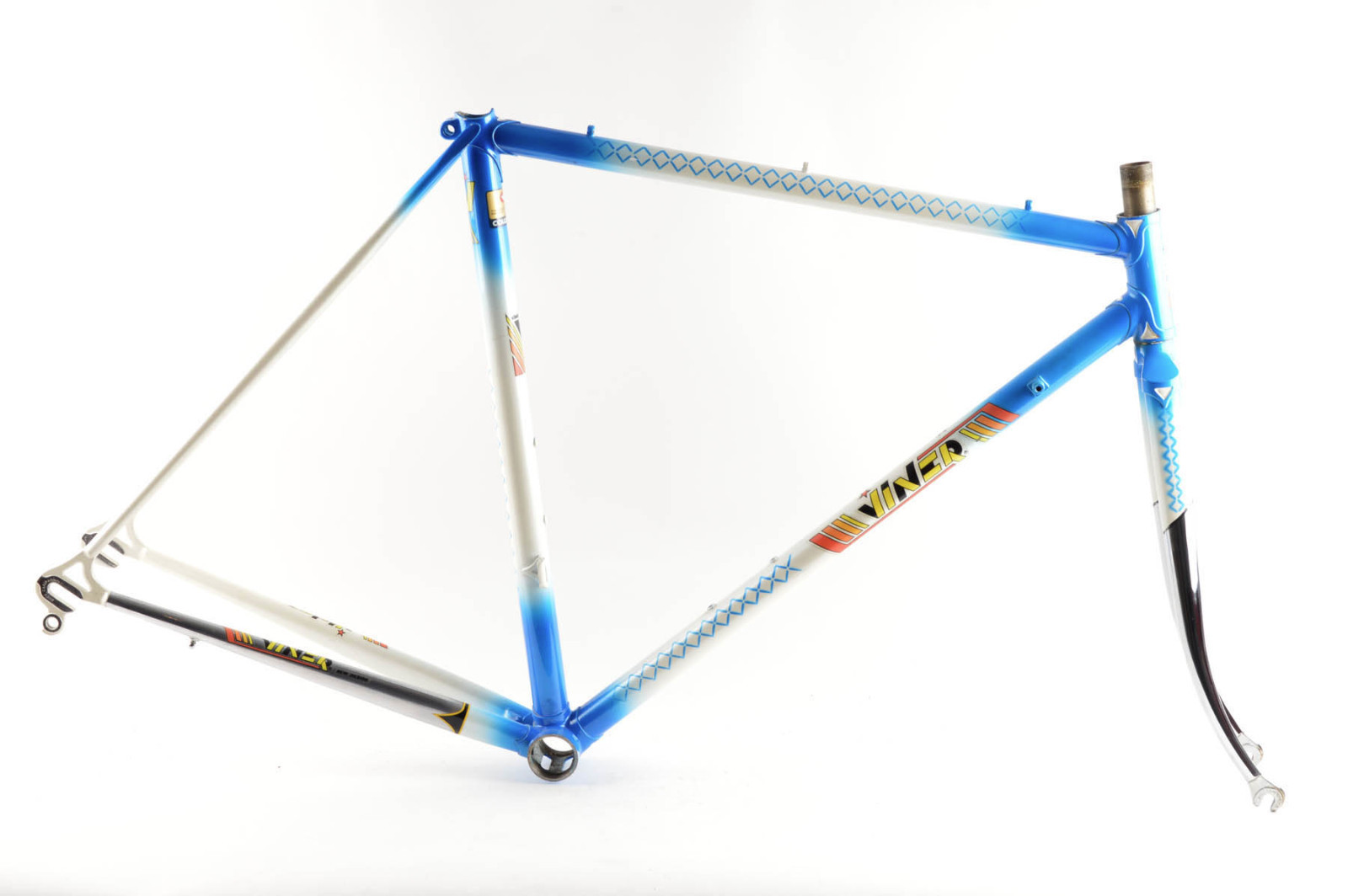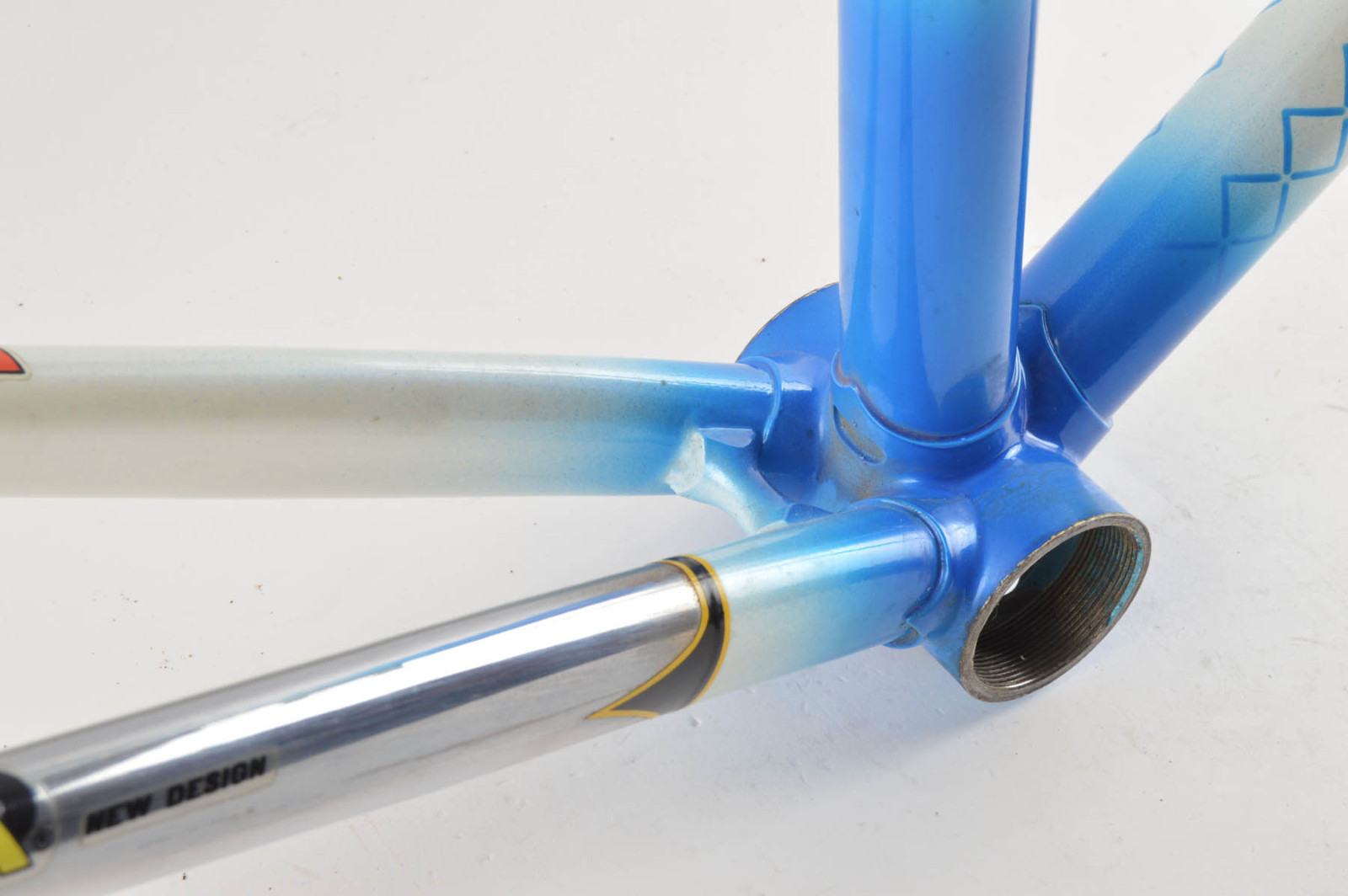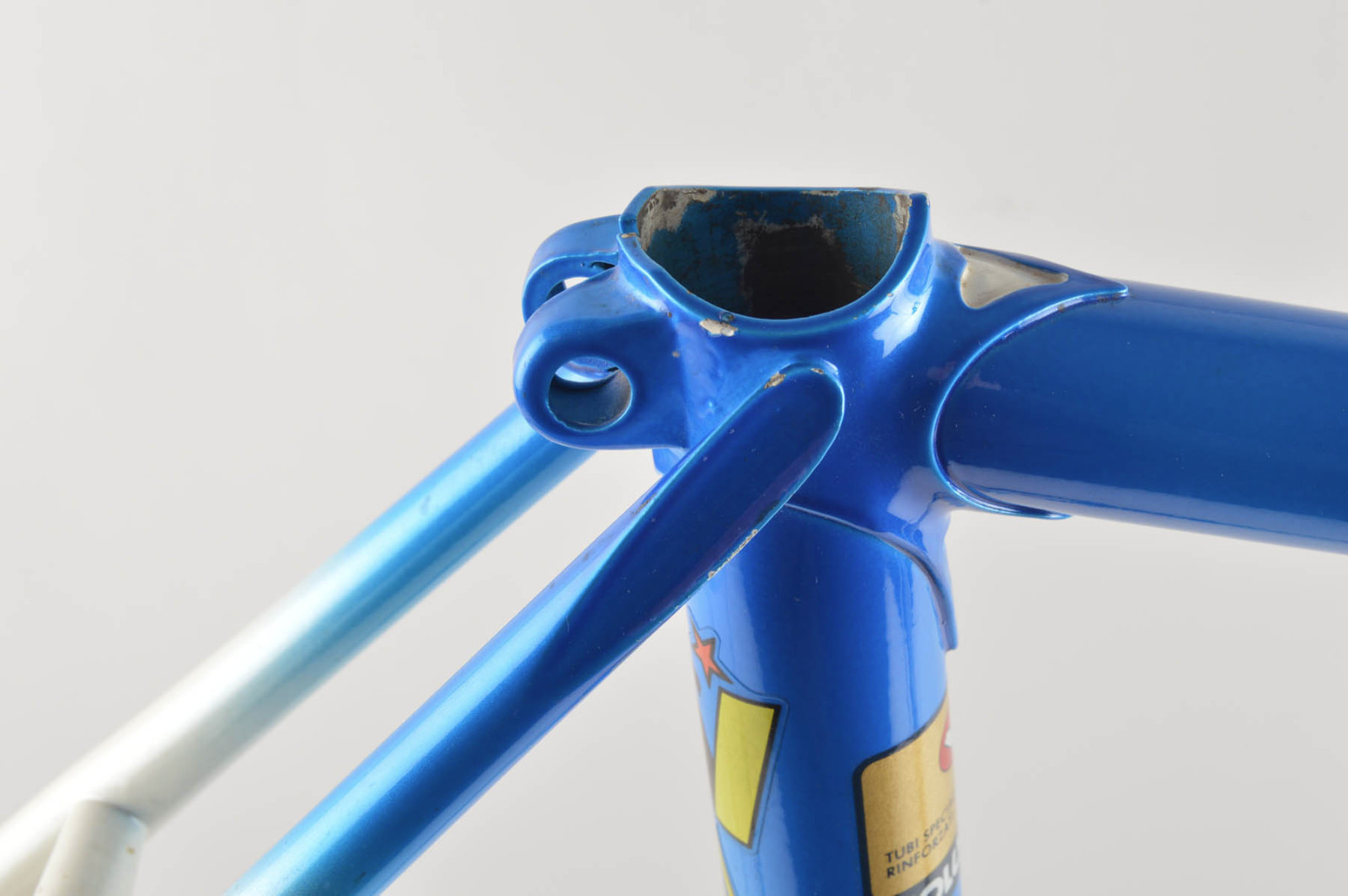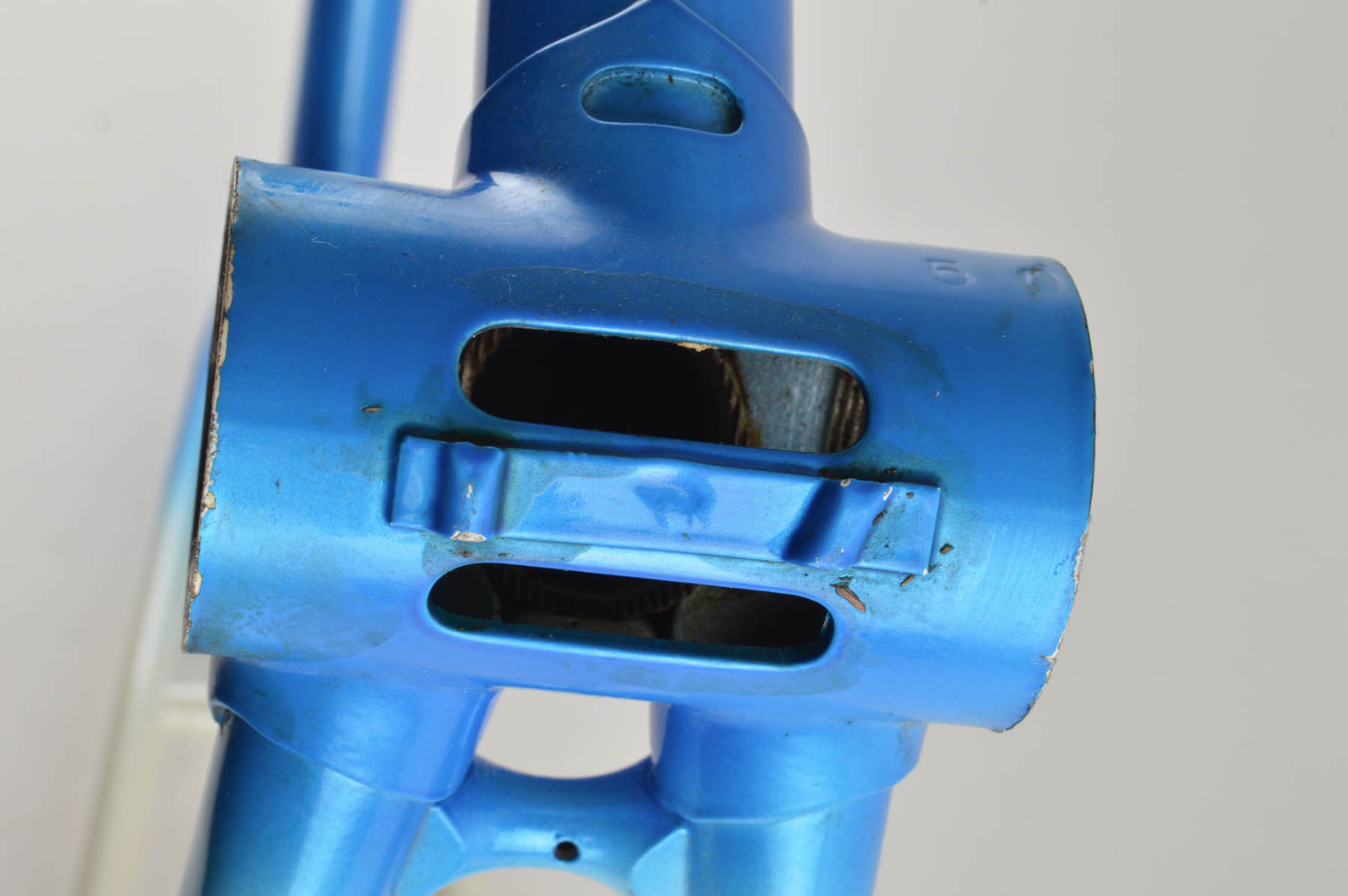 There are some differences between your frame and these two (top tube cable guides, Campagnolo dropouts, for example), but there are enough similarities on which I'm basing my guess (bottom bracket shell's size stamping's location and orientation). I've also seen your top tube cable guides on other Viner frames.
Now as for tubing, there are many experts on here who will provide better info than I can. Assuming the seat tube was not reamed out, 27.2 should hopefully indicate tubing better than Aelle.
Links:
https://www.ebay.com/itm/NOS-Viner-N...e/232705720034
[VENDO] BLOCCO di due telai OFFERTA!! - Bici complete, telai & forcelle - FIXEDFORUM.it

03-26-18, 01:44 AM
Senior Member
Join Date: Feb 2013
Location: Alta California
Posts: 10,296
Mentioned: 293 Post(s)
Tagged: 1 Thread(s)
Quoted: 2377 Post(s)
-----



"clean out the ballpark" 'e knocks 'em folks!

-----

03-26-18, 08:58 AM
Senior Member
Join Date: Oct 2011
Location: Fairplay Co
Posts: 8,034
Bikes: Current 79 Nishiki Custum Sport, Jeunet 620, notable previous bikes P.K. Ripper loop tail, Kawahara Laser Lite, Paramount Track full chrome, Raliegh Internatioanl, Motobecan Super Mirage. 59 Crown royak 3 speed
Mentioned: 21 Post(s)
Tagged: 1 Thread(s)
Quoted: 446 Post(s)
I would agree it is likely a mid 80's Viner based on the frame size and the seat tube most likely Columbus SL tubing. Since this one has no real identifying marks there is a good chance it was a contract build and may have originally been sold under a private label brand.

03-26-18, 09:25 AM
Senior Member
Join Date: Jun 2008
Location: Louisville, KY
Posts: 11,685
Mentioned: 20 Post(s)
Tagged: 0 Thread(s)
Quoted: 2430 Post(s)
It looks like a cool frame.

03-26-18, 10:27 AM
Senior Member
I got the headset off of it. I think it went through a couple of different forks, the headset that was on the frame is/was English thread. I looked at that frame a few times, but it just didn't call loud enough for me to buy at those times. I did however buy the custom made O'brien that hung next to it.

Good purchase! I posted picture of it a few minutes ago. How much did you get it for?

03-26-18, 12:39 PM
Senior Member

03-26-18, 02:06 PM
Senior Member
Join Date: Feb 2013
Location: Alta California
Posts: 10,296
Mentioned: 293 Post(s)
Tagged: 1 Thread(s)
Quoted: 2377 Post(s)
-----

have had the opportunity to work with a couple of mid-seventies era Sig. Nerozzi Viviano prodotti and never would have guessed the ID here...

---
ran across this FB account -
https://www.facebook.com/VinerCC/
-----
---
Last edited by juvela; 03-26-18 at

02:27 PM

. Reason: spellin'

03-26-18, 03:34 PM
Junior Member
Join Date: Sep 2013
Posts: 14
Bikes: Centurion Ironman
Mentioned: 1 Post(s)
Tagged: 0 Thread(s)
Quoted: 0 Post(s)
Likes: 0
Liked 0 Times in 0 Posts
@
MauriceMoss
-- Wow! Thanks for all the details and pictures! You really did knock it out of the park. My only other lead was searching Google for "heart shaped lug", which of course didn't narrow things down much,
just other folks on forums doing what I am
!
And of course thanks to all of you for additional commentary and information, and juvela for the bump.

@
Mr. 66
-- Thanks for the information about the fork & headset, that makes me feel better that I didn't get a fork with it. Like you, I saw it up there for a number of months but the unassuming paintjob and narrow tire clearances kept me off. Finally I nabbed it because I've never ridden an Italian bike and happen to have a spare late '80s Campy group (sans wheels and headset). I thought it would be a fun little summer project. Since I am a volunteer there, and the make was unknown, and the paint I suspect is a re-do (although it's pretty good, definitely not rattlecan), I bought it for a song. I found a cool old fork at the Bikery, too; it won't look great but I think it'll ride good. Let me know if you decide to part with that headset.... (Hey, a guy's gotta ask!)

03-30-18, 06:39 PM
Senior Member
Join Date: Dec 2011
Location: Saint Paul, Minnesota
Posts: 2,154
Bikes: 92 Colnago Master PIU, 85 Fuso, 92 Bridgestone RB-1, 83 Pinarello Record, 92 Tommaso, 92 Merckx MX Leader, 90 Serotta Colorado II, 99 Tommasini Sintesi, 90 Pinarello Montello, 89 Tommasini Super Prestige, 08 Look 585 and 8 more
Mentioned: 15 Post(s)
Tagged: 0 Thread(s)
Quoted: 271 Post(s)
There are some similarities to a Simoncini I once owned.
Thread
Thread Starter
Forum
Replies
Last Post

Posting Rules
You may not post new threads
You may not post replies
You may not post attachments
You may not edit your posts
---
HTML code is Off
---