Odd serial number for Schwinn Le Tour

05-16-18, 04:02 PM
Junior Member
Join Date: May 2018
Posts: 10
Mentioned: 0 Post(s)
Tagged: 0 Thread(s)
Quoted: 0 Post(s)
Likes: 0
Liked 0 Times in 0 Posts
Odd serial number for Schwinn Le Tour
---
Hi y'all. Newbie here.
I just got my hands on a very cheap Schwinn Le Tour. It's sky blue with a mixte frame. Made in Japan. I've been pouring over the internet to try to find some info about this bike, particularly build year. It's got an odd serial number starting with a W and I can't find reference to this sort of serial number anywhere. Number is W492230.
Any help you guys can give me would be much appreciated!
Cheers


05-16-18, 04:40 PM
Need to see a pic of the bike as well as close-ups of the SN and the 4-digit number stamped in the headbadge. I recommend
postimage
for hosting pics.

05-16-18, 06:02 PM
Junior Member
Join Date: May 2018
Posts: 10
Mentioned: 0 Post(s)
Tagged: 0 Thread(s)
Quoted: 0 Post(s)
Likes: 0
Liked 0 Times in 0 Posts
Will do as soon as I can. I tried to attach a photo to my original post but received a message stating that I must post 10 times before I am allowed to attach images or urls. As I am brand new here as of today I am not quite there yet but should be soon. Also, I read about the digits stamped on the headbadge, but there are no numbers stamped on mine. Very strange. Anyhow, as soon as I am permitted to attach anything I'll do so in this thread.

Thanks!

05-17-18, 05:40 AM
Senior Member
Join Date: Nov 2004
Posts: 22,577
Mentioned: 600 Post(s)
Tagged: 1 Thread(s)
Quoted: 4418 Post(s)
Likes: 0
Based on the serial number alone, my guess would be a 1985 model manufactured by Bridgestone in very late 1984.

05-17-18, 06:37 AM
You should be able to fake out the system that won't let you post image URLs by replacing some of the characters. Instead of http, try hxxp.
hxxps://www.bikeforums.net/classic-vintage-bicycles-whats-worth-appraisals-inquiries/1144320-odd-serial-number-schwinn-le-tour.html

05-18-18, 08:15 AM
Junior Member
Join Date: May 2018
Posts: 10
Mentioned: 0 Post(s)
Tagged: 0 Thread(s)
Quoted: 0 Post(s)
Likes: 0
Liked 0 Times in 0 Posts
Thanks for the replies and tips, everyone!

Here are some "altered" links to pictures of the whole bike, serial number close-up, and headbadge with no date stamp:

hxxps://imgur.com/tegmmZz
hxxps://imgur.com/Mwl9YSX
hxxps://imgur.com/74MgYEb

After tinkering a bit yesterday I am realizing just how much work this pony is going to need. I want to maintain as much of the vintage charm as possible but my ultimate goal is to turn this into a reliable commuter and light tourer.

Cheers!

05-18-18, 10:02 AM
Thanks for posting the links to the pics. That's a 1975 Le Tour "Mixtie", which was the first year that model was available. It was made for Schwinn by Bridgestone in Japan. There would be no date stamp in the headbadge as that didn't start until 1976. Here is the original catalog page: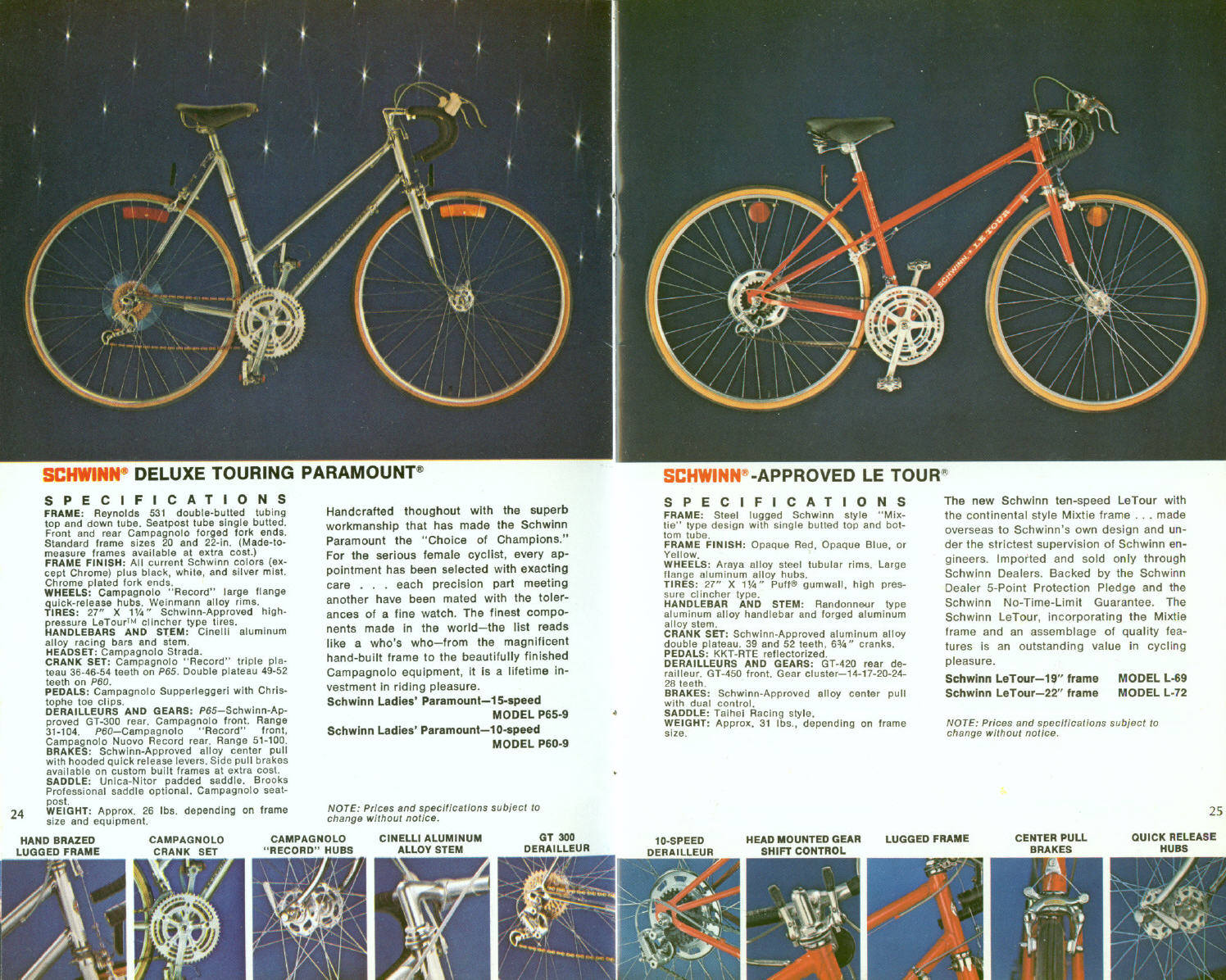 Thread
Thread Starter
Forum
Replies
Last Post
Classic and Vintage Bicycles: Whats it Worth? Appraisals.

Posting Rules
You may not post new threads
You may not post replies
You may not post attachments
You may not edit your posts
---
HTML code is Off
---