Vintage German bicycle possibly pre WW2

01-10-19, 04:21 PM
Junior Member
Join Date: Nov 2018
Posts: 12
Mentioned: 0 Post(s)
Tagged: 0 Thread(s)
Quoted: 1 Post(s)
Likes: 0
Liked 0 Times in 0 Posts
Vintage German bicycle possibly pre WW2
---
Need help identifying this bicycle. Reason i think its pre war is my grandfather was in germany for the war and may have brought this back with him. Any help is greatly appreciated as he isnt around to help.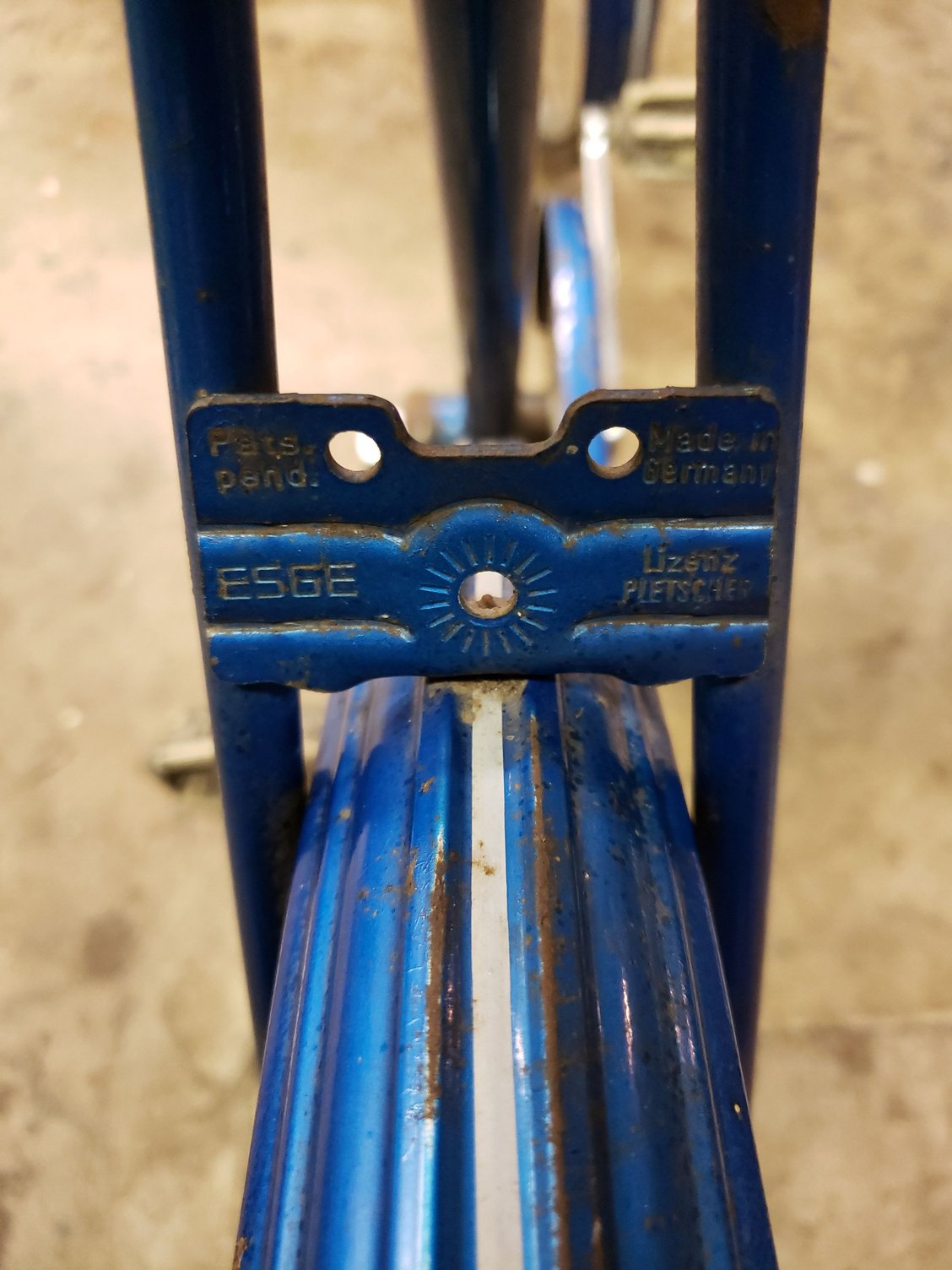 01-10-19, 04:54 PM
incazzare.
Join Date: Mar 2010
Location: Brooklyn, NY
Posts: 6,869
Bikes: See sig
Mentioned: 16 Post(s)
Tagged: 0 Thread(s)
Quoted: 40 Post(s)
Likes: 0
Can't say I know anything about this particular bike, but a foil decal headbadge doesn't say "pre-war" to me. I could be wrong, but that bike looks more like it's from the 70's, especially the fork.
Edit: Apparently Tomos didn't exist until 1954:
https://en.wikipedia.org/wiki/Tomos
However there is nothing in there about Germany. That plate says ESGE (a German bike parts maker), which leads me to wonder if it's referring to the plate/rack attachment only, not the bike? Or maybe the Tomos sticker is not original?
__________________
1964 JRJ (Bob Jackson), 1973 Wes Mason, 1974 Raleigh Gran Sport, 1986 Schwinn High Sierra, 2000ish Colian (Colin Laing), 2011 Dick Chafe, 2013 Velo Orange Pass Hunter
---
Last edited by lostarchitect; 01-10-19 at

05:04 PM

.

01-10-19, 05:21 PM
Senior Member
Join Date: Oct 2011
Location: Fairplay Co
Posts: 7,157
Bikes: Current 79 Nishiki Custum Sport, Jeunet 620, notable previous bikes P.K. Ripper loop tail, Kawahara Laser Lite, Paramount Track full chrome, Raliegh Internatioanl, Motobecan Super Mirage. 59 Crown royak 3 speed
Mentioned: 16 Post(s)
Tagged: 1 Thread(s)
Quoted: 265 Post(s)
Likes: 0
Looks to be a low end early 70's bike to me not Pre War cheaper signal coat metalic paint didn't came out until the late 60's. As for value boom era lower end coaster brake models to get much maybe $100 or so nicely cleaned up ready to ride.

01-10-19, 05:27 PM
Sophomore Member
Funny how it doesn't say "West Germany" like you would expect from a German bike made in 1970's. In any event, I guess I can safely call the History Channel now, and tell them that the "Search For Hitler's Three Speed" can resume.

01-10-19, 05:52 PM
Senior Member
Join Date: Mar 2012
Location: Tallahassee, FL
Posts: 3,667
Mentioned: 2 Post(s)
Tagged: 0 Thread(s)
Quoted: 956 Post(s)
Likes: 0
I cursory net search reveals a number of bikes identified as "Linzenz Pletscher." German or Austrian, some said to have been imported by Sears. The Pletscher company did and does make racks and accessories, but I saw no no reliable source which indicated that the company actually made bicycles. Made me think these are perhaps all 60s and 70s imports that lack other identification. The name on the rack plate being the only visible name, people assume it is the manufacturer of the entire bicycle. And "linzenz" meaning license, Pletscher was licensing their rack technology to whomever made the bicycle.

01-11-19, 08:33 AM
Senior Member
Join Date: Dec 2014
Location: Central Virginia
Posts: 3,146
Bikes: Numerous
Mentioned: 58 Post(s)
Tagged: 0 Thread(s)
Quoted: 770 Post(s)
Likes: 0
Just a guess on my part, but I think it would be very unusual for a pre-war bike to say "Made in Germany" in English.
__________________
N = '96 Colnago C40, '04 Wilier Alpe D'Huez, '10 Colnago EPS, '85 Merckx Pro, '89 Merckx Century, '85 Moser, '86 Tommasini Professional, '04 Teschner Aero FX Pro, '05 Alan Carbon Cross, '86 De Rosa Professional, '82 Colnago Super, '95 Gios Compact Pro, '95 Carrera Zeus, '84 Basso Gap, '89 Cinelli Supercorsa

01-12-19, 07:13 AM
Senior Member
Join Date: Nov 2004
Posts: 17,557
Mentioned: 410 Post(s)
Tagged: 1 Thread(s)
Quoted: 2378 Post(s)
Likes: 0
The subject bicycle is a TOMOS (TOvarna MOtojev Sezana - Motorcycle Company Sezana). The company was founded in in 1954 in Koper, Yugoslavia (now Slovenia) to build small motorcycles under license from Puch. They quickly expanded into scooters and mopeds and started manufacturing Citroen automobiles under license in 1959. They opened a Dutch manufacturing facilty in 1966 and are still in business.
For more information;
https://en.wikipedia.org/wiki/Tomos
Since the company was only established in 1954, pre-WWII would be impossible. Based on the association with Puch, the bicycle was probably manufactured by Puch at their Austrian factory. The Made in Germany stamp only applies to the Pletscher brake/carrier bridge plate. Given the apparent origin and 1960s-1970s vintage, it probably utilizes a Komet or Torpedo rear hub manufactured by Fichel & Sachs, in which case it will have a date code. The date code during the 1960s and 1970s consists of a letter stamped into the hub shell. The letter code started in 1958 (i.e. A =1958, B=1959, etc, with J and Q being omitted). The attached picture shows a D-code (1961) hub.

01-13-19, 01:48 PM
Senior Member
Join Date: Jun 2006
Posts: 13,340
Mentioned: 77 Post(s)
Tagged: 0 Thread(s)
Quoted: 932 Post(s)
Likes: 0