Wondering how much I should spend

06-14-19, 04:01 PM
Newbie
Join Date: Jun 2019
Posts: 4
Mentioned: 0 Post(s)
Tagged: 0 Thread(s)
Quoted: 1 Post(s)
Likes: 0
Liked 0 Times in 0 Posts
Wondering how much I should spend
---
Hello. Im just wondering how much a miele 24 speed twin track 450 is worth. Im looking at buying one and i think hes asking to much. Anyone know the value? Thanks

06-14-19, 04:20 PM
$10,000.00 (10K) should be a good starting price. I heard this is a normal purchasing price


06-14-19, 04:29 PM
Newbie
Join Date: Jun 2019
Posts: 4
Mentioned: 0 Post(s)
Tagged: 0 Thread(s)
Quoted: 1 Post(s)
Likes: 0
Liked 0 Times in 0 Posts

06-14-19, 04:36 PM

06-14-19, 04:57 PM
50th Anniversary Edition
Join Date: Aug 2013
Location: Tucson, AZ
Posts: 3,533
Bikes: Schwinn Paramount ('71) and Volare ('78); Raleigh Competition GS ('79)
Mentioned: 26 Post(s)
Tagged: 0 Thread(s)
Quoted: 571 Post(s)
A
person. One.
C'mon, this is a question from a brand new member.
To the OP: Prices and values will vary wildly based on condition and desirability. If you could link to the ad or post some pictures you'd get a more informed response.
__________________
A race bike in any era is a highly personal choice that at its "best" balances the requirements of fit, weight, handling, durability and cost tempered by the willingness to toss it and oneself down the pavement at considerable speed. ~Bandera

06-14-19, 05:15 PM
Senior Member
So, is that a vintage MTB with 26" wheels, somewhat like this one: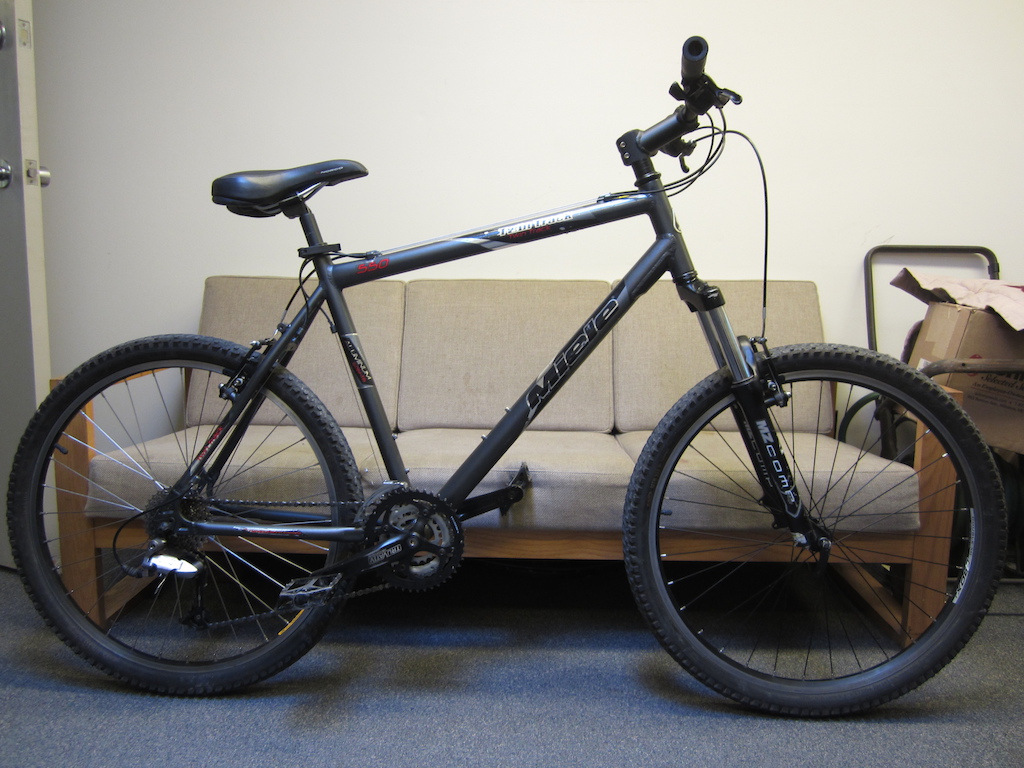 or this one?
Probably 1990's or early 2000's MTB, 26" wheels. They often take a bearing in value. I'm seeing asking prices in the range of $300 to $550. But, those prices may well be a bit on the high end.
As mentioned above, there are a lot of details about the exact construction of the bike. So, we'd have to know about YOUR bike. Shocks? Anything that has been changed or updated?
Maybe $200 if it is something that you really want???

06-14-19, 05:39 PM
Senior Member
Join Date: Feb 2006
Location: Sin City, Nevada
Posts: 2,167
Bikes: Catrike 700, Greenspeed GTO trike, , Linear LWB recumbent, Haluzak Horizon SWB recumbent, Balance 450 MTB, Cannondale SM800 Beast of the East
Mentioned: 18 Post(s)
Tagged: 0 Thread(s)
Quoted: 326 Post(s)
Likes: 0

06-14-19, 05:58 PM
Moderator
Thread moved from General Cycling Discussion to Classic & Vintage Appraisals.

06-14-19, 07:24 PM
Senior Member
Join Date: Nov 2004
Posts: 18,276
Mentioned: 467 Post(s)
Tagged: 1 Thread(s)
Quoted: 2642 Post(s)
Likes: 0
The Twin Track series was a line of ATBs introduced in 2002, after Procycle acquired the brand. The T4500 was 3rd from the bottom of the line and produced from 2002-2005. Specs varied depending on the exact year but it was aluminum frame with various front suspension forks. The drivetrain was typically a Shimano Alvio/Acera mix. MSRP was $600-$650 CDN. The value will vary considerably depending on condition and location. The biggest condition concern is generally the functionality of the suspension fork. Hot markets like the GTA can fetch prices that are twice as much as places like Dog River.
Thread
Thread Starter
Forum
Replies
Last Post
General Cycling Discussion
Classic and Vintage Bicycles: Whats it Worth? Appraisals.

Posting Rules
You may not post new threads
You may not post replies
You may not post attachments
You may not edit your posts
---
HTML code is Off
---