Schwinn twins

05-18-20, 10:00 AM
Schwinn twins
---
Okay finally racked up enough time post pics!
please let me know what you think!
just want to make sure I donít have a super rare thing lol.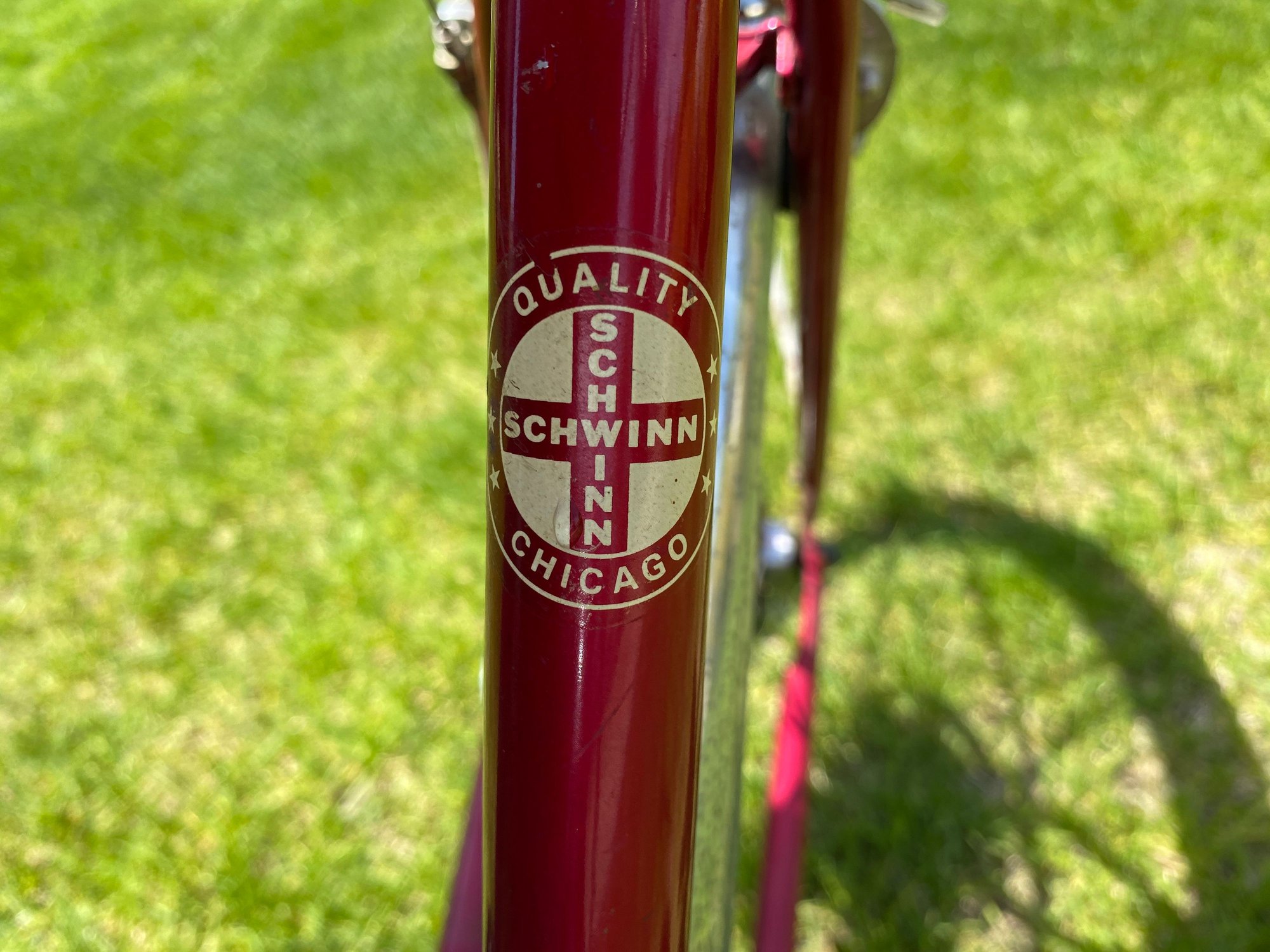 05-18-20, 10:12 AM
Junior Samples
Nice old Schwinns, but it is the pink basket that is the real find.

05-18-20, 10:23 AM

05-18-20, 06:18 PM
Senior Member
Join Date: Aug 2012
Location: Los Alamitos, Calif.
Posts: 1,885
Bikes: Trek 7.4 FX, 5200 & 7700
Mentioned: 4 Post(s)
Tagged: 0 Thread(s)
Quoted: 626 Post(s)
If someone offers you $75 per bike.... take it. You're not sitting on anything "rare".

05-18-20, 08:05 PM
Senior Member
These aren't rare bikes . But, they're complete. No missing parts. And, look like they're almost ready to ride with minor repair. I'd shoot for $200 for the pair.

05-18-20, 08:49 PM
Senior Member
Join Date: Jul 2008
Location: 25 miles northwest of Boston
Posts: 24,863
Bikes: Bottecchia Sprint, GT Timberline 29r
Mentioned: 103 Post(s)
Tagged: 0 Thread(s)
Quoted: 3721 Post(s)
kinda crushing on the chain guards

05-18-20, 09:22 PM
Thrifty Bill
I see a ton of rust on the rear rim of the woman's style bike. On bikes like these, the men's style tends to bring twice what the woman's style will bring. Given the condition, I would say the gap would be much larger.

05-18-20, 09:25 PM
Senior Member
Join Date: May 2012
Location: San Francisco Bay Area
Posts: 2,997
Bikes: fewer (n-1)
Mentioned: 57 Post(s)
Tagged: 0 Thread(s)
Quoted: 809 Post(s)
Likes: 0
The rear rim on the step-through frame has some serious rust that will make braking a very sketchy endeavor.
The rear rim on the other bike has a large dent adjacent to the valve stem. This will also make smooth braking impossible.
I couldn't see enough of the front rims to tell you if they are in equally poor condition.

With some new wheels, new tires, and a tune up they would be nice bikes to ride around the neighborhood.
Brent

05-19-20, 12:52 AM
Senior Member
Join Date: Jun 2018
Location: The Urban Shores Of Michigami
Posts: 1,210
Bikes: ........................................ .....Holdsworth "Special"..... .......Falcon "Special".......... .....Raleigh "Super GP"...... ........................................
Mentioned: 6 Post(s)
Tagged: 0 Thread(s)
Quoted: 472 Post(s)
Today I walked by yet another abandoned 1970's era Schwinn. I had to convince myself that it had Corona Virus just so I would not drag it home.

05-19-20, 11:52 PM
Senior Member
Join Date: Jun 2019
Posts: 242
Mentioned: 3 Post(s)
Tagged: 0 Thread(s)
Quoted: 111 Post(s)
Likes: 0
Those appear to be circa 1971 SCHWINNS. Burgandy color tells you that.
The rust on the rear rim of the Women's COLLEGIATE will clean up nicely to exhibit very nice chrome.
GET A POT SCRUBBBING "Scourer" Copper Pad from the grocery store, or just use the old one that you have at home, and buy the new one for the kitchen pots.
Sprinkle COMET Cleanser liberally on the Copper Scourer Pad.......... very lightly wet the pad......scrub the chrome wheel until all the rust is gone...
Those 26 x 1 3/8 tires are frikking ancient. I can tell by the tread pattern that those were aftermarket replacements sold by Sears/Goodyear in the mid seventies.
I just recently came across a Blue Feb 1968 Women's Collegiate that had that fiberglass bucket baby carrier that came out in the mid seventies. The tires were ancient and pre-dated the International bead seat diameter measurement in millimeters. I rebuilt it and gave to a neighbor who has ridden it some 347 miles since March 20, 2020. I installed a INBIKE IC-321 wireless speedometer on it for her on March 19th. Other than installing four new 40mm GRAY color diacompe style pads and removing the Alvit schwinn approved and replacing it with a near mint early seventies Shimano Skylark............remember that the 1969 and earlier Collegiates have the same junky Alvit rear derailleurs that the Varsity and Continental had, as well as the same 28-14 model F freewheel. 1970 and later Collegiate, and the five speed Suburban have Shimano built GT-100 rear derailleurs(1970 to Feb 74) or (GT-120 from Feb 74 onward..) I replaced the 45+ year old tires with the NEW KENDA 26 x 1 3/8 37-597 Schwinn replacements which have the tread pattern that was the factory tire tread pattern as seen during the seventies. These NEW Kenda tires are the only replacements made today in this 597mm size that these old 26 inch Schwinns require.
Laugh all that you want, about the lack of market value for these ancient 5 speed Schwinns from the early seventies, but they are great riding........HEAVY,---he11 yeah but these five speeds are better quality than a ten speed VARSITY/CONTINENTAL/10speedSUBURBAN. These are bullet-proof and nearly indestructible. You aren't gonna race with any electroforged Schwinn. THE OVERALL GEARING of these 1970 and later five speed Collegiates and five speed SUBURBANS is nearly as wide overall as the best ten speeds of the seventies......................the 46 teeth single front crankwheel is well matched with the Model J freewheel which is 32-26-21-17-14.
The 1970 and later COLLEGIATE has an effective LOWER first gear than the SUBURBAN five speed due to the 26 INCH (597mm) WHEEL versus 27 INCH (630mm).
You have good hill climbing capability with these 1970 and later five speeds.
Shimano built freewheel and Shimano built rear derailleur........... These bikes are superb bikes for relaxed upright tourist style cruising.
I doubt that you can find a more durable, more reliable, simple bike anywhere on the planet from any point in time, including present day bicycles.
The seventies era Schwinn Collegiates and the five speed Schwinn Suburban were perhaps themost durable, best all around, geared, tourist cruiser bikes ever built by anyone!
Laugh all that you want, but there are a lot of these relics that are still rolling along!
The important factor is 1970 and later because the 1964-1969 Collegiates are not as good because of Huret rear derailleur and 28-14 model F freewheel.
These five speed bikes are SUPER SIMPLE that any person with no prior experience can easily learn to service the caged
#64
bearings in the bottom bracket.
Rear derailleur adjustment if necessary is super simple......cable replacements IF NECESSARY are super simple, ...........The hardest thing that you will find is getting the NEW Kenda 37-597mm 26 x 1 3/8 tires ......getting the tires Seated Evenly Will Be The Most Difficult Task on SCHWINN COLLEGIATES.....
There are videos on youtube. Easy to do for anyone who has experience changing bicycle tires....if you can't seat them evenly, your bike shop can easily mount them perfectly for you for a minor labor charge.....................
I suggest that when you replace tires or tubes on any ancient SCHWINN whether it has 26 (597mm) or 27 (630mm)-----YOU SHOULD BUY THORN RESISTANT TUBES...... Buy Thorn resistant tubes from any of the web bike parts sellers, etc because you don't want THIN LIGHT Bontrager tubes or other light thin tubes.
Why NOT thin Light tubes? Because although Bontrager and other light thin tubes are good, well made products.........they are designed to be LIGHTWEIGHT..
......LIGHTWEIGHT is prized by the road-bike folks, but the ancient SCHWINNS are not gonna benefit from saving weight on an innertube. YOU WANT A THORN RESISTANT INNERTUBE BECAUSE IT DOES PROVIDE THAT BENEFIT THAT THE Lighweight tube WILL NOT. Some idiot flunkies at your local bike shop will just tell you to run the thin Bontrager tubes with TIRE LINERS that the LBS sells....................The owner-proprietor at your LBS will tell you that Thorn Resistant Tubes are better for use in your Ancient Schwinns....... They aren't likely to have any thorn resistant tubes UNLESS they are located in a geographic location where Goathead thorns are common.
Though these ancient Five speed Schwinns of the early seventies may not have any significant market value, but they are extremely practical, great riding, almost indestructible bicycles IF YOU DON'T MIND THE WEIGHT and IF YOU DON'T EVER PLAN TO RIDE IN THE RAIN because chrome steel wheels require that you really anticipate stopping........................but all is not bad because you won't be going really fast on one of these bicycles, unless going DOwnhill.
-----------------------Stay Thin Ride A Schwinn....................the extra weight will do you some good.