Just found this .. Motobecane Super Mirage ... Ladies

10-25-20, 07:36 AM
Junior Member
Join Date: Sep 2010
Posts: 14
Mentioned: 0 Post(s)
Tagged: 0 Thread(s)
Quoted: 2 Post(s)
Likes: 0
Liked 0 Times in 0 Posts
Just found this .. Motobecane Super Mirage ... Ladies
---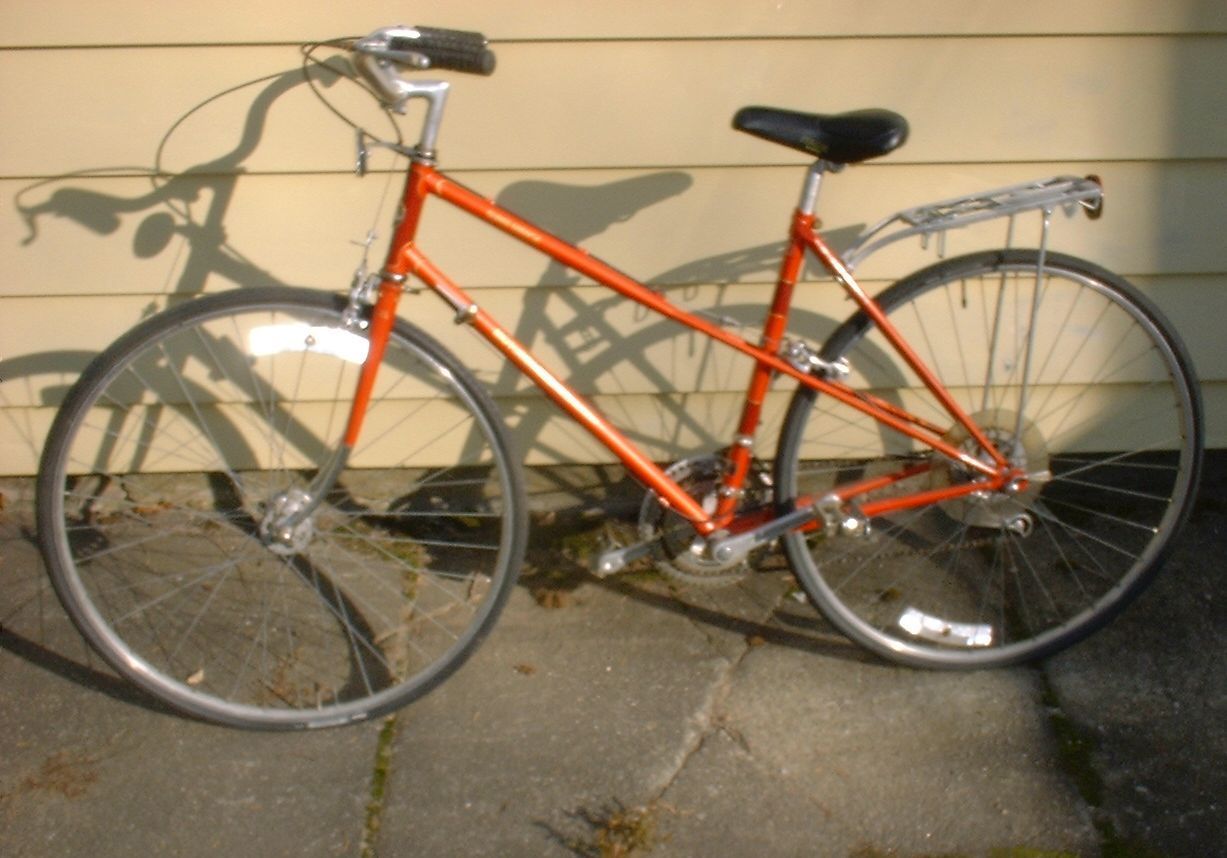 Just found this ... Motobecane Super Mirage , Ladies . Great shape. What could it be worth ?

10-25-20, 08:11 AM
Bikes are okay, I guess.
Join Date: Jan 2015
Location: Richmond, Virginia
Posts: 7,064
Bikes: Waterford Paramount Touring, Giant CFM-2, Raleigh Sports 3-speeds in M23 & L23, Schwinn Cimarron oddball build, Marin Palisades Trail dropbar conversion, Nishiki Cresta GT
Mentioned: 54 Post(s)
Tagged: 0 Thread(s)
Quoted: 2031 Post(s)
There's a value forum for questions like this, but I'd say about $150 max. Nice little bike but hi-ten tubing and modest alloy components; "top of the bottom of the line." However, if it's what you want and you can afford it, go for it.

10-25-20, 08:14 AM
Follow Your Arrow
Join Date: Jul 2007
Location: Kalamazoo MI
Posts: 19,516
Bikes: Fuji SL 2.1 Carbon Cannondale Synapse Alloy 4 Trek Checkpoint ALR gravel Viscount Aerospace Pro
Mentioned: 45 Post(s)
Tagged: 0 Thread(s)
Quoted: 2443 Post(s)

10-25-20, 08:20 AM
Bianchi Goddess
Join Date: Apr 2009
Location: Shady Pines Retirement Fort Wayne, In
Posts: 27,457
Bikes: Too many to list here check my signature.
Mentioned: 145 Post(s)
Tagged: 2 Thread(s)
Quoted: 1986 Post(s)
__________________
Bianchis '90 Proto, '90 Campione del Fausto Giamondi Specialisma Italiano Mundo, '91 Boarala 'cross, '93 Project 3, '86 Volpe, '97 Ti Megatube, '93 Reparto Corse SBX

Others but still loved; '80 Batavus Professional, '87 Cornelo, '?? Jane Doe (still on the drawing board), '90ish Haro Escape SLX Bertoni "Speckled Trout"


10-25-20, 08:54 PM
Señor Member
Join Date: Dec 2018
Location: Pac NW
Posts: 4,380
Bikes: Old school lightweights
Mentioned: 59 Post(s)
Tagged: 0 Thread(s)
Quoted: 1801 Post(s)
Paint looks great, and orange gets a premium. I'd spend some time dressing up this one and making sure everything's perf.